A Stellar Career
When it comes to Ricardo Silveira, three years since his last album (Outro Rio) is too long a hiatus. He is always in high demand in Brazil with his many appearances and recordings with stars like Ney Matogrosso, Simone , Carol Saboya, Fátima Guedes, Mario Adnet, André Mehmari, Milton Nascimento and so forth. If it's good Brazilian music, chances are that Ricardo's hands must be in the mix. So, releasing a new album requires balancing a very active agenda.
To celebrate his busy career and 26 years of a successful solo artist (his first solo album Bom de Tocar was released in Brazil in 1984), we receive this wonderful gift: Até Amanhã ('Til Tomorrow). This cleverly produced retrospective brings together music that spans all those 26 years and 9 solo albums in brand new recordings, and those new renditions of his classic music are stunningly fresh and attractive. Produced by Ricardo himself, the album features an extraordinary guest list of stars: Léo Gandelman (flutes, saxes), Paulo Sergio Santos (clarinets), Vittor Santos (trombone), Marcelo Martins (flutes, saxes), Jessé Sadoc (trumpet, flugelhorn), Rômulo Gomes (basses), André Tandeta (drums), Cristiano Alves (clarinets) and Jota Moraes (marimba).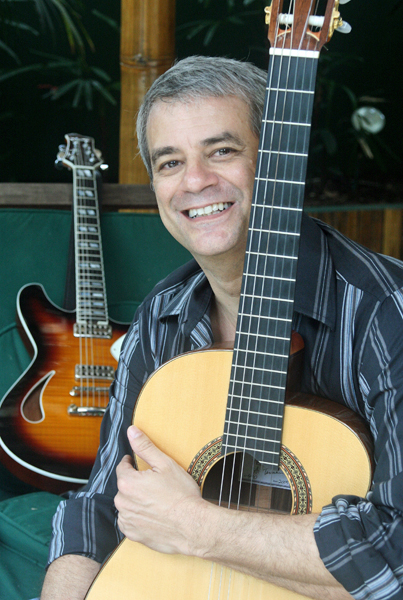 With over 100 songs to choose from in over two decades of solo recordings, Ricardo assembled a good and representative selection of his earlier compositions in Até Amanhã. It was impossible to have tracks from all of his CDs. Consequently, you will notice the absence of tracks from his albums after 1990: Small World (1992), Storyteller (1995), the 2004 Latin Grammy nominated Noite Clara (2003), the Milton Nascimento tribute Ao Vivo (2004) and Outro Rio (2007). Since his older material is harder to find these days, Até Amanhã should fill a void if you don't have those earlier albums. Even if you do have them, you should still be pleased with how fresh this material sounds in these new arrangements.
From his 1984 solo debut, Bom de Tocar, we have three representative tracks: "Dois Irmãos," "O Canto do Pica-Pau" and "Portal da Cor." This last one actually appeared in that first album with the title "55." Later on, Milton Nascimento wrote lyrics to it, making it then known as "Portal da Cor," which opened Milton's 1985 Encontros e Despedidas CD. From RIcardo's 1988 Long Distance, we have here "Rocket's Tail," "West 26th" and "Bahia Drive." One of my all-time favorites of Ricardo's, his 1989 Sky Light is represented here with the opening track from that album, "You Can Get What You Want." I really like this new rendition, though, with a great horn arrangement by Jessé Sadoc. I must also admit that I am glad Ricardo did not include "Magical Fantasy" from that same album. That track has to be one of his most beautiful compositions and had its definitive rendition in Sky Light. Truly a timeless composition! Finally, from the 1990 Amazon Secrets we have this album's title track "Até Amanhã," "Good to Play" and "Let's Move On." Well, that leaves one track unaccounted for, "Pela Beira do Mar." It could be the same as "Beira do Mar" from the 1985 High Life album. High Life was a multi-instrumentalist band comprised of Nico Assumpção, Ricardo Silveira, Luiz Avellar, Steve Slagle and Carlos Bala.
If you happen to have all of Ricardo's previous albums, as I do, you might also have fun comparing these tracks with the original recordings. Personally, I like the more mellow sound I hear in Até Amanhã as well as the arrangements, such as the samba-infused "Good to Play" with plenty of brass presence by Marcelo Martins and Jessé Sadoc. The same goes for "Rocket's Tail." The 1988 arrangement was a bit frantic and more pop oriented. Those were the days, I guess. The new arrangement here is more samba and has an awesome flute presence by Marcelo Martins. It is simply a much better arrangement than the original recording.
After 26 years, Ricardo Silveira continues to grow. His guitar sounds better than ever. Listening to these new arrangements created a serene aura thanks to Ricardo's guitar playing and artistry. His compositions clearly have stood the test of time and remain a mark of quality in Brazilian instrumental music.
To learn more about the artist, please visit Ricardo Silveira.
ALBUM INFORMATION
Ricardo Silveira
Até Amanhã ('Til Tomorrow) 
Adventure Music AMA1057 2 (2010)
Time: 59'50"
Tracks:
All tracks by Ricardo Silveira, except where noted.
Rocket's Tail
Até Amanhã ('Til Tomorrow)
You Can Get What You Want
Dois Irmãos (Two Brothers Mountain)
O Canto do Pica-Pau (Woodpecker's Sound)
Good to Play
West 26th
Pela Beira do Mar (Walking by the Sea)
Let's Move On
Bahia Drive
Portal da Cor (Threshold of Color) (Ricardo Silveira – Milton Nascimento)