The Meaning of Cool
In 1984, Ricardo Silveira (Rio de Janeiro, 1956) released his first album (Bom de Tocar), and since then his career has been nothing but a solid presence in the Brazilian and international instrumental music scene. From 1986 through 1991, he was a member of the Banda Zil. To say his music portfolio is impressive is an understatement. Ricardo has played with artists including Herbie Mann, Elis Regina, Milton Nascimento, Hermeto Pascoal, Gilberto Gil and many others. After his first solo album, his career skyrocketed in the US and produced several albums. A few of those have been reviewed here in MúsicaBrasileira.org, including Organ tRio, RSVC, Atlânticos, Storyteller, Até Amanhã, Outro Rio and more! Whether on electric or acoustic guitar, his sound is unique and inimitable.
To celebrate his 30th career anniversary in 2014, Ricardo did a tour in Brazil. Playing alongside were David Feldman (keyboard), Guto Wirtti (bass) and Di Steffano (drums). Two years later he culminated the celebration with this live concert and recording in the paradisiacal Jericoacoara beach (or Jeri, for short), some 187 miles (301 km) from Fortaleza, the capital city of Ceará. To imagine such a concert in Jeri is impossible to describe. You had to be there to experience the beauty that surrounded you, both aurally and visually. Luckily, we can have access to both video and sound of the concert.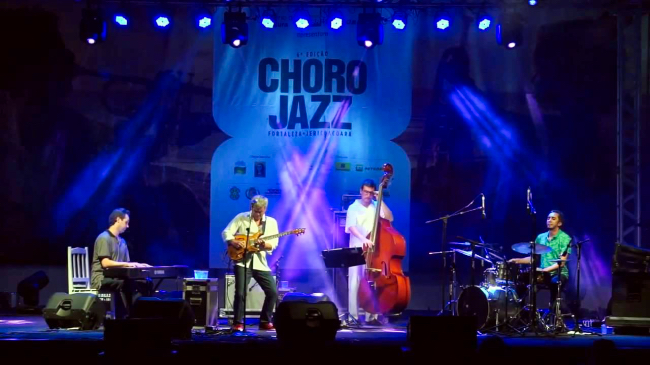 Jeri was produced by Ricardo himself and mixed/mastered by David Feldman. All nine tracks in the album are written by Ricardo and cover a good sample of his long-standing career. From the opener, the smooth "Francesa," the quartet proves how effortless it seems to perform great music. Don't be mistaken, though, because these artists are consummate performers. Slowly, as the rising tide, the music swells in the nearly ten minutes of this track. Ricardo's solo are enhanced by the expert team of musicians accompanying him. It is then David's turn to showcase a spirited solo, while Guto and Di Steffano keep the rhythm in synch with solid bass and drums backing. More of Guto's bass lines are highlighted in "O Sol na Janela." With the crowd under a musical spell, the quartet proceeds to the funky "Tango Carioca." This is one of those tracks when the listener cannot hold back from tapping to its rhythm. The minor key, bass and piano solos give "Tango Carioca" an irresistible flair. Once again David's hands fly all over the keys with dazzling solos. In closing the album, "Bom de Tocar" leaves us breathless with its vitality and tempo.
Jeri is a superb addition to such fine discography. It covers smooth and uptempo music in Ricardo Silveira's repertoire. To make this album even better, you can enjoy the next best thing to being in Jeri at the time the concert took place. The complete event is available on high-quality HD video. The video contains additional tracks not included on the CD.
ALBUM INFORMATION
Ricardo Silveira
Jeri
Sonora IC011 (2016)
Time: 59'46"
Tracks (all music by Ricardo Silveira):
Francesa
O Sol na Janela
Tango Carioca
Noite Clara
Bom Partido
Choro Bacana
Beira do Mar
Pepê
Bom de Tocar