A Confirmation of Good Taste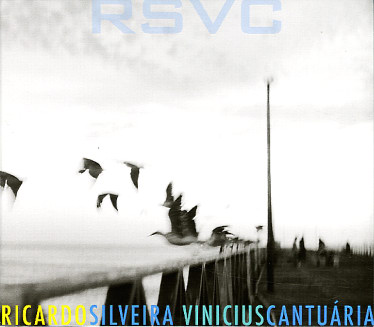 Guitarists Ricardo Silveira and Vinícius Cantuária share an unconditional love for musical traditions. Yet this collaboration comes as a nice surprise. Ricardo Silveira (Rio de Janeiro, 1956) spent some time in Boston to study at the Berklee College of Music. It also brought him to New York, where he easily mingled in the jazz and fusion world. When returned in Brazil, he soon became one of the most wanted guitarists and musical directors. He manages to combine his constant dedication to various Brazilian music cultures with an international touch.
In the early 1990s guitarist, singer, percussionist and composer Vinícius Cantuária (Manaus, 1951) gave up the life as a Brazilian pop star to live in the alternative music scene of New York. There he kind of developed his own bossa nova style, drenched with influences from the experimental music from NY's Knitting Factory.
With their international sound both guitarists have the ability to open new doors for Brazilian Music. And that is exactly what they do on this album that carries their initials, RSVC, in all possible meanings. They both have their own signature sound and it's a joy to hear how well that sounds together.
Ricardo Silveira opens the album with "Preciso Falar Com Você," which he wrote on the words of writer, poet Tiago Torres da Silva (Lisbon, Portugal; 1969). Vinícius Cantuária is on percussion on this track. The song marks the recording debut of Silveira as singer; he has a nice bossa-voice.
The album continuous with a composition by Vinícius Cantuária, "Wanderley (Sessão das Onze)," which he recorded earlier on the album Seven Ways by New York based percussionist Mauro Refosco. On this track we're for the first time ear witness of the heavenly sound both guitarists create together. It's pure magic! Vinícius Cantuária shows how tasteful a percussionist can sound, so delicate, yet supportive. Throughout the album Vinícius plays the acoustic guitar, percussion and performs vocals. Ricardo plays both acoustic and electric guitars with a few vocal additions. There's one duet on the acoustic guitars, "Matuto" (Brazilian slang for "country boy"). It's a relatively short track (2 minutes), which is funny, since both musicians often used to have short acoustic solo cuts on their own albums. Another personal tradition they share together on RSVC.
The listener is treated with mostly bossa nova influenced music, at some moments more traditional than at others. Two such powerful musicians of course have to tell their own stories, which is something the music clearly benefits from. We can just hope the duo can find time to enter the recording studio again for a successor for RSVC; it certainly tastes like more!
Both artists can be visited at their websites: Ricardo Silveira and Vinícius Cantuária.
ALBUM INFORMATION
Ricardo Silveira and Vinícius Cantuária
RSVC
Adventure Music AM 1084 2 (2013)
Total time: 44'39"
Tracks:
Preciso Falar Com Você (We Need to Talk) (Ricardo Silveira – Tiago Torres da Silva)
Wanderley (Sessão Das Onze) (Vinícius Cantuária)
A La Dori (Ricardo Silveira)
Perritos (Vinícius Cantuária)
Pé Direito (Right Foot) (Vinícius Cantuária)
Dia de Sol (Sunny Day) (Ricardo Silveira)
Mais Nada (Nothing More) (Vinícius Cantuária – Ricardo Silveira)
Matuto (Vinícius Cantuária – Ricardo Silveira)
É o Fim (It's the End) (Vinícius Cantuária)
Trilha Polar (Polar Trail) (Vinícius Cantuária)