A Perfect Compilation
Three of the greatest Brazilian composers of all time performed by one of the nicest voices in bossa nova. Here's Canta Ary, Tom e Caymmi, an album that highlights the unique qualities of the Brazilian music culture.
Singer, guitarist and composer Rosa Passos (Salvador de Bahia, 1952) is highly respected and loved among musicians and audience. Her soft, warm voice seems to reflect an unpretentious and kind person.
By having performed in more than 35 countries, Rosa Passos is a true international star; the perfect ambassador of the music from her homeland. Although she feels it as an honor that she was given the nickname "the female João Gilberto", Rosa does prefer to be recognized by her own musical identity. It wasn't only João Gilberto, Rosa also listened to Ella Fitzgerald, Shirley Horn and other jazz divas. A perfect mix for beautiful music. As we can hear on Canta Ary, Tom e Caymmi.
The music from this album comes from three songbook albums Rosa recorded for the respected Lumiar Discos & Editoria in Brazil. Letra & Música Ary Barroso (1997), Rosa Passos canta Antônio Carlos Jobim – 40 anos de Bossa Nova (1998) and Rosa Passos canta Caymmi (2000). After noticing that singer/composer Caetano Veloso sometimes couldn't even remember the lyrics and chord settings of his own songs, Lumiar founder Aldir Chediak (1950-2003) started to transcribe and record the Brazilian songbook. The only way to preserve the music for the future. He edited 18 songbooks among which the three above mentioned ones. When Mr. Chediak was killed during a robbery in his home in Petrópolis (near Rio), Brazil was in shock. Recent negotiations with the Chediak estate earned Rosa Passos the master matrixes of her records. From those, she chose thirteen songs to be released again on a brand new album, Canta Ary, Tom e Caymmi. She asked her sound engineer Alberto Ranellucci to remaster the tapes. They've been working together for almost a decade, so he knows exactly how to adjust the sound to Rosa's taste.
The first songbook Rosa recorded was the Ary Barroso songbook. Ary Barroso (1903, Ubá; Minas Gerais – 1964, Rio de Janeiro) composed one of the best known Brazilian songs: "Aquarela do Brasil," aka "Brazil" (1939). He's the composer of innumerable (over 400) sambas and ballads. This colorful man had many talents. It resulted in a busy life. He was composer, producer, piano player, lawyer, writer, reporter, TV show host, sports commentator, radio announcer and politician… Canta Ary, Tom e Caymmi features four songs from the Ary Barroso songbook: "Morena Boca de Ouro" (1941), "Pra Machucar Meu Coração (1943), "Camisa Amarela" (1939) and "Isto Aqui, O Que É?" (1942).
From the Jobim songbook also four songs are included: "Inútil Paisagem" (1964), "Garota de Ipanema" (1962), "Vivo Sonhando" (1963) and "Samba de Uma Nota Só" (1960). The release of this songbook celebrated 40 years of Bossa Nova. Antônio Carlos Jobim (1927, Rio de Janeiro – 1994, New York) needs no introduction. Together with João Gilberto and Vinícius de Moraes, he's credited as the inventor of bossa nova. Of course, everyone knows "Garota de Ipanema," or "The Girl from Ipanema". It's among the most covered songs in the world. Here the song gets a nice arrangement by the fantastic João Donato (1934). With his guest appearance he's given the opportunity (and he eagerly takes it!) to leave his mark on this world classic. One of the most recognizable pianists in Brazil and around. His solo is unmistakably Donato!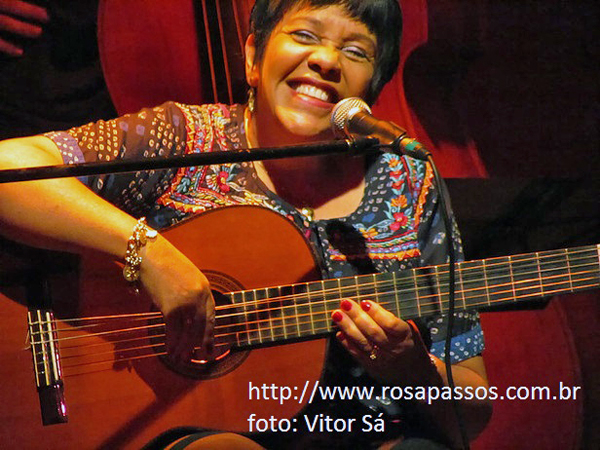 Dorival Caymmi (1914, Salvador de Bahia – 2008, Rio de Janeiro) was singer, songwriter, and guitarist. Although his hundred compositions aren't considered to be all too much for someone of his status, most of them are true classics. Caymmi used to reshape his compositions to perfection. Sometimes it took him years to finish one song. It must have been difficult for Rosa to pick these five songs out of Dorival's gems: "Samba da Minha Terra" (1940), "Vestido de Bolero" (1944), "Marina" (1947), "Só Louco" (1955) and "Vatapá" (1942).
The sambas and bossa novas are all performed in a jazzy way. The voice of Rosa Passos has a warm timbre. At the same her voice is strong enough to put an exclamation point on the sentiment of each song. That can be playful or sentimental, sweet or strong. Of course, the voice can be as good as is can get, it's still depending on the accompanying musicians. The better the vocalist, the better the skills of the instrumentalists must be. It's often true and certainly in this case. Let's highlight three of them. Present on each track is top drummer Erivelton Silva, from the capital of Brazil, Brasilia. He's among the best you can get for these rhythms of bossa and samba. He plays it with a confident authority. On almost every track we have the omnipresent Jorge Helder on his beautiful sounding double-bass. He's without doubt the most wanted bassist in Brazil. Another driving force in the rhythm section is Lula Galvão (Brasilia, 1962) on acoustic guitar and responsible for most of the arrangements. He never forgets about his cultural tradition, a tradition that he beautifully interweaves in his playing. And he does some nice soloing as well.
Rosa Passos did a wise thing to compile this album. The songs she chose are well-known standards in the Brazilian repertoire. Many of them can be heard in all kinds of forms all around the world. The renditions from Rosa absolutely set an example as it comes to good taste and craftsmanship. She has that rare quality to enrich the music she performs; she gives it her own identity. Something she also did for the finishing touch of this CD. The scrapbook with pieces of sewing that illustrate the booklet are handmade by the singer. It shows the joy and dedication of a musician by heart.
ALBUM INFORMATION
Rosa Passos
Canta Ary, Tom e Caymmi
Biscoito Fino BF 362-2 (2015)
Time: 49'07"
Tracks:
O Samba da Minha Terra (Dorival Caymmi)
Inútil Paisagem (Antônio Carlos Jobim – Aloysio de Oliveira)
Um Vestido de Bolero (Dorival Caymmi)
Garota de Ipanema (Antônio Carlos Jobim – Vinícius de Moraes)
Marina (Dorival Caymmi)
Morena Boca de Ouro (Ary Barroso)
Só Louco (Dorival Caymmi)
Vivo Sonhando (Antônio Carlos Jobim)
Pra Machucar Meu Coração (Ary Barroso)
Vatapá (Dorival Caymmi)
Samba de Uma Nota Só (Antônio Carlos Jobim – Newton Mendonça)
Camisa Amarela (Ary Barroso)
Isto Aqui, O Que É? (Ary Barroso)