Blending Literature and Music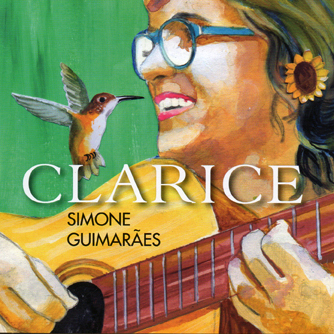 Clarice Lispector (December 10, 1920 – December 9, 1977) was a writer who revolutionized Brazilian literature with her innovative books, short stories and chronicles in Brazilian newspapers. Born in Ukraine, Clarice moved to Brazil at a very young age and lived in Recife (Pernambuco, in northeast Brazil) at first. Later in her teens, the family moved to Rio de Janeiro, where Clarice began publishing her works. In 1944, her first novel, Perto do Coração Selvagem (Near to the Wild Heart), was published. The interior monologue and style were considered revolutionary in Brazil at the time. Critic Álvaro Lins, considered the best at the time, did not spare any words of praise about the book. He said the book was "the first Brazilian novel in James Joyce's and Virginia Wolf's spirit and technique." Her subsequent books, such as Laços de Família (Family Ties) and A Paixão Segundo G.H. (The Passion According to G.H.) continued to please and inspire a new legion of Brazilian writers. Between 1967 and 1973, she wrote a series of weekly chronicles in Jornal do Brasil. Those 468 chronicles were published in A Descoberta do Mundo (The Discovery of the World), a book that dealt with Clarice's passions, stories, interviews, movies and her own existence. The book is presented as a diary with daily entries, but the lines between reality and fiction are not clear. It was this book that inspired Simone Guimarães (born in Santa Rosa de Viterbo, São Paulo, on July 12, 1966) to create Clarice in honor of Clarice Lispector. Clarice becomes Simone's eigth solo album (not including other CDs she released with other songwriters).
In an interview with Rede Brasil Atual in July of 2013, Simone talked about how this book inspired her to create this new album. About Clarice Lispector, Simone said that Clarice made her believe even more in the depth of her heart, her vision and world. With such strong background, it is no wonder that Clarice is a remarkable new album by Simone Guimarães. As the album blends literature and music, it also travels from Bossa Nova to Clube da Esquina with songs both especially written for Clarice and borrowed from the Brazilian classic songbook. Performing with Simone, we hear Paulo Jobim, Miúcha, Danilo Caymmi, Leonel Laterza, Ana de Hollanda, Novelli, André Mehmari, Leandro Braga and several others under the musical direction of Ocelo Mendonça and arrangements co-written by Ocelo Mendonça and Simone Guimarães, as well as Leandro Braga and André Mehmari.
Like literary work, Clarice opens each page (or song) with a proposal to help listeners understand their own musical journey, their inner beauty, what makes them happy or sad, what is invisible. Simone writes in the liner notes that "music is a mixture of the unknown, of work and inspiration." She further states that it is "to feed from what will become food." Clarice is a banquet for the mind and soul. You have the verses in Miúcha's "Como a Vida" talking about how strange, passive and beautiful life can be, or Carla Capalbo's "Passarinhada" and the comfortable feeling of being at home. The latter is a classic example of Clube da Esquina music, and Leandro Braga's piano solo shines beautifully. The same goes for "Vera Cruz," with Simone's soaring vocals taking this Milton Nascimento anthem to new highs. Another very pleasant entry is Guilherme Arantes' "Muito Diferente." The song is a soft ballad with echoes of Clube da Esquina and Bossa Nova all wrapped into one song. It is beautiful, and it includes a short citation of "The Girl from Ipanema" in the last bars.
Clarice is a well deserving tribute to the great brazilian writer that Clarice Lispector was. Simone Guimarães Is strong and proves she is on top of her game.
If you want to hear the title track, the following video features Simone singing and talking about the album (in Portuguese).
ALBUM INFORMATION
Simone Guimarães
Clarice
Café & Pupunha CP-0001 (2013)
Time: 55'28"
Tracks:
Clarice (Simone Guimarães) – w/ Paulo Jobim & Miúcha
Como a Vida (Simone Guimarães – Miúcha) – w/ Miúcha
Passarinhada (Carla Capalbo)
Estrela do Mar (Simone Guimarães – Carlos Di Jaguarão) – w/ Danilo Caymmi
Vera Cruz (Milton Nascimento – Márcio Borges)
Raio de Luar (Bena Lobo – Bia Paes Leme – Dudu Falcão)
Sem Mais Tristezas (Simone Guimarães – Camílla Inês) – w/ Leonel Laterza
Gira Girasol (Simone Guimarães)
Muito Diferente (Guilherme Arantes)
Beija-Flor Colibri (Novelli – Ana de Hollanda) – w/ Ana de Hollanda
Janaína, Meu Canto de Guerra (Novelli – SImone Gumarães) – w/ Novelli
Rastros no Asfalto (Gonzaga da Silva) – w/ Ilessi
Anseios da Sereia (Simone Guimarães – Carlos Di Jaguarão) – w/ Paulo Jobim & Miúcha
Vi (Simone Guimarães) – w/ André Mehmari