When Friends Meet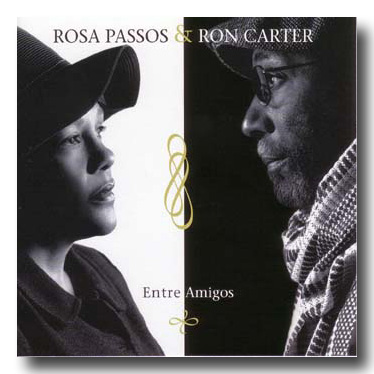 I can still recall the first time I heard Rosa Passos. The song "Verão," from her release Pano Pra Manga (1996), made an indelible mark in my mind. "Verão" has kept its place as one of my favorite Rosa Passos and Fernando de Oliveira's tunes. Since that time, Rosa Passos albums have been a constant addition to my collection. Besides her releases in Brazil, she has also recorded with Kenny Rankin (Here in My Heart, 1997) and more recently with Yo-Yo Ma (Obrigado, Brazil).
Passos latest release is a collaboration with bassist Ron Carter. The album, entitled Entre Amigos, is a collection of eleven Brazilian classics in Passos' inimitable voice and style. Produced by Cliff Korman and David Chesky, Entre Amigos also features Lula Galvão (guitar), Paulo Braga (percussion) and Billy Drewes (tenor sax and clarinet). This Passos/Carter combination sounds like a match made in heaven. Her intimate voice coupled with Carter's rich bass creates a beautiful combination to please die-hard Passos fan and, most certainly, the new fans she'll gain with this album.
The opening track "Bahia com H" might take you back to João Gilberto's 1981 Brasil album – Passos does not hide her passion for him – but Passos arrangement picks up the tempo just a tad faster to catapult Entre Amigos to new heights right from the start. Carter's bass accompaniment envelopes Passos voice and seems to play along with such ease that the listener will likely feel drawn to the charms of these two remarkable performers. And the magic in the first track is not short-lived. Over and over, these two artists spare no surprises. Carter's solo in "Insensatez," for example, is just as moving as Passos' soft spoken voice. Not detracting for the overall atmosphere of the album and at the same time adding a new dimension to it, Drewes' sax and clarinet solos are gorgeous. In "Desafinado," his solos are sometimes mirrored in Passos' voice. She sings some lines in staccato fashion, imitating Drewes precise notes. He also shines in "Eu Sei que Vou Te Amar" with an unusual and mesmerizing introduction.
The friendship shared in Entre Amigos is clearly shown in each track. The album is charming and endearing with each musician's participation carefully balanced. Passos is one of the few singers I know who is capable of recording a well-known song such as "Garota de Ipanema" and make you want to hear it again. Entre Amigos will have that effect on you, too.
ALBUM INFORMATION
Rosa Passos & Ron Carter
Entre Amigos
Chesky JD247 (2003)
Time: 51'51"
Tracks:
Bahia com H (Dennis Brian)
Insensatez (Antonio Carlos Jobim – Vinícius de Moraes)
Desafinado (Antonio Carlos Jobim – Newton Ferreira de Mendonça)
Sorriu para Mim (Garoto – Luís Cláudio)
A Primeira Vez (Bide – Marçal)
Garota de Ipanema (Antonio Carlos Jobim – Vinícius de Moraes)
Por Causa de Você (Antonio Carlos Jobim – Dolores Duran)
Caminhos Cruzados (Antonio Carlos Jobim – Newton Ferreira de Mendonça)
Feitio de Oração (Noel Rosa)
Eu Sei Que Vou Te Amar (Antonio Carlos Jobim – Vinícius de Moraes)
O Grande Amor (Antonio Carlos Jobim – Vinícius de Moraes)