Strutting Strongly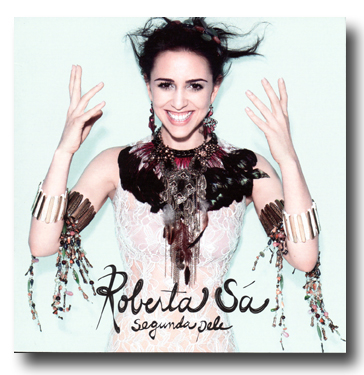 Roberta Sá's fifth solo album continues her solid trajectory with a good repertoire and captivating performances. Her soft vocals are extremely appealing, and it helps her tremendously that she is surrounded by some of the most vibrant musicians, arrangers and guest performers in her new Segunda Pele. Produced by Rodrigo Campello and with artistic direction by João Mario Linhares, Segunda Pele is more than just a pleasing album. It offers a fresh repertoire covering a wide range of genres. From the contemporary opener "Lua" to the more traditional closing number "No Arrebol," Segunda Pele is a release full of surprises and aural pleasures.
Written by Mario Sève and Pedro Luís, "Lua" features percussion by A Parede and woodwind arrangements by none other than Mario Adnet. With such powerhouse support, it is no wonder this number is infectious and indeed a good album kickoff. From Sacha Ambak's soft piano introduction, the music quickly builds up with a duel of woodwinds and percussion. The on-going tribal sound presents a beautiful contrast between Roberta's voice and the instrumentation. The title track does a complete shift and introduces a very cool sound with the addition of Rodrigo Campello's vibraphone. It is like a modern Bossa with an engaging result. Not resting on her laurels, Roberta then introduces a modern baião with "Bem a Sós," featuring the Orquestra Criôla. The arrangement with brass, woodwinds and traditional zabumba is another winner. The same orchestra is featured in other tracks, such as the samba "O Nego e Eu," where Rodrigo's 6 and 7-string acoustic guitars give an acoustic base along with Paulinho Dias' surdo, caixas, agogô and all the expected samba instrumentation. By then Roberta is out and about and holding you on the palm of her hands. She knows her stuff!
Mario Adnet's woodwind arrangement in "Altos e Baixos" brings back his stamp of quality to this very strong release. Also featured here is Marcos Nimrichter's piano accompaniment. Now, if you prefer to hear Roberta in a more intimate song, then "Você Não Poderia Surgir Agora" will be your favorite track. Wow, is she wonderful! Daniel Jobim is on piano and Jessé Sadock's flugelhorn adds the perfect element for this most sensual arrangement. Continuing with this high feeling, Roberta invites Jorge Drexler for a duet in his own "Esquirlas." On and on, Segunda Pele never loses momentum. "No Bolso" and "Deixa Sangrar" will transport you to Carnaval with their frevo rhythms.
Roberta Sá has been recording since 2004, when she released her debut solo album Braseiro. With on-going solid performances and a talent for good repertoire choices, she has solidified a strong collection in these five albums, not to mention her participation in Mario Adnet's Samba Meets Boogie Woogie. One common thread is present: quality. There's no denying how far she'll go.
You can read more about the artist and album in her website.
ALBUM INFORMATION
Roberta Sá
Segunda Pele 
MP,B 60252776147 (2011)
Time: 40'10"
Tracks:
Lua (Mario Sève – Pedro Luís)
Segunda Pele (Carlos Rennó – Gustavo Ruiz)
Bem a Sós (Rubinho Jacobina)
O Nego e Eu (João Cavalcanti)
Altos e Baixos (Lula Queiroga – Yuri Queiroga)
Você Não Poderia Surgir Agora (Dudu Falcão)
Esquirlas (Jorge Drexler)
Pavilhão de Espelhos (Lul Queiroga)
No Bolso (Pedro Luís – Roberta Sá)
Deixa Sangrar (Caetano Veloso)
A Brincadeira (Moreno – Quito Ribeiro – Domenico Lancellotti)
No Arrebol (Wilson Moreira)