Swing & Substance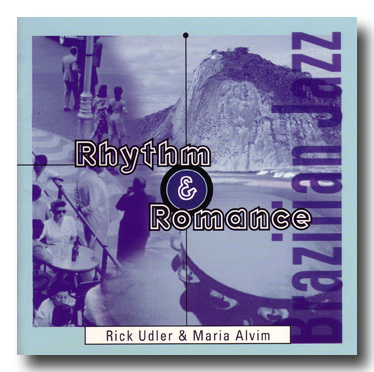 Born in Santiago, Chile (1963), Rick Udler grew up in the United States initially. In 1974 his family moved in São Paulo. It was at that time that Rick started on guitar. A few other moves in the early 1980's took Rick to places such as Los Angeles, New Orleans and Miami. He studied guitar with Ted Greene and Brazilian legend Paulinho Nogueira. In 1987 Rick moved back to Brazil, where he has been ever since. Always a lover of bossa nova and other Brazilian genres, Rick returned to Brazil to stay close to the music he loves and the musicians he admires. In 1990 he met singer Maria Alvim (Belo Horizonte, MG). The result of that partnership has lasted through the years and produced the very first release of the wonderful Brazilian music label Malandro Records back in 1996: Rhythm & Romance.
Produced by Rick and Maria, the album features nine original compositions by Rick Udler with lyrics by Paulo César Pinheiro, J.C. Costa Netto, Rita Altério, Danylo and Maria Alvim. The other songs in the album are standards by Edu Lobo, Chico Buarque, Mílton Nascimento, Antônio Carlos Jobim, Vinícius de Moraes and even Gershwin. With Rick on guitars and Maria on vocals, Rhythm & Romance also features Gilberto Pinto (bass), Toninho Pinheiro (drums, percussion), Márcio Resende (flute), Henrique Cazes (cavaquinho), João Parahyba (percussion), David Richards (flute, sax) and Bocato (trombone) among a few others.
Out of the non-original compositions, a very special arrangement to the Gershwin classic "Our Love Is Here to Stay" receives a nice and slow bossa nova treatment with an added trombone solo by Bocato. "Encontros e Despedidas" is longing and full of saudades. The slow arrangement for "O Morro Não Tem Vez" is very appropriate for that samba. Its somber lyrics fit this arrangement perfectly. For the hopeful "Drão," Rick and Maria perform in duo only. Finally, the playful "Nego Maluco" is the right vehicle for Maria to showcase her malandro (rogue) style in a percussion-rich arrangement.
Among the original compositions, one cannot get enough of "Sou Mais o Samba." Paulo César Pinheiro's lyrics are rich in word play and pay homage to Brazil's most well know musical genre. The track also features Henrique Cazes' cavaquinho accompaniment. Paulo César Pinheiro also contribute the humorous lyrics for "Catimbó." The samba energy is also found in the title track, "Rhythm & Romance" and the closing track, "Lacraia."
Rhythm & Romance has a lot of swing and is also rich in substance with solid performances by Rick and Maria.
Please visit Rick Udler to learn more about this release and listen to sample tracks.
ALBUM INFORMATION
Rick Udler & Maria Alvim
Rhythm & Romance
Malandro Records MAL 71001 (1996)
Time: 51'31"
Tracks:
Brasusa (Rick Udler)
Sou Mais o Samba (Rick Udler – Paulo César Pinheiro)
Cine Marabá (Rick Udler – J.C. Costa Netto)
Nego Maluco (Edu Lobo – Chico Buarque)
Festa dos Navegantes (Rick Udler – Rita Altério)
Drão (Gilberto Gil)
Our Love Is Here to Stay (George Gershwin – Ira Gershwin)
Tio Samba (Rick Udler)
Encontros e Despedidas (Mílton Nascimento)
Rhythm & Romance (Rick Udler)
Feito Roupa (Rick Udler – Danylo)
Catimbó (Rick Udler – Paulo César Pinheiro)
O Morro Não Tem Vez (Antônio Carlos Jobim – Vinícius de Moraes)
Lacraia (Rick Udler – Maria Alvim)