Unforgettable Guitars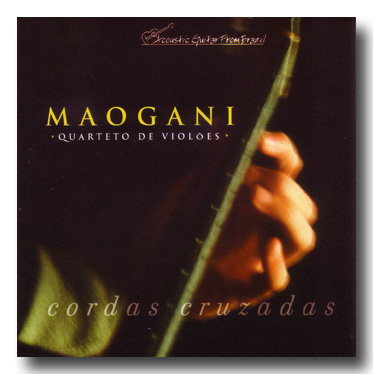 Four years after the release of their debut album, Quarteto Maogani comes back with another production following the same successful steps as their first cd. Musical production in Cordas Cruzadas was the responsibility of Filipe Freire and the Quarteto members. A slight change in the ensemble formation took place since Maogani – Quarteto de Violões. Marcus Tardelli replaced Sérgio Valdeos. Other than that, the album kept the same musical quality and standard as the first.
Cordas Cruzadas repertoire was just as good as before. Special guest arrangers were Célia Vaz, Sérgio Valdeos and Itiberê Zwarg, but most pieces performed here were arranged by the Quarteto members. Once again, the balance between music composed for guitar or by guitarists and other Brazilian composers was carefully addressed. We have pieces by Baden Powell, Guinga, Hélio Delmiro and Paulinho da Viola — artists more closely associated with acoustic guitars and cavaquinho — as well as João Donato, Leandro Braga and Francis Hime — better known for their piano skills. There are yet other songs by Tom Jobim, Hermeto Paschoal, Joyce and more. It is a very well chosen repertoire that gives these four outstanding guitarists plenty of room to exhibit their talents.
As for special guests, we have the pleasure of enjoying Joyce (voice), Fabiano Salek (pandeiro), Ed Motta (voice), Cristiano Alves (clarinet), Alexandre Maionese (flute), Mônica Salmaso (voice) and, once again,Guinga (voice).
The well-known Powell "Samba Novo" (also known as "Babel") is the opener for the album. Performed with incredible speed, the samba is a test of dexterity for these guitarists. Their clean solos are stunningly accurate. At the end, the arrangement written by Tardelli keeps modulating, giving listeners the impression of marimbas. Joyce comes in singing the vocals of her own "For Hall." This nice baião gets its title from the word play for "forró" and jazz guitarist Jim Hall. Joyce's interplay with the acoustic guitars is enchanting and a great preamble for Jobim's delicate waltz "Chovendo na Roseira." As for "Choro Nº 2," the Quarteto goes deep into the Brazilian choro repertoire to record a song that was only once previously recorded. The arrangement is very close to the original Leandro Braga rendition that featured guitarist wonder Romero Lubambo. Just as captivating as the title is for "A Foggy Day in Teresópolis," so is Ed Motta's haunting vocals accompanied by Alves's clarinet and Maionese's flute. The history of this piece is unique. The title, as expected, comes from Gershwin's "A Foggy Day (In London Town)." What is not very common knowledge is that it is also a reference to "A Foggy Day in Vietnam," by John Paul Jones (before he became a member of Led Zeppelin). Hime and Buarque's "Passaredo" is simply magical. The pizzicatos used in the arrangement and the varying tempo create the beautiful illusion of singing birds. This is quite a remarkable arrangement from the mind of Paulo Aragão. Guinga's vocal solo for the somber "Choro Réquiem" is peaceful and respectful. His voice carries a tone of lament that is very touching and fitting for this tribute to Aldir Blanc's mother.
And this is only half of this excellent follow-up album by Quarteto Maogani. The surprises from the minds and hands of these exemplary guitarists will continue to amaze you track after track. Just as with the last tune played, the beautiful "Inesquecível," Cordas Cruzadas is bound to remain an unforgettable album in your collection.
You can read more and listen to samples of Cordas Cruzadas here or in the ensemble's web site.
ALBUM INFORMATION
Quarteto Maogani
Cordas Cruzadas 
Rob Digital RDCD042 (2001)
Time: 45'40"
Tracks:
Samba Novo (Baden Powell)
For Hall (Joyce) – w/ Joyce
Chovendo na Roseira (Tom Jobim)
Choro Nº 2 (Leandro Braga) – w/ Fabiano Salek
A Foggy Day em Teresópolis (Ed Motta) – w/ Ed Motta, Cristiano Alves & Alexandre Maionese
Passaredo (Francis Hime – Chico Buarque)
Choro Réquiem (Guinga – Aldir Blanc) – w/ Guinga
Chama (Hélio Delmiro)
Ilza Nº 83 (Hermeto Paschoal)
Choro de Bela (Carlos Chaves) – w/ Cristiano Alves & Fabiano Salek
Bananeira (João Donato – Gilberto Gil)
Guingando (Edu Kneip – Mauro Aguiar) – w/ Mônica Salmaso
Pra Lúcia (Itiberê Zwarg)
Inesquecível (Paulinho da Viola)