Refined Guitars
 Every time I see a new release that pays homage to names such as Pixinguinha, Dorival Caymmi, Chico Buarque or Tom Jobim, for example, I take a step back and think it over whether I want to hear and buy it. Many artists have decided to place their mark on the repertoire of those Brazilian songwriters. The market is so saturated with such tributes that finding a noteworthy release with those composers takes some determination — and patience to wade through some boring albums. That is most definitely not the case with Quarteto Maogani's third album, Água de Beber. There is one word that comes to mind each and every time I listen to any of Quarteto Maogani's albums: refined.
Created in 1995, Quarteto Maogani's original formation was Paulo Aragão, Marcos Alves, Sérgio Valdeos and Carlos Chaves. With that ensemble they released Maogani – Quarteto de Violões (Rob Digital RD CD 010, 1997). Their second album, Cordas Cruzadas (Rob Digital RD CD, 2001), presented a slight change in the ensemble. Marcus Tardelli replaced Sérgio Valdeos. Throughout its career, the Quarteto has performed with Leila Pinheiro, Olivia Hime, Renato Braz, Miúcha, Zezé Gonzaga and has had several of those artists as featured guests in the Quarteto's own albums. In 2004, the Quarteto crossed the Atlantic to launch its first European tour with stops in Italy, The Netherlands, Poland, Hungary and Germany.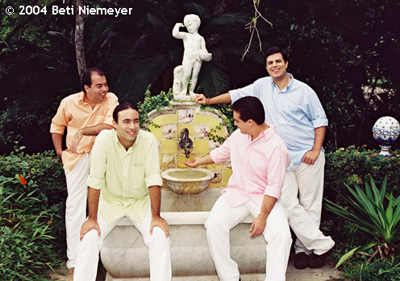 Back home, the Quarteto has already received an impressive number of awards for its recordings and appearances as well as nominations for best instrumental group in the XI Sharp Awards (1998). In 2001, the daily Jornal do Brasil chose Corda Cruzadas as Album of the Year. In 2002, the Quarteto was selected as the best instrumental group on the 1st Caras Music Award. Then in 2004, it was again the best group in the 3rd Rival BR Music Award. Not bad for a group that just had its 10th anniversary.
Água de Beber is a tribute to Tom Jobim. In addition to eight of his compositions, the album also includes music from other composers who influenced Jobim's music: Villa-Lobos, Radamés Gnattali, Ary Barroso, Custódio Mesquita, Pixinguinha and, naturally, one of Jobim's most constant collaborators, Vinícius de Moraes. From the lively opening with "Lamento no Morro" to the effervescent closing with "Frevo de Orfeu," this album exudes charisma, class and charm. How the Quartet does this is beyond my comprehension, and quite frankly, with performances such as these, who cares? It's simply beautiful music performed with impeccable dexterity and enchantment. A song such as "Imagina" sounds like coming from the heavens. The soft waltz arrangement is idyllic. In "Correnteza," the Quarteto presents passages showing at times a crystalline pond and sometimes a soft-flowing stream. A delicious and gently vivacious arrangement was set for Ary Barroso's "Morena Boca de Ouro." Although the entire album is of high quality, I must note one more arrangement that deserves all the praise: "Canto do Sertão." The addition of Jessé Sadoc's melancholy trumpet solo in this song is divine.
Água de Beber is a remarkable album full of artistic nuance and unforgettable surprises. With each new album, Quarteto Maogani solidifies its mark of excellence and raises the bar.
You can read more and listen to samples of Água de Beber here or in the ensemble's web site.
ALBUM INFORMATION
Quarteto Maogani
Água de Beber 
Biscoito Fino BF 576 (2004)
Time: 55'19"
Tracks:
All tracks by Tom Jobim & Vinícius de Moraes, except where noted.
Lamento no Morro
Imagina (Tom Jobim – Chico Buarque)
Água de Beber
Correnteza (Luiz Bonfá – Tom Jobim)
Morena Boca de Ouro (Ary Barroso)
Desprezado (Pixinguinha)
Canhoto (Radamés Gnattali)
Derradeira Primavera
Mulher (Custódio Mesquita – Sadi Cabral)
Canto do Sertão (from Bachianas Brasileiras Nº 4) (Heitor Villa-Lobos)
O Morro Não Tem Vez
Insensatez
Valsa de Eurídice (Vinícius de Moraes)
Frevo de Orfeu