The Bridge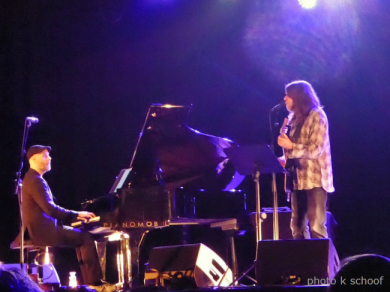 Sometimes it happens: the magic between two musicians from totally different cultures. You wonder how it's possible. Someone from "o país tropical" who joins forces with someone who lives in a rainy country below sea-level! But it works. Think about Ceumar and Dutch pianist Mike Del Ferro. And, since 2013, Brazilian star Lenine with Dutch pianist/composer/arranger Martin Fondse (and his orchestra). As a fan of Lenine, Martin Fondse was introduced to Lenine for a project at the Music Meeting in Nijmagen (Holland).
Lenine and Martin Fondse chose to name their project "The Bridge," inspired by the Maurício de Nassau Bridge in Recife (Pernambuco), a monument of the historical relationship between Brazil and Holland. The Bridge features the music of Lenine with special arrangements by Martin Fondse. With the Martin Fondse Orchestra, Lenine performed at the North Sea Jazz Festival (Holland), Moers Jazz Festival (Germany), The Summer Stage at Central Park, New York and other venues. In 2013 they successfully toured Brazil, in 2015 they were on stage at the immense Rock in Rio (in Rio de Janeiro)!
They did a live album here in Europe very hard to find, The Bridge, recorded in Amsterdam (Bimhuis). That album won this year's prestigious Prêmio da Música Brasileira in two categories: best album and best singer. And in Holland Martin Fondse won the Boy Edgar Price (a price for jazz and improvised music). This prize was presented to him on December 6, 2017. So, it was a good opportunity for Lenine to come to Holland.
As true musicians do, they took the opportunity to arrange a few concerts. Just the two of them; Martin Fondse left his orchestra at home. One of the concerts was in the cute concert hall De Roma in Antwerp, Belgium (December 3rd). For a rather small audience (that included quite some Brazilians) the two musical friends did a fantastic concert.
The concept works great: A short (often lyrical) introduction on piano that flows over in one of Lenine's hit songs. With his great voice and no-nonsense guitar playing, Lenine easily captures the interest of his audience. Martin Fondse (1967, Bergen op Zoom, Holland) impressed the audience with his amazing piano playing and inventive solos. He must know the music of Lenine very well! Fondse studied composition with trombonist Bob Brookmeyer and piano with Kenny Werner. He's mainly known as a jazz musician with an open mind for other influences. He worked with and for Pat Metheny, George Duke, Cristina Branco and many others.
The most beautiful moment of the concert came with the performance of "Paciência." Pianist Martin Fondse feels the sentiment in Lenine's music and he knows how to create a different frame for each composition. He stole all the attention when he played the vibrandoneon (the precursor of the melodica). It sounds even more fragile than the bandoneon. A moving rendition of "O Silêncio das Estrelas" was also a highlight with breathtaking piano. But it was with "Jack Soul Brasileiro" that the Brazilian part of the audience stood up and started to dance. After an hour and a half the two gentlemen left the stage (after three encores), leaving behind a satisfied and happy audience. An unique project that hopefully will be continued!
CONCERT INFORMATION
Lenine & Martin Fondse Duo
Concert review
De Roma, Antwerp, Belgium
December 3, 2017