Going Her Own Way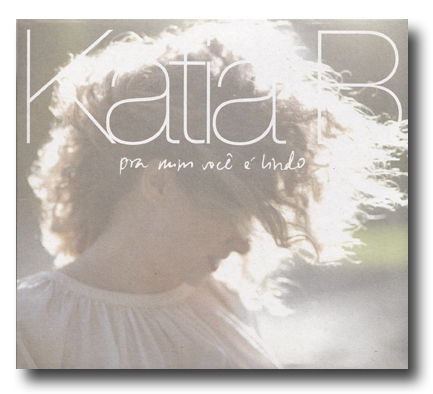 With Pra Mim Você É Lindo Katia Bronstein (Rio, 1965) is back in the Musicland. We had to do without a new cd for about 5 years; it's good to hear her again. Right away, Katia's warm voice and her unique music sound familiar again and seduce the listener. The long wait between the albums may do the trick. On the other hand, with such a pause she may have to prove herself again for a critical new audience. But no problem; Katia knows what she's doing and her voice does the rest.
The album concept is the same: a tasteful brand of contemporary approved bossa nova influenced music, although the bossa touch is a bit less present on this album. The influences of the late sound wizard Suba(Mitar Suboti; 1961-1999) are still echoing over the music. Suba's approach allows music to have its own character as long as it stays within the unique electronic sound atmosphere that he once created. Katia clearly enjoys being in that comfortable situation.
As usual, she carefully picked out a wide variety of talented musicians to accompany her in this special climate of acoustic instruments and attentive electronic additions. For the latter she could count on the good taste of Bernardo Bosísio (acoustic and electric guitars, bass and programming) and Lucas Vasconcellos (guitars, programming, effects, Wurlitzer, piano, fender Rhodes, bass and harmonium). Marcos Cunha (piano, bass, programming) and Gustavo Corsi (guitars), who both worked on all of Katia's earlier albums, are also back in business. Among the other instrumentalists we find Marcos Suzano (percussion), Charles Gavin (from Titãs, drums), Lui Coimbra (charango), Alberto Continentino (bass), Marcelo Costa (percussion), Thomas Harres (drums), Plínio Profeta (bass) and Jam da Silva (drums, vocals). The song that gave the title for the CD is "Bei Mir Bist Du Schön" ("To Me You're Beautiful" or in Portuguese "Pra Mim Você É Lindo"). It's Katia's tribute to her Jewish background. The song was written in 1932 for a musical but it got world fame when the Andrews Sisters recorded it in 1937. It was their first big hit, conquering the USA and Europe. Katia comes up with an updated arrangement that reveals the timeless quality of the composition. Beautiful work by drummer Thomas Harres by the way.
Another song from that time is the marcha de Carnaval "A Tua Vida É um Segredo" from 1933, written by Lamartine Babo (Rio de Janeiro, 1904 – 1963). Rodrigo Campello is on the cavaquinho here. One of Katia's favorite composers, Caetano Veloso, is represented on this album by "Sete Mil Vezes." It's a song that appeared on his LP Cores, Nomes in 1982 (after Maria Bethânia recorded it first in 1981). Guitarist Lucas Vasconcellos is featured in a clear way on this track.
The international allure of the CD is extra underlined by the French chanson "Le Temps de l'Amour" that Katia sings in her best French, and by the English written original "Where Is Your Heart?". An unexpected surprise is the participation of samba singer Teresa Cristina (Rio, 1968) on "Armadilha." "Sem História" is a spacey ballad, highlighted by the vocals of Antonio Saraiva.
The album opens with one of its best tracks, "Aprendendo a Viver." Katia wrote it with guitarist, singer Rubinho Jacobina (who also makes a guest appearance in this song). It's the perfect opener for the album. It brings you back to Katia's earlier works and creates that nice feeling of recognition. The following "O Baile" is a catchy pop song with vocal lines shared between Katia and drummer/ percussionist Jam da Silva. The song kindly forms a bridge to the rest of the album which, as written above, drifts away a bit to further horizons. Nevertheless, the music of Katia B stays recognizable. With her first three albums she created her own unique style and with Pra Mim Você É Lindo Katia seems to enjoy the freedom of having an own style. It makes it possible to push the boundaries of her repertoire. And it sounds great!
Katia celebrates the album with a new website.
ALBUM INFORMATION
Katia B
Pra Mim Você É Lindo 
Independent 7.090.792 (2012)
Time: 42'27"
Tracks:
Aprendendo a Viver (Rubinho Jacobina – Katia B)
O Baile (Jam da Silva – Katia B)
A Tua Vida É um Segredo (Lamartine Babo)
Bei Mir Bistu Shein (original version; Jacob Jacobs – Sholom Secunda)/ Bei Mir Bist Du Schön (Means That You're Grand) (Jacob Jacobs – Sholom Secunda – Sammy Cahn – Saul Chaplin)
Armadilha (Dê Palmeira – Teresa Cristina – Katia B)
Le Temps de l'Amour (Jacques Dutronc – Lucien Morisse – André Salvet)
Seis Vidas (Charles Gavin – Katia B – Bernardo Bosísio)
Where Is Your Heart (Katia B)
Sem História (Antonio Saraiva)
Sete Mil Vezes (Caetano Veloso)
Depois do Bloco (Vinheta) (Vik Barone – Katia B)