A Desert Island Disc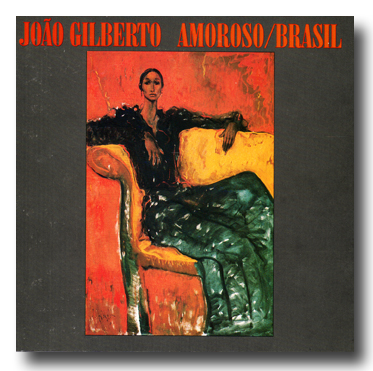 When I first bought this 1977 album, it was the LP version only. Besides João Gilberto's definitive renditions of Brazilian classics, he also put his mark on and made world classics such as "'S Wonderful," "Estate" and "Bésame Mucho" his own. With outstanding arrangements and musical direction by Claus Ogerman, Amoroso is a reference recording for years to come. The album was produced by Tommy Lipuma and Helen Keane, and it featured João on vocals and acoustic guitar.
Amoroso seems to divide some of João's fans. For some, the string arrangements detract from João performances, whereas for others, Claus' orchestral creations only enhance João's peak performances. I have personally been in the latter category and very proud of that. How can I listen to "Wave" without strings attached? The lyrics take on a new meaning with the flute introduction and the soaring violins in the middle of the nearly five-minute arrangement.
It is as if João and Claus knew that we would want to listen to this track over and over. "'S Wonderful" was later on recorded by Diana Krall in a very similar Claus Ogerman arrangement. Why change a perfect thing?! Of course, João's phrasing and pronunciation of this Gershwin classic is endearing to say the least. The same goes with "Estate" and "Bésame Mucho." Word classics sung by a world legendary singer!
João is playful in "Tin Tin por Tin Tin," passionate in "Bésame Mucho," heartbroken in "Caminhos Cruzados," towering in "Wave" and always perfect in every song he sings. The album closes with Jobim/Buarque's "Zíngaro," known to many as "Retrato em Branco e Preto."
To make this CD version even better, Warner paired it with the 1981 Brasil. That made a perfect album even better. Brasil featured João along with Maria Bethânia, Caetano Veloso and Gilberto Gil. Bahia could not have been prouder than in such a moment with four of her notable performers singing together. Brasil was produced by Guto Graça Mello, Krikor Tcherkesian and André Midani with arranging and conducting by the great Johnny Mandel.
ALBUM INFORMATION
João Gilberto
Amoroso/Brasil
Warner Bros. 9 45165-2 (1993)
Time: 73'14"
Tracks:
Amoroso
'S Wonderful (George Gershwin – Ira Gershwin)
Estate(Bruno Martino – Bruno Brighetti)
Tin Tin Por Tin Tin (Haroldo Barbosa – Geraldo Jaques)
Bésame Mucho (Consuelo Velasquez – Sonny Skylar)
Wave (Antônio Carlos Jobim)
Caminhos Cruzados (Antônio Carlos Jobim)
Triste (Antônio Carlos Jobim)
Zíingaro (Antônio Carlos Jobim – Chico Buarque)
Brasil
Aquarela do Brasil (Ary Barroso)
Disse Alguém (All of Me) (Seymour Simons – Gerald Marks – Portuguese lyrics by Haroldo Barbosa
Bahia com H (Denis Brean)
No Tabuleiro da Baiana (Ary Barroso)
Milagre (Dorival Caymmi)
Cordeiro de Nanã (Mateus – Dadinho)