Finger Exercises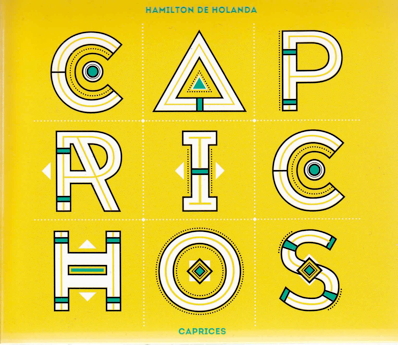 It's commonly known that Hamilton de Holanda has a more than dazzling technique on the ten-string mandolin. When you hear him play it's almost hard to believe that his music is actually happening. Helped by an unique talent, Hamilton never shied away from exercising the hard way on the instrument. While recording and performing, the instrumentalist from Rio de Janeiro (1976) continuously perfected and shaped his technique. What he heard in his mind had to come out of his fingers; one way or the other. The fact that he needed a custom made ten string instrument already says something.
On this album, Caprichos, Hamilton gives us an inside look in his exercising. Capriccios (or caprices) are short virtuosic etudes with lively rhythmic schemes and melodic surprises. The perfect pieces of music to develop one's skills.
Hamilton de Holanda composed 24 caprices for this album, many with titles that show away the inspiration source… It's pure fun. And it gets even more interesting when you follow the input Hamilton gives on a special page on his website.
The scores of all tracks can be downloaded, which makes it great to follow the music with its musical notations! Music students, of course, will enjoy this even more. Another good idea was the invitation of special guests. They, too, show an amazing technique but at the same time they add to the listening pleasure. It's not just finger exercising. The emphasis is on music. We hear pianist André Mehmari, accordionist Bebê Kramer and guitarists Rafael dos Anjos and Rogério Caetano joining in, as well as Hamilton's band members: the amazing André Vasconcellos (acoustic bass), Gabriel Grossi (harmonica), percussionist Thiago da Serrinha, and last but not least, bassist Guto Wirtti. Their participation makes this an exceptional album: a most enjoyable tour de force by Hamilton de Holanda.
One small remark, though. The albums lasts for 65 minutes, but still it's released as a 2-CD set. Of course, it gives the album an extra cachet, but in these times of financial cut back, one wonders if that was necessary. Nevertheless, this is another jewel in the discography of Hamilton de Holanda!
ALBUM INFORMATION
Hamilton de Holanda
Caprichos
Adventure Music AM1092-2 (2014)
Time: 67'38"
Tracks (all compositions by Hamilton de Holanda):
CD 1:
Capricho Primeiro
Capricho Bachiano
Capricho Venezuelano
Capricho do Luperce
Capricho de Valsa
Capricho do Carmo
Capricho de Pixinguinha
Capricho de Choro
Capricho do Sol
Capricho do Céu
Capricho Retirante
Capricho de Espanha
CD 2:
Capricho de Santa Cecília
Capricho da Lua
Capricho de Raphael
Capricho do Sul
Capricho de Donga
Capricho de Chocolate
Capricho do Norte
Capricho de Índio
Capricho da Hora
Capricho Brasileiro
Capricho do Oriente
Último Capricho