Gilberto Gil's party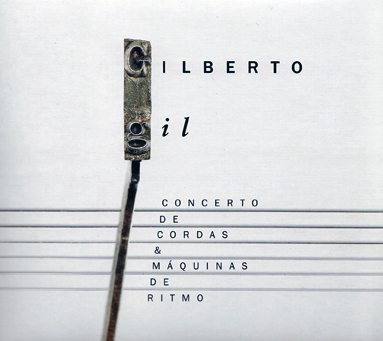 It must have been a magnificent party, there in Rio de Janeiro. Gilberto Gil celebrated his 70th birthday and the 50th year of his impressive career. The festivities took place at the historical Theatro Municipal, a landmark building that since its inauguration in 1909, majestically dominates the Cinelândia district in Rio.
Gilberto Passos Gil Moreira (Salvador, June 26, 1942) started his long career as a recording artist in 1962, when he played the accordion on his own composition "Bem Devagar" on a 78 RPM single by the band As Três. So the year 2012 was the perfect moment to commemorate his own year of birth as well as that of his career. On May 28th, 2012, Gilberto invited his band members and the renowned Petrobrás Symphony Orchestra to please the audience with a retrospective concert. The concert's subtitle Concert of Strings and Rhythm Machines reflects its contents in a clear way. It tells us that there's an old fashioned string orchestra, complemented by a set of modern rhythm machines. The latter should be taken with a wink. As Gilberto explains to the audience, the rhythm machines on stage are drawn up in triplicate. The first generation is represented by the classic percussion instruments such as the tambourine, shaker, berimbau and the second generation refers to more hybrid, or semi-electronic percussion instruments. Both generations are in the hands of percussionist Gustavo di Dalva (Bahia, 1980), who already works with Gilberto Gil for about 18 years now (yes, since he was 14 years old!). The third generation of percussion instruments, as explains Gilberto Gil, are the 100 percent electronic ones. Rhythm boxes and computerized sound machines. These were entrusted to Eduardo Manso. The other band members are on string instruments. On acoustic and electric guitars we hear Bem Gil (Rio de Janeiro, 1985), Gilberto's son. Nicolas Krassik (Paris, 1969) is on violin. He moved from France to Brazil in 2001 to dedicate his musicianship to Brazilian music. He has worked with Gilberto Gil on various occasions. Jacques Morelenbaum is on cello. As a true master on that instrument, Morelenbaum can be found on hundreds of albums. And then there's the Orquestra Petrobrás Sinfônica with its inspired conductor Carlos Prazeres. Founded in 1972, the orchestra is among the most prestigious ones in Brazil. Its constant mix of younger and more experienced musicians keeps it running.
The repertoire of this concert tells the whole Gilberto Gil story in the language of music. His involvement and everything he went through, can be found in his music. Concert of Strings and Rhythm Machines is an impressive musical document, unique in Gilberto Gil's discography and a fantastic way to crown his important career. Listening to this concert is like taking a trip through Brazil's recent history with all its sentiments, featuring one of the most colorful icons in Brazilian music: Gilberto Gil!
This is a CD review; the concert is also on DVD with extra songs.
ALBUM INFORMATION
Gilberto Gil
Concerto de Cordas & Máquinas de Ritmo
RP Music Biscoito Fino RP337 (2012)
Time: 68'04"
Tracks:
All compositions by Gilberto Gil, except where noted.
Máquina de Ritmo
Eu Vim da Bahia
Estrela
Quanta
Futurível
Eu Descobri
Outra Vez (Tom Jobim)
Não Tenho Medo da Morte
Juazeiro (Luiz Gonzaga/ Humberto Teixeira)
Tres Palabras (Osvaldo Farrés)
La Renaissance Africaine
Panis et Circenses (Gilberto Gil/ Caetano Veloso)
Oriente
Andar com Fé
Domingo no Parque