The Perfect Birthday Party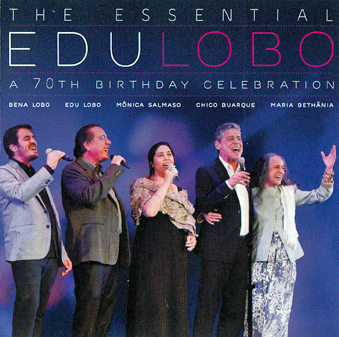 What to do on your birthday when you get 70? Why not do a concert with some of your good friends in one of Brazil's most beautiful venues? Of course, such a celebration isn't given to many people, but things get easier when you're an icon in the Brazilian Popular Music (MPB) scene. Edu Lobo is such a person. 70 Years after the exact date of his birth (August 29, 1943), Edu hit the stage of the historical Municipal Theatre in his hometown Rio de Janeiro. Among his friends on stage were legendary superstars Maria Bethânia and Chico Buarque, the erudite singer Mônica Salmaso and Edu's son Bena. Some celebration! The surprising element in this story is that performing live on stage, being centered in the spotlights, certainly isn't among Edu Lobo's favorite hobbies! But on a day like this, one can make an exception, right?
Edu Lobo has a special place in the rich music culture of Brazil. Although he has bossa nova written all over him, he got away from the love and everything-is-alright feeling that the popular music style preached. He included other, more social themes in his songs, often related to Brazil's northeastern region. It placed him among the so-called second bossa nova generation. He became one of Brazil's most important composers, highlighted by the soundtrack he and Chico Buarque wrote for the musical The Great Mystical Circus in 1983. It was written after the period of years that Edu spent in the USA. His career in Brazil didn't go the way he wanted. Edu Lobo loved to compose music for movies, ballets and theater, but all of a sudden he was forced into being a pop star, performing his music on stage. It was the price he had to pay for writing such good songs! It was not his cup of coffee. So in the early 1970s he packed his bags and decided to study and compose music in the USA. He did a few records there, among them one album with fellow Brazilian Sergio Mendes and one with Paul Desmond, the saxophone legend from pianist Dave Brubeck's quartet. On that album, From the Hot Afternoon (1969), that featured four of his compositions, Edu Lobo played guitar and did some vocals. Despite many good experiences, Edu started to miss his Brazil and he couldn't find an enthusiast motivation to stay in the USA. So he went back, doing the thing he liked most: writing music, preferably in partnership with other writers/ musicians. With the release of two dozens of albums in his 50 year career, the discography of Edu Lobo is a modest but strong one.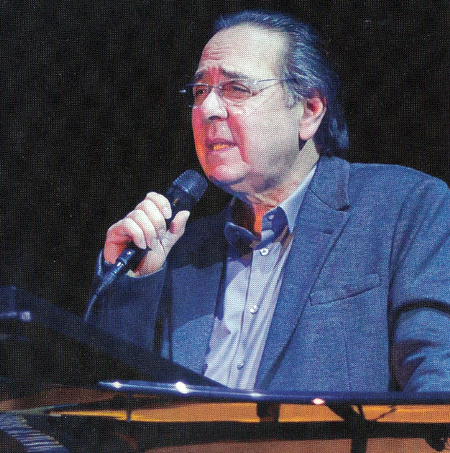 For his birthday concert, Edu Lobo had the luxury of being accompanied by some of the best instrumentalists, surrounded by a complete string orchestra. The band is formed around a strong rhythm section, consisting of pianist and arranger Cristóvão Bastos.(Rio de Janeiro, 1946), bassist Jorge Helder (Fortaleza, 1962) and drummer Jurim Moreira (São Paulo, 1956). Certainly the best you can get. Also in the band are Carlos Malta (Rio de Janeiro, 1960) on saxes and flute, Lula Galvão (Brasilia, 1962) on acoustic guitar and last but not least percussionist Mingo Araújo (Natal, 1956). Saxophonist Carlos Malta is frequently featured with some inspired soloing. It's also worth to pay special attention to the work of drummer Jurim Moreira with his razor-sharp timing and jazzy fills.
The repertoire of Edu Lobo's is enormous; any selection would do injustice to the compositions that are left out. Nevertheless the setlist on this album forms a good, although humble, representation of the oeuvre of Edu Lobo's. The concert opens with "Chegança," written in 1963 and to be found on Edu's very first album. This means 2013 not only marked the 70th birthday of Edu Lobo, but also his 50th year as recording artist! First guest of the evening is Maria Bethânia. She sings two tracks from their collaboration album from 1967, Edu e Bethânia. On "Prá Dizer Adeus" her song-opening duet with pianist Cristóvão Bastos is of a special beauty. Bernardo "Bena" Lobo (Rio de Janeiro, 1972) joins his father with vocals on two other compositions from 1967, "No Cordão da Saideira" and "Ponteio." With "Canto Triste," also written in 1967, these six songs form an important period of the then young composer. Almost 50 years later the compositions are still fresh in the memory of many older but also younger Brazilians; true standards in the Brazilian songbook. Third guest is the great Chico Buarque. He couldn't be absent on this date. Edu Lobo and Chico Buarque wrote more than 40 songs together, mostly for theater plays and ballets. The most famous might be "Beatriz," which is also included in the setlist and performed in a perfect way: piano and voice. Chico Buarque joins in on "A História de Lily Braun." Like "Beatriz," this song was written in 1983 for the musical O Grande Circo Místico (The Great Mystical Circus). This typical musical song is one of the songs that features great soloing by Carlos Malta on the soprano sax. Next is "Lábia," a song from 2001, to be found on the album Cambaio. The third participation by Buarque is on "Choro Bandido" from 1985 for the theater play O Corsário do Rei. The last guest is Mônica Salmaso, the singer who's gifted with an exceptional voice, full of dramatic accents and a feeling for tradition. She transforms "Coração Cigano" (2010) to one of the most beautiful moments on this album. The smart performed instrumental "Pé de Vento," a frevo composed in 2010, leads the way to the end of the concert. We get the breathtaking rendition of "Beatriz" and the closing song "Na Carriera" for which all guests inevitably join in on stage once more.
It concludes a wonderful evening of music, documented here on CD. The listener is given a good impression of how rich and universal Brazilian Music really is. Edu Lobo represents it all. It certainly was good idea to organize this special birthday party.
ALBUM INFORMATION
Edu Lobo
70 Anos
Biscoito Fino BF2832 (2014)
Released in the USA as:
The Essential Edu Lobo – A 70th Birthday Celebration
DRG-Brazil DRG-CD-31638 (2014)
Time: 76'31"
Tracks:
Chegança (Edu Lobo – Oduvaldo Viana Filho)
Cirandeiro (Edu Lobo – Capinan) with Maria Bethânia
Prá Dizer Adeus (Edu Lobo – Torquato Neto) with Maria Bethânia
Vento Bravo (Edu Lobo – Paulo César Pinheiro)
Ave Maria (Edu Lobo – Aldir Blanc)
No Cordão da Saideira (Edu Lobo) with Bena Lobo
Ponteio (Edu Lobo – Capinan) with Bena Lobo
Noite de Verão (Edu Lobo – Chico Buarque)
A História de Lily Braun (Edu Lobo – Chico Buarque) with Chico Buarque
Lábia (Edu Lobo – Chico Buarque) with Chico Buarque
Choro Bandido (Edu Lobo – Chico Buarque) with Chico Buarque
Frevo Diabo (Edu Lobo – Chico Buarque)
Canto Triste (Edu Lobo – Vinicius de Moraes)
A Mulher de Cada Porto (Edu Lobo – Chico Buarque) with Mônica Salmaso
Coração Cigano (Edu Lobo – Paulo César Pinheiro) with Mônica Salmaso
Valsa Brasileira (Edu Lobo – Chico Buarque) with Mônica Salmaso
Pé de Vento (Edu Lobo)
Beatriz (Edu Lobo – Chico Buarque)
Na Carreira (Edu Lobo – Chico Buarque) with Chico Buarque, Maria Bethânia, Mônica Salmaso and Bena Lobo