Reflecting Happy and Sunny Búzios
Búzios is a popular resort place, north of Rio de Janeiro. The peninsula's twenty beautiful beaches and famous night-life attract many visitors. Happy faces of relaxed people form part of the attraction. The sentiment pianist, singer and composer Bill Beach creates on his most recent album recalls the atmosphere of Búzios in a nice way.
From Corvallis, Oregon, Bill Beach studied with jazz giants like pianists Marian McPartland and Warren Bernhardt. During his career, that spans a quarter of a century, the pianist performed with saxophonists Joe Henderson, Eddie Harris, trumpeter Nat Adderley, singer Mark Murphy and other legendary jazz soloists. Although his style sometimes echoes influences of pianist McCoy Tyner, it's clear that Bill picked up many other influences as well to shape them into his own style. In 2002 he dived into the world of Brazilian music and was influenced by artists like Carlos Lyra, Edu Lobo, Luiz Eça and João Donato. Bill studied Portuguese, performed with Brazilian musicians and started to write his own lyrics in Portuguese.
On Búzios Bill Beaches offers us a dozen of his own compositions among which there are 5 instrumentals. The album opens with its instrumental title track.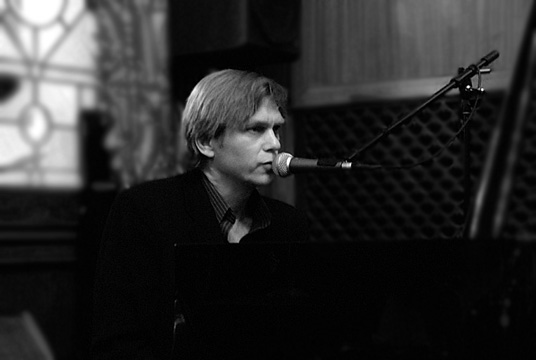 It's a lovely piece of work on which the pianist shows his lyric and rhythmically interesting piano style. It's performed in an old fashioned trio format. The perfect opener; it sets you in the mood for the music that follows; music with sunny blue skies. On the following "Tudo É Relativo" the renowned vocalist Rebecca Kilgore was invited. The specialist of the American Songbook, singing in Portuguese for this occasion, perfectly knows how to add a natural flow to the song. "Nada de Lágrimas/Namida no Hate ni" is a bilingual song, that starts with Bill Beach singing in Japanese before switching over to Portuguese. With a large Japanese population in Brazil and a special love for bossa nova in Japan, the connection between the two countries is easily made. Bill Beach sings with a pleasant voice that finds shelter in his own piano playing. At moments it is fun to clearly notice that it's the pianist who's also singing; he does both things with the exact same sentiment! On all tracks, the bassist is Dave Captein, also from Oregon and with a solid history in jazz. He has been working with Beach for a couple of years already. The trio is completed by a variety of four drummers from the Portland jazz scene. The experienced drummers who switch duty are Ron Steen, Reinhardt Meltz, Gary Hobbs and Charlie Doggett. They all do a terrific job in laying down a jazzy rhythm with a Brazilian touch. The songs vary from friendly sambas to beautiful bossa novas. They're all performed with a warm dedication to Brazil and its musical culture. It makes Búzios a wonderful and entertaining album.
To learn more about the album and artist, please visit Bill Beach.
ALBUM INFORMATION
Bill Beach
Búzios
Axial Records 4003 (2011)
Time: 49'31"
Tracks:
All compositions by Bill Beach.
Búzios
Tudo É Relativo (Everything Is Relative)
Nada de Lágrima/Namida no Hate ni (No Tears)
Pete's Piece
Pesadelos (Nightmares)
Trem para o Corcovado (Train To Corcovado)
A casa da Ana (Ana's House)
Antes da Separação (Before Parting)
Song for Ron
Neste Momento (In This Moment)
Metade de um Coração (Half A Heart)
Bobo (The Fool)