And Now Something Completely Different…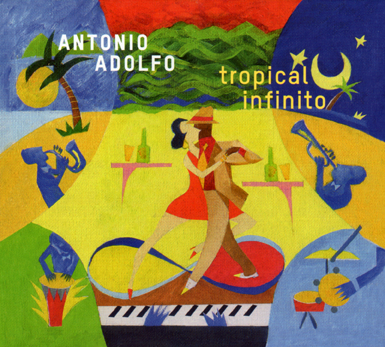 In the last few years I've been trying to keep up with Antonio Adolfo's discography, and that has not been an easy task. He has released more albums than I can find time to review here in MúsicaBrasileira.org. What is remarkable is that every time he comes out with a new release, it surprises me. He always steps up a notch with each new album. Sometimes he devotes his music and arrangements to a particular Brazilian composer, sometimes he goes solo and sometimes he explores the richness of Brazilian music and Jazz. And let's not forget his productions with other artists. He is prolific, competent and detailed in everything he adds his name and brand to. To augment that, he lines up some of the best musicians in Brazilian music, too. This recipe is synonymous with a hit record.
Just a close look at the cover art work Bruno Liberati created for Tropical Infinito will tell you what you'll hear when you play the CD. There's Jazz, Gafieira (a Brazilian partner dance evolved from ballroom dance), percussion, brass and an infinite dosage of Brazilian rhythms and sounds. Antonio is on piano and created all the incredible arrangements. The other musicians working with him on Tropical Infinito are all familiar. Leo Amuedo returns on guitars, Jorge Helder is on double bass, Rafael Barata is on drums and percussion, André Siqueira adds more percussion, and then we have a brand new sound not all too familiar in previous albums: a brass trio comprised of Jessé Sadoc (trumpet and flugelhorn), Marcelo Martins (tenor and soprano saxes) and Serginho Trombone (trombone). These guys make up the party sound you'll hear in Tropical Infinito.
What is not so obvious — and one particular feature of the album — is that here Antonio picked up some important musical influences for his work. He had previously given us a glimpse of that in some other albums, such as the 2013 Finas Misturas. In Tropical Infinito, though, the focus is the sound of the 1960s that influenced Antonio Adolfo. As with anything Antonio does, he puts his inimitable touch to those compositions and arrangements. Put on your dancing shoes to hear the new "Killer Joe," one of two Benny Golson's classics re-invented by Antonio.  Throughout the entire album, the atmosphere is one of joy and effervescence.
Antonio with musicians listening to a take.
Recently, on a late night, I chatted with Antonio about Tropical Infinito. Obviously one of the first things we talked about was the concept for the album. He said that "those were ideas that had been accumulating during a time" when he was not recording, between 1995 and 2005. We further talked about the choice of the Jazz standards included in the album: "Killer Joe," "Whisper Not," "Stolen Moments," "Song for My Father" and "All the Things You Are." About those he said:
I was trying to bring to Brazil those songs I love: just as the two of Benny Golson (great saxophonist and composer), the Horace Silver, Oliver Nelson … and "All The Things," which I had already recorded with Carol [Saboya]. These are themes that lead me to the 60's when I started to be a professional musician. The climate is more or less gafieira, where brass musicians, mostly in Rio and São Paulo – at least to my knowledge – took advantage to play those songs (the Jazz themes) for people to dance samba while they (musicians) were practicing jazz improvisation. I know Paulo Moura, Cipó, Meirelles and many others entered that era. My two themes "Cascavel" and "Partido Leve" also have enough of that climate.
It is evident in some of the repertoire here J.T. Meirelles's influence in Anotnio's arrangements. Antonio explains that the Meirelles e os Copa 5, as well as Sergio Mendes with brass, really influenced his musical evolution. As he says it, the sound of Beco das Garrafas, where he was musically born, influenced him a lot.
If you have been following Antonio Adolfo's career, especially in his latest releases, you know how much he enjoys mixing Brazilian music and Jazz. Whether with Rio, Choro, Jazz… or Finas Misturas, that master blend of genuine Brazilian music with John Coltrane or Dizzie Gillespie is something Antonio enjoys doing. As he puts it, he very much enjoys "these cultural and musical mixtures." For us, listeners and admirers of his music, the result is exceedingly pleasing and creative.
The band and technical personnel at the end of the recording (left to right): Leo Alcãntara (2nd engineer). Roger Freret (recording engineer), Jorge Helder, Rafael Barata, Antonio Adolfo, Marcelo Martins, Serginho do Trombone. Leo Amuedo, Jessé Sadoc (André Siqueira not present in the photo).
One of the original tracks in the album, "Yolanda, Yolanda," was written for Antonio's mother, a violinist at the Rio de Janeiro Municipal Theatre Symphonic Orchestra. He says she "made sublime music." She was a hard-working mother who spent a lot of time raising her five children while still finding time to play at the symphony. When she was pregnant with Antonio, her orchestra colleagues used to tell her that soon-to-be-born baby would most definitely be a musician. Were they right! The track "Yolanda, Yolanda" is a soft and entrancing composition. The metal arrangement, in particular, is captivating. Jessé Sadoc's flugelhorn solo and Marcelo Martins' soprano sax are out of this world. They simply shine brightly! Incidentally, Jessé's solo made me reminisce about the late Márcio Montarroyos.
I was also very curious about the arranging process that Antonio uses to come up with creating these beautiful melodies over and over using well known music. His arrangements transform and enhance the melodies taking them to a new high. He makes it sound simple, but it is a long and dedicated process. During our conversation, he elaborated a little on his arranging and creative process.  For starters, he says that he first plays the music hundreds of times and gets to know it, becoming very intimate, "almost like a musical partner." He continues:
I begin to imagine chords, rhythmic division, tones, etc., etc. In the case of an album, sometimes I already have a general concept. For example, on this record, I wanted to record with brass. I conceived the harmonies, melodies etc, to drive the idea for the album. It is an exciting process. And when we can count on good musicians, it is even better because the recording sound is created without much effort, and rolls out with a huge passion. And the musicians get all excited when they hear what they recorded, their solos, etc.
Nothing is more evident to what he says above than when we hear the music in Tropical Infinito. Take, for example, "All the Things You Are." That song is no stranger to Antonio Adolfo as it was in his and Carol Saboya's 2010 Lá e Cá – Here and There. As part of the harmony in that arrangement, we hear Dori Caymmi's "Amazon River," which, in turn, according to Antonio, "had been influenced by the intermezzo in "All the Things You Are."
And there you have it: the infinite circle of Brazilian music and Jazz. Tropical Infinito is both familiar and comfortable and yet something completely new. Sometimes Antonio Adolfo, the composer, adds to Antonio Adolfo, the arranger, creating nuances and new shades in a recognizable territory. From the opening fast samba "Killer Joe" through Gafieiras and tender beauties, such as "Yolanda, Yolanda," the album is full of surprises and rewards for all listeners. For insightful listeners and lovers of Brazilian music and Jazz, Tropical Infinito is indispensable.
ALBUM INFORMATION
Antonio Adolfo
Tropical Infinito
AAM Music AAM 0710 (2016)
Time: 52'06"
Tracks:
Killer Joe (Benny Golson)
Whisper Not (Benny Golson)
Cascavel (Antonio Adolfo)
Yolanda, Yolanda (Antonio Adolfo)
Stolen Moments (Oliver Nelson)
Song for My Father (Horace Silver)
Partido Leve (Antonio Adolfo)
All the Things You Are (Jerome Kern – Oscar Hammerstein)
Luar da Bahia (Antonio Adolfo)