Flying Solo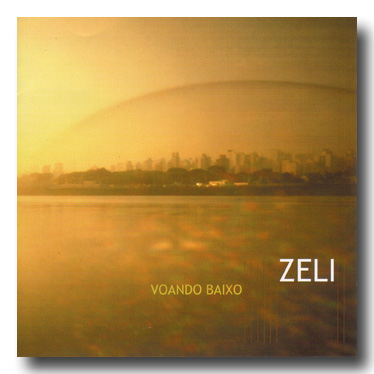 Zeli (José Ricardo de Barros e Silva) is no stranger to those who love and admire the good Brazilian instrumental music. He is a member of the group Terra Brasil, with which he has released five albums. For audiences outside of Brazil, one will recall Terra Brasil's Mestiço (1999) on the fine Malandro Records label. In addition to that, we cannot forget the countless participations in albums by Rosa Passos, Leni Andrade, Chico Pinheiro, Chico Saraiva, Zé Luís Mazziotti, Simone Guimarães and many others.
In his first solo album, Voando Baixo, Zeli is joined by a solid quartet comprised of Edu Ribeiro (drums), Renato Consorte (acoustic guitar), Vitor Alcântara (saxes) and Gil Reyes (piano, clarinet). With a nice repertoire mostly of original songs, the album also brings special guests to add more quality to an already good ensemble. Notable participations include percussionist Guello and vocalists Simone Guimarães and Luciana Alves. Knowing just when to add a new instrument in these nicely arranged songs, Zeli is responsible for all production, musical direction and arrangements.
The album opens with the title track showcasing all musicians in a lively jam. Zeli's bass gives the intro chords to which Guello's cuíca and Edu's drums form the percussion base that will be completed with Renato's guitar, Gil's piano and Vitor's sax solos carrying the melody. In a fast samba, these musicians hold nothing back. "Voando Baixo" is an opener that you won't forget. Just wait till you get half way through this track. Edu's individual solo on drums is breathtaking. This is the kind of performance one expects in lively recordings, where all musicians are given equal time to show their talents. Well, here they are right at the start. Taking things down just a notch to a most adorable waltz, Vitor's soprano sax introduction in "Refúgio" is the most perfect vehicle to introduce Simone Guimarães' unmistakable voice. For this track, Zeli does double duty on acoustic bass and guitar. The arrangement is gentle and also features Vitor on flute, Gil on clarinet and guests Antonio Barker on piano and Marisa Silveira on cello. The love lyrics Simone wrote are entrancing in this very Guinga-esque melody. In the next track, a delicious bolero flavor in "Suíte" is accomplished with congas and cowbells in the able hands of Eduardo Contrera. Noteworthy and equally effective is Daniel Alcântara's smooth flugelhorn solo.
Voando Baixo presents four non-original tracks by Brazilian well-known songwriters. "Carinhoso" is the first of these songs. This is a singular arrangement for this classic. Zeli does the honor of a bass solo in this track. For Cartola's "Corra e Olhe o Céu," Zeli shares the solos with Vitor's tenor sax and Gil's clarinet. This trio ensemble is very nice and does great work on this Cartola classic. From a trio to a quartet, "Mulher" is the next track not composed by Zeli for this album. For the arrangement, Zeli also used a fretless bass — a nice touch, I might add. The quartet formation of piano, drums, bass and sax is what you get here. These musicians pay a nice homage to Custódio Mesquita's tune. Completing the cycle of Brazilian classics, Tom Jobim's "Estrada Branca" is the chosen piece. Again on fretless bass as well as acoustic bass, Zeli divides the solos with guest guitarist Marcelo Gomes.
The vocals that Luciana Alves bring to the wordless "Remexendo" are yet another example of the careful balance that Zeli paid in producing the album. Besides the nice instrumentation, Voando Baixo will please Brazilian music instrumental music lovers for its careful repertoire and, above all, superb musicianship featured in a nice solo debut.
To learn more about the artist, this album and also listen to sample tracks, please visit Zeli.
ALBUM INFORMATION
Zeli
Voando Baixo
Lua Discos LD 042 (2002)
Time: 69'32"
Tracks:
All tracks by Zeli, except where noted.
Voando Baixo
Refúgio (Zeli – Simone Guimarães) – w/ Simone Guimarães
Suíte
Carinhoso (Pixinguinha – João de Barros)
Remexendo – w/ Luciana Alves
Julho Por Deus
Corra e Olhe o Céu (Cartola – Dalmo Castello)
Todos Lados
Luzia
Mulher (Custódio Mesquita – Sadi Cabral)
Balada Capital
Samba Amigo
Estrada Branca (Tom Jobim – Vinícius de Moraes)
Oculto