Rock Ballads and Pop Songs
Zeca Baleiro or, as it would be in English, Zeca the Confectioner, does honour his name. During his musical career, which started in 1997 with his debut album Por Onde Andará Stephen Fry?, Zeca hands out his own musical candies like he used to do in another life. That other life started when José Ribamar Coelho Santos was born in Arari, Maranhão, in 1966.  It didn't look like he was going to be the successful artist that he is now. During his years at university, college students gave him his current artistic name. While attending lectures he used to eat candies all the time. Later he even opened his own candy store"Fazdocinhá" in São Luís, serving homemade candies. But it wasn't what he wanted to do. He wanted to be a musician. In 1991 Zeca moved to São Paulo, where he met the poet Celso Borges, who introduced him to Chico César. The two young musicians soon became musical friends, helping each other out by lending their musical equipment. They even shared an apartment in the expensive city. Zeca's breakthrough came when diva vocalist Gal Costa used one of his songs in her MTV Unplugged album (1997). Zeca's composition, "A Flor da Pele," was inspired by "Vapor Barato" (Jards Macalé – Wally Salomão), a song Gal had recorded more than twenty years earlier. On the Acústico MTV album Zeca was invited to join Gal during the two songs, performed as a medley. It's one of the more beautiful moments on the album. Zeca Baleiro's name was made.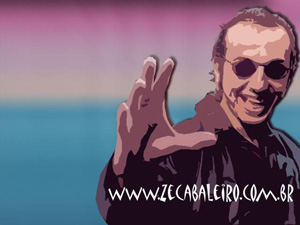 In 1998 he won the prestigious Sharp Awards for New Artist, Best Song ("Bandeira"), and Album of the Year (Por Onde Andará Stephen Fry?).  Ever since, Zeca has been changing colours many times. On his album Líricas (2000) he shows a more romantic face. PetShopMundoCão finds him experimenting a bit with electronic instruments. Not long after that he was on the road with Raimundo Fagner, performing a more traditional repertoire. Next he showed up with a masterful acoustic show (with Luí Coimbra, (cello), Rogério Delayan and Tuco Marcondes (acoustic guitars) ). By the way, that show has been captured on DVD (Líricas, 2004). And here we have his most recent album, Baladas do Asfalto & Outros Blues.  And again we discover another approach.
The album was recorded live in the studio and for the first time, Zeca uses the same band during a studio-recorded album. In that band we find Billy Brandão and Tuco Marcondes on various guitars; bassist Dunga; Humberto Barros on keyboards and Marcelo Costa on drums and percussion. This band leads to pop music. And that is what this album is about. Zeca wanted to do an album that for a change could earn him some radio play. The repertoire is varied. There are ballads and blues inspired pop songs. And there is the typical voice of Zeca Baleiro, always sounding a bit sarcastic. For the quiet moments there is the beautiful ballad "Mulher Amada," accompanied only on piano by guest Sacha Amback. This poem (by Murilo Mendes) that was put on music is the perfect introduction to the tense composition "Cigarro." Here another guest is featured, cellist Luí Coimbra with a string quartet. "Balada de Céu Negro" is a country ballad that changes the mood a bit among a few more penetrative rock ballads, "Balada do Asfalto," and especially the heavy instrumentated "Cachorro Doido." "Alma Nova" sounds as a familiar Zeca Baleiro song. It's the music Zeca Baleiro gained fame with. For the backing vocals Zeca didn't shy back to ask three wonderful vocalists, Adriana Maciel, Cecília Spyer and Milton Guedes. They also appear on the albums opener "Versos Perdidos," again a song where Zeca sounds like we know him from earlier albums. Usually Zeca Baleiro restrains from recording his own compositions that are made famous by other artists. "Muzak" was recorded and provided with her own mark by Rita Ribeiro (on the album Pérolas aos Povos). As an exception, Zeca decided to record his own interpretation of this ballad. It turns out to be one of the album's best moments, beautifully accompanied by Humberto Barros's organ, great guitar work, impressively propelled by drummer Marcelo Costa.
It's a splendid album, but nevertheless there is one very weak element. The artwork of the booklet is very original and pleasant. But the text is very hard to read. Parts of the lyrics and credits are printed in white letters against a sometimes very light background and therefore hard to read. But this may not detract something from the high quality of the music. Just enjoy the disarming beauty of the last song on this album, "O Silêncio," and you'll forget about the booklet again.
ALBUM INFORMATION
Zeca Baleiro
Baladas do Asfalto & Outros Blues
MZA Universal 325912006640 (2005)
Time: 50'07"
Tracks:
All tracks by Zeca Baleiro except where noted.
Versos Perdidos (Zeca Baleiro – Nosly – Fausto Nilo)
Balada do Asfalto
Cachorro Doido (Zeca Baleiro – Fernando Abreu)
Meu Amor Minha Flor Minha Menina
Flores no Asfalto (Gerson da Conceição – Zeca Baleiro)
Alma Nova (Zeca Baleiro – Fernando Abreu)
Balada do Céu Negro (Tuco Marcondes – Zeca Baleiro)
Mulher Amada (Zeca Baleiro on poem by Murilo Mendes)
Cigarro
Muzak
Quando Ela Dorme em Minha Casa (Zeca Baleiro – Fausto Nilo)
Amargo
O Silêncio