A Prodigy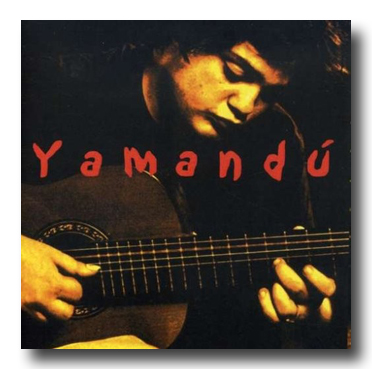 It's not an exaggeration to call Yamandú Costa a prodigy on the guitar. Born in Rio Grande do Sul in 1980, this shy young guitarist has the technique that reminds of Paco de Lucia, the great flamenco guitarist from Spain. Yamandú plays the "violão de 7 cordas" since he was seven and started to improvise even before his tenth birthday. Because he had to, he studied music theory, but his heart is with playing, improvising and paying tribute to Latin American music, with an emphasis on Brazilian music culture. Astor Piazzolla is one of his influences, as well as Armandinho and Jobim. In 2001 he won the Prêmio Visa de MPB, which was an extra publicity for this second album, that was released again this year.
Ernesto Nazareth wrote the opening "Brejeira," where Yamandú takes the solo spot, showing his wonderful technique, but also his talent to improvise. Most of the compositions are played in a traditional line-up, with flute, clarinet, cello, pandeiro. It makes the music sound very authentic, but there's always that dazzling technique of the young guitarist to hold the attention of the listener. Luciana Rabello adds her cavaquinho on the impressive "Gauchinho," with Nailor Azevedo on clarinet and Celsinho Silva on a friendly pandeiro; the perfect surrounding for Yamandú's talents. On "Tristeza do Jeca" you hear both Piazzolla influences as well as Raphael Rabello's. The combination of the flute, violin and cello dominates this arrangement, giving it a deep dramatic South American sound. Playful, yet dramatic. A lovely own composition is "Chorando por Amizade," a duet with Rogério Caetano joining on the violão de 7 cordas. "Flamengo" isn't the flamenco from Spain, you might expect from this guitarist… It's more in the Pixinguinha tradition, including the trumpet by Silvério Pontes. "Bahia x Grêmio" is a pleasant duet with Armandinho (Bahia) on bandolim, challenging Yamandú (Grêmio). The final score should be a draw since both masters reach for everything they have. Amazing technique and a playful mind to improvisation. It's a true joy to listen to these two super talented musicians. Another set of strings can be heard on Raphael Rabello's "Meu Avô": acoustic guitar by Maurício Carrilho and cavaquinho by Luciana Rabello. Yamandú plays his way through and around his two accompanists.
This album proves the unique talent of Yamandú Costa, a musician who can be important for the continuation of the Brazilian music tradition.
ALBUM INFORMATION
Yamandú
Yamandú
Eldorado 278101 (2002)
Time: 59'51"
Tracks:
Brejeira (Ernesto Nazareth)
Mariana (Yamandú Costa)
Gauchinho (Rubens Leal Brito)
Chamamé (Yamandú Costa)
Tristeza do Jeca (Angelino de Oliveira)
Chorando por Amizade (Yamandú Costa)
Flamengo (Bonfiglio de Oliveira)
Bahia X Grêmio (Armandinho – Yamandú Costa)
Machucando (Adalberto de Souza)
Cristal (Yamandú Costa)
Meu Avô (Raphael Rabello)