All about Bossa Nova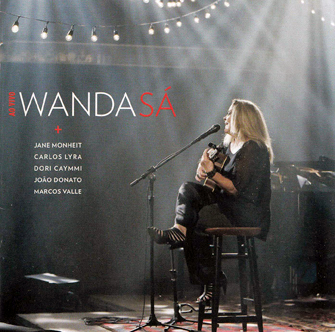 When Wanda Sá, born in São Paulo (1944) but living in Rio since she was one month old, released her first album, Vagamente (1964), Brazil had its personification of Bossa Nova. With her soft, sultry voice, the then 19-year-old singer/guitarist performed some of the finest compositions of that genre. Accompanied by a bunch jazz musicians from Brazil and the US, like Ron Carter, Eumir Deodato, Bud Shank, Airto, Sérgio Mendes, her old guitar teacher Roberto Menescal and others. The cover of the album showed the singer romantically strolling along the beach, dragging her acoustic guitar behind her through the sand. How Bossa Nova can it get! Wanda started to travel around the world and became Brazil's ambassador of Bossa Nova. She was part of the Sergio Mendes Brasil '66 group, with which she recorded two albums. Nevertheless, the music scene couldn't seduce Wanda. She preferred a normal live in the closeness of her family. Between 1969 and 1982 she was married to singer/composer Edu Lobo. During that time she dedicated her live to motherhood and occasionally gave guitar and singing lessons. It wasn't until the late 1980's that the singer appeared in Musicland again. She reunited with Roberto Menescal and continued her career in Bossa Nova. She also started to record again. Mostly with Roberto Menescal, but also with singer/guitarist Célia Vaz (1995), pianist/ singer Marcos Valle (2001) and pianist João Donato (2003). At 70, the singer has a stronger sounding voice and continues her exceptional good taste for selecting her repertoire.
Where else could the singer give her musical party than in the nostalgic Tom Jobim Theatre, at the tip of Rio's botanical garden? Wanda opened the evening with a solo rendition of "Só Me Fez Bem," only vocals and her acoustic guitar, or, as they beautifully say in Brazil: voz e violão. It's a song from her debut album Vagamente of 1964. After this thrilling opening, the Wanda Sá trio joined on the stage to accompany the singer on a set of timeless bossa nova classics. Adriano Souza on piano, Dôdo Ferreira on bass and João Cortez behind the drums: three instrumentalists with a clear jazz-bossa background. They do an outstanding job. Especially during Adriana Souza's piano solos you can hear how well the musicians sound together, e.g., "Samba de Uma Nota Só." On a couple of tracks we can also enjoy the presence of saxophonist Marcelo Martins and trumpeter Jessé Sadoc.
First guest of the evening is pianist, singer and composer Marcos Valle (1943, Rio de Janeiro), "Novo Acorde" is a song he wrote with Wanda (and Paulo Sérgio Valle) and appeared on his album Estática (2010). His second appearance is on "Vagamente." Singer, composer Carlos Lyra (1936, Rio de Janeiro) is the next guest and still sounds great! On his own sparkling "Ciúme" (that appeared first on his 1959 album Bossa Nova) as well as on "Pra Sempre," on which the legendary João Donato takes over the stool behind the piano (from Adriano Souza). The sound of João Donato (1934, Rio Branco) is so recognizable and heavenly nice! It's a pleasure on his own. He's also featured on "Minha Saudade." The last three tracks on the album are presented as bonus tracks. Maybe because they're recorded in the studio. The presence of jazz vocalist Jane Monheit (1977, Oakdale, NY) on these tracks is the bonus. She was touring in Brazil at the time of recording (October 2013) and was more than pleased to participate on this special album. Jane has a warm heart for Brazilian music and singing with Wanda Sá was like a dream come true. Another surprising guest on the three tracks is Dori Caymmi (1943, Rio de Janeiro). He plays the acoustic guitar, joins in with vocals and did the arrangements. And to make the bonus complete we hear the great Ricardo Silveira on guitar.
It all makes this album a very special feature for Wanda Sá and Bossa Nova. She might well be the most important voice in Brazil's most international music style. With a career and voice like Wanda's, she certainly deserves consideration for the title of First Lady of Bossa Nova!
(Note: the order of the songs is mentioned correctly here on MB and on the DRG release; the Biscoito Fino release shows a wrong order of the bonus tracks!)
ALBUM INFORMATION
Wanda Sá
Ao Vivo
Biscoito Fino BF333-2 (2014)
Released in the USA as:
Recorded Live at the Tom Jobim Theatre
DRG-Brazil DRG-CD-31640 (2015)
Time: 52'45"
Tracks:
Só Me Fez Bem (Edu Lobo – Vinícius de Moraes)
Discussão (Antônio Carlos Jobim – Newton Mendonça)
E Nada Mais (Durval Ferreira – Lula Freire)
Samba de uma Nota Só (Antônio Carlos Jobim – Newton Mendonça)
Consolação (Baden Powell – Vinícius de Moraes)
O Que É Amar (Johnny Alf)
Novo Acorde (Marcos Valle – Wanda Sá – Paulo Sergio Valle) – w/ Marcos Valle
Vagamente (Roberto Menescal – Ronaldo Boscoli) – w/ Marcos Valle
Ciúme (Carlos Lyra) – w/ Carlos Lyra
Pra Sempre (João Donato – Carlos Lyra) – w/ Carlos Lyra and João Donato
Minha Saudade (João Donato) / Bim Bom (João Gilberto) – w/ João Donato
Bonus tracks:
Caminhos Cruzados (Antônio Carlos Jobim – Newton Mendonça) – w/ Jane Monheit, Dori Caymmi and Ricardo Silveira
Inútil Paisagem (Antônio Carlos Jobim – Aloysio de Oliveira) / If You Never Come to Me (Ray Gilbert) – w/ Jane Monheit, Dori Caymmi and Ricardo Silveira
Coração sem Saída (Dori Caymmi – Paulo Cesar Pinheiro) / Spring (Dori Caymmi – Tracy Mann) – w/ Jane Monheit, Dori Caymmi and Ricardo Silveira