An Inspired Album!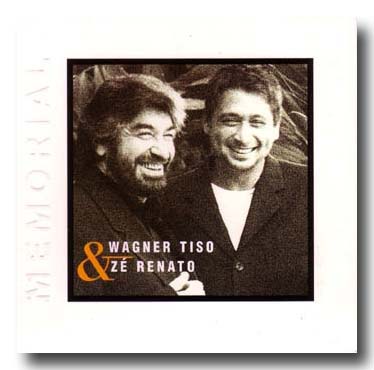 Some remember Juscelino Kubitschek (president of Brazil between 1956 and 1960) because of his ambitious intentions to transform Brazil into one of the world's leading industrial countries. For others his name (along with Oscar Niemeyer, Lucio Costa and Burle Marx) is forever connected to Brazil's capital Brasília. There are people who only remember that his ideas resulted in an inflation rate of 45 pct, which haunted Brazil ever since. Cultural engaged souls love to refer to Kubitschek's passion for music and other art forms. And that's why this cd carries the neutral title "Memorial"; September 12th 2002, marked Kubitschek's (JK) 100th birthday.
Wagner Tiso joined forces with Zé Renato for this project, deciding to breathe new life into some of the songs Kubitschek enjoyed listening to. Wagner Tiso (pianist, composer/arranger) made fame while playing with Milton Nascimento. But he also gained success with his movie scores and is no stranger in the circuit of classical music. Zé Renato (singer, composer) was one of the members of the successful vocal group Boca Livre. Later he dedicated his musical talents to a variety of well chosen projects.
The repertoire on this album ranges roughly from the 1920ies to the early 1980ies. Criticism of Wager Tiso's often bombastic arrangements seem justified when listening to the cd's opening track "Peixe Vivo." However, this instrumental, said to be Kubitschek's favorite song, can also be seen as a tasteful overture for what's following. On "Tristeza do Jeca" Milton Nascimento makes a reputation confirming guest appearance. He sounds in very good shape and more than comfortable with the song. Zé Renato's voice underlines Milton's familiar sounding phrasing, making this a memorable rendition of the in 1922 composed song. With choosing for a string section on "Quando Tu Passas Por Mim," Wagner Tiso makes it easier to understand why this samba can be seen as a predecessor of the Bossa Nova. The samba "Pois É," composed by Ataulfo Alves, is treated with a very basic arrangement and a beautiful piano solo. Zé Renato adds to the beauty of the song with his crystal clear voice. A gem. "Noite Cheia de Estrelas" sounds as if it was written for Zé Renato. Although composed in 1932, Renato perfectly shapes this song to the convenience of his delicate voice. Together with the classical instrumentation this is a dramatic highlight on this album. The world famous duo Jobim and Vinícius de Moraes is represented with the medley "O Grande Amor/Lamento do Morro," performed with respect for the composing duo's originality. A more worked out arrangement is given to the Otávio Mendes/José Marcílio composition "Súplica." It breathes the air of the 1940ies in a sentimental way, creating nostalgic images of South America at that time. Unfortunately it stands a little in contrast with the following "Rosa Morena." This samba sounds like "just another rendition," although the piano solo light things up a bit. The orchestration on the serenade "Neuza" is perfect, bringing us back again to the late 1930ies, with the melancholic sound of the accordion. A more recent composition is "Céu de Brasília" by Toninho Horta/Fernando Brant, a tribute to one of Kubitschek's best known accomplishments: the futuristic capital of Brazil.
This is a well inspired album, performed by some outstanding musicians like the underestimated guitarist Zé Paulo Becker, bass virtuoso Jorge Helder, Robertinho Silva and Marçalzinho on percussion, Pedro Amorim on bandolim and guitarist Marcelo Gonçalves. Sound and recording are perfect on this Biscoito Fino release.
ALBUM INFORMATION
Wagner Tiso & Zé Renato
Memorial
Biscoito Fino BF-519 (2002)
Time: 53'43"
Tracks:
Peixe Vivo (Domínio Público)
Tristeza do Jeca (Angelino de Oliveira)
Quando Tu Passas por Mim (Vinícius de Moraes – Antônio Maria)
Malandrinha (Freire Junior)
Pois É (Ataulfo Alves)
Noite Cheia de Estrelas (Cândido das Neves)
O Grande Amor/ Lamento no Morro (Tom Jobim – Vinícius de Moraes)
Súplica (José Marcílio – Otávio G. Mendes)
Rosa Morena (Dorival Caymmi)
Amo-te Muito (João Chaves)
Fechei a Porta (Delice Ferreira dos Santos – Sebastião C. Motta)
Neuza (Celso Figueiredo – Antonio Caldas)
Céu de Brasília (Toninho Horta – Fernando Brant)
É a Ti Flor do Céu (M. Ferreira – T. Ferreira)