Vocal Excellence!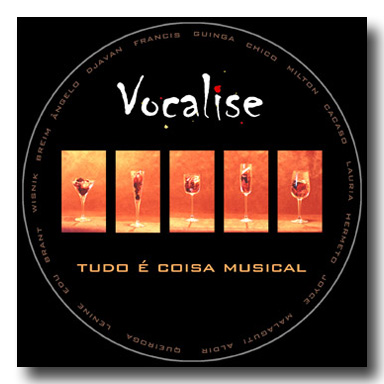 Beth Dau, Fabíola Farias, Ivan Azevedo, Márcio Monteiro, Marcus Aurélius — Five delectable voices; one stunning debut album. Vocalise's Tudo É Coisa Musical is all about music, as its title says, and the album exhibits rare vigor and fresh arrangements utilizing the full vocal range of these five gifted vocalists. The album title is a direct link to Hermeto Pascoal, who is a featured guest among a stellar roster of other Brazilian musicians.
The group's history is simple and straightforward. All five members have roots in classical choral training. Studying with Solange Pinto Mendonça and singing in different choral groups, the ensemble eventually met in Harte Vocal. Their routine of warming up before rehearsals led them to form Vocalise, a small choral group. From that small group, Vocalise finally ended up in the present five-member formation: two female and three male voices.
Proving its creativity, Vocalise pays attention to all fine details of this production, starting with with the tasteful black tin can that holds the CD and liner notes. Ivan Azevedo is the group's musical director and arranger for almost all tracks, but Vocalise also features arrangements by Célia Vaz, Lincoln Andrade and Vicente Ribeiro. Among the long list of special guests in this recording, we find Adriano Giffoni, Carlos Malta, Célia Vaz, Chiquito Braga, Dalmo C. Mota, Daniela Spielmann, Hermeto Pascoal, Yuri Popoff, Wanda Sá and a few others.
Vocalise is causing quite a stir in the 8th Annual Visa Award of Brazilian Music, vocal edition. As one of its finalists, the group has every reason to be sailing high. Tudo É Coisa Musical is proof of that. The album's opener, "Prelúdio," seems to show the group warming up. The mixture of voices and harmonies is indeed a nice prelude for things to come. We then have Hermeto Pascoal talking about making music with household items. In particular, this one minute and a half spoken introduction finds us listening to Pascoal talking about a urinal as a musical instrument and then moving to the kitchen, which is the heart of a home, he says. He closes in telling Vocalise to vocalize at home with a tea kettle with whatever they want to use. "The world needs vocalizing," Pascoal says. Then we hear an incredibly lively arrangement of Guinga and Aldir Blanc's "Chá de Panela." Pascoal himself adds a myriad of sounds that he extracts from a tea kettle, a prescription bottle and even the cloth of his shirt. The track is simply magical. Another guest follows with "Revendo Amigos." Wanda Sá adds a warm and entrancing solo on top of the rich vocal tapestry Vocalise creates. One of the amazing features of the entire album is the variety of sounds and vocal harmonies that Vocalise exhibits from one track to the next without losing the album's homogeneity. The various guests are precious. Dalmo C. Mota's 12-string guitar accompaniment in "A Ponte," for example, is just as much an intrinsic part of the arrangement as the vocals. Another great twist in that arrangement is the inclusion of zabumba, ganzá and triangle in the second half of the arrangement, turning the song is a lively forró. In the a cappella rendition of "Choro Bandido," Vocalise excels once again. Again, in a dramatic contrast, the addition of Daniela Spielmann's soprano sax in "Música das Nuvens e do Chão" is simply gorgeous. The melancholic tone mixed with the voices proves very effective. And that same effectiveness is repeated in "Mantiqueira," except that this time, Carlos Malta's soprano sax and Adriano Giffoni's bass are the stars.
Excellence, artistry, craftsmanship. Vocalise wraps all those qualities in their debut album. You can hear samples of Tudo É Coisa Musical here. Go and find out for yourself how rich Vocalise sound is.
ALBUM INFORMATION
Vocalise
Tudo É Coisa Musical
Independent 20.0966.001 (2005)
Time: 55'25"
Tracks:
Prelúdio (Episode: Prelude) (Nando Lauria)
Chá de Panela (Guinga – Aldir Blanc) – w/ Hermeto Pascoal
Revendo Amigos (Joyce) – w/ Wanda Sá
A Ponte (Lenine – Lula Queiroga)
Choro Bandido (Edu Lobo – Chico Buarque)
Música das Nuvens e do Chão (Hermeto Pascoal) – w/ Hermeto Pascoal
Navegantes – Vinheta (Yuri Popoff)
Embarcação (Francis Hime – Chico Buarque)
Laser (Ricardo Breim – Zé Miguel Wisnik)
Um Canto de Trabalho (Nelson Ângelo – Cacaso)
Faltando um Pedaço (Djavan)
Música Sim (Paulo Malagutti)
Mantiqueira (Nelson Ayres)
Milagre dos Peixes (Milton Nascimento – Fernando Brant)