A Traditional Brazilian Christmas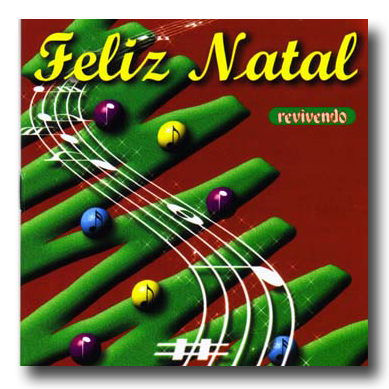 Are you looking for a very traditional Christmas music album? Do you like old recordings? The label Revivendo is responsible for the restoration and release of classic Brazilian music such as this compilation, Feliz Natal. The twenty-one songs in this album date back to the 1930's through 1950's. Sound quality is poor most of the time, but these tracks are priceless.
A look at the list of performers will give you a glimpse of some of the greatest names in Brazilian music. Opening Feliz Natal, we find none other than Francisco Alves, one of Brazil's most distinguished voices, singing along with Dalva de Oliveira and her two companions of Trio de Ouro, the Duo Preto e Branco (Nilo Chagas and Herivelto Martins). Since in the early 1930's Brazil did not have a tradition of original Christmas music, sometimes we would have a song such as "Se Papai Noel Quisesse," which was also used in the Carnaval of 1936. The recording presented here was done by Sylvio Caldas, who was a major performer in the Golden Era (the 1930's). Some of his greatest hits are forever a part of Brazil's classic songs, as is the case of "Chão de Estrelas." Who better than Nelson Gonçalves to sing Berlin's "White Christmas" in the Mariano Pinto's Portuguese version, "Natal Branco"? Along with Trio de Ouro, Gonçalves delivers a beautiful rendition. Another great Brazilian crooner, Dick Farney, performs the 1949 hit "Feliz Natal." One of Brazil's major Christmas hit in this collection is Black-Out's waltz "Natal das Crianças," originally written in 1955 and performed by the author himself. Other important names present in Feliz Natal are Aracy Côrtes, Ângela Maria and the incomparable voices of Carlos Galhardo, Orlando Silva and Vicente Celestino. Those three last names alone could as well summarize the Brazilian male singer. Galhardo, known as the king of waltzes, originally recorded Assis Valente's "Boas Festas" in 1932, but here that song is performed by Hebe Camargo & Os 4 Amigos. Silva — the singer of multitudes, as he was known — had among his hits the classics "Rosa" (Pixinguinha – Otávio de Souza) and "Carinhoso" (Pixinguinha – João de Barro). Celestino, known for his overwhelmingly operatic romanticism, was known for "O Ébrio" and "Coração Materno." The latter song was even used in the Tropicália movement, when Caetano Veloso recorded it in Panis et Circensis (1968).
Feliz Natal is the CD for an old-fashioned Christmas celebration. The all-star performer list is impressive as is the repertoire, which includes some of the first Brazilian Christmas hits.
ALBUM INFORMATION
Various
Feliz Natal
Revivendo RVCD-126 (n/d)
Time: 61'40"
Tracks:
Noite Santa, Silenciosa – Amanhã Vem o Papai Noel (F. Gruber – W. A. Mozart – Luiza Margarida) – Francisco Alves e Trio de Ouro (Dalva de Oliveira & Duo Preto e Branco)
Se Papai Noel Quisesse (Hervê Cordovil – Cristovão de Alenca) – Sylvio Caldas
Papai Noel (Amélia Brandão Nery – Humberto Santiago) – Aldo Verona
Natal Branco (White Christmas) (Irving Berlin – Mariano Pinto) – Nelson Gonçalves & Trio de Ouro
Natal Divino (Milton Amaral) – Aurora Miranda
Feliz Natal (Armando Cavalcanti – Klécius Caldas) – Dick Farney
Natal das Crianças (Black-Out) – Black-Out
Meu Natal (Augusto Vasseur – Luiz Peixoto) – Aracy Côrtes
Chegou Papai Noel (R. Martins – Kid Pêpe) – João Petra
Lindo Presente (Adeste Fidelis) (Oakeley – Mário Rossi) – Dalva de Oliveira
Papai Noel Esqueceu (Herivelto Martins – David Nasser) – Ãngela Maria & João Dias
Papai Noel (Raul Sampaio – Ivo Santos) – Carlos Galhardo
Noite de Paz (Bixio – Vicente Celestino) – Vicente Celestino
Noite de Esplendor (Cristóvão de Alencar – Felisberto Martins) – Odette Amaral
Valsa do Natal (Sivan – Hilton Gomes) – Orlando Silva
Recadinho de Papai Noel (Assis Valente) – Carmen Miranda
Noite Linda de Natal (Alexandre Gnattali – Juanita Castillo) – Alcides Gerardi
Boas Festas (Papai Noel) (Assis Valente) – Hebe Camargo & Os 4 Amigos
Dia Feliz (Joubert de Carvalho) – Francisco Carlos
Sinos de Natal (Jingle Bells) (PD – adapt. Ewaldo Ruy) – Trio de Ouro
Natal (Herivelto Martins – Rogério Nascimento) – Francisco Alves & Trio de Ouro