A Hidden Treasure
One of the nice things about music, and in particular Brazilian Music, is that there are so many hidden treasures. Music that is so well made, so well performed and so full of originality, that it makes you wonder how it is possible the art is still so well hidden. Some of these musical secrets are unveiled on this very website. And here's another one.
Vanessa Bumagny, daughter of Russian/ Portuguese parents, is a talented singer with a crystal clear, flawless voice. She is also a wonderful composer, both music and lyrics. Vanessa knows her way around various musical styles (ranging from Mozart to Luiz Gonzaga — she once had her own forró band — to Prince) and on top of that all, she shows to by gifted with a subtle sense of humour. All these qualities are bound together in this remarkable recording. On this self-titled album, Bumagny is Russian for "de papel" ([made] from paper), the musician from São Paulo delivers some wonderful music.
The title song "De Papel" (this time not referring to the singer's last name!) opens with the rustle of a piece of paper, a sound that returns in a funny (but modest) percussive way. It's in contrast with the beauty of this Zeca Baleiro-Vanessa Bumagny composition. The acoustic guitar (Zeca Loureiro) plays broken chords, while bass accents (Alê Siqueira, also co-producer of the album) support the exceptional voice of the singer. "Plenilúnio" is a poem by one of Portugal's most important poets, Fernando Pessoa (1888 – 1935). The poem is treated with the greatest respect. Bandolim, cavaquinho (Milton Mori), flute (Marta Ozetti) and the seven-string acoustic guitar by Swami Jr. give this track an unmistakable Brazilian colour. "Tranqüilamente" is given a salsa touch over its Brazilian foundation. The acoustic bass (Paulo Pauleli) sounds deep and pianist Fabio Torres gets a chance to let go his talent in this joyful musical style. His piano playing is delightful, showing an accurate jazz tradition. "Borboleta de Papel" invites co-writer Chico César on acoustic guitar. A partnership that works just fine since both musicians seem to share the same nonchalant kind of humour in their music. Vanessa wrote two songs with the musician from Paraíba. The other one is "Pétala por Pétala" and can be found on Chico's album "Respeite Meus Cabelos, Brancos".  Poetry is represented again on "Corridinho". The poem that is put to music here is by Adélia Luzia Prado Freitas (1935), from Minas Gerais. It is here where you get an example of how Vanessa loves to change colours like a chameleon. The opening bars suggest an African influenced piece of music, but immediately we're taken back to Brazil by Dino Barioni's ten-string guitar. "Radiografia" is a song on which Vanessa plays with colours even more. Is it a friendly bolero, a pop song, but how about the heavy rock guitar solo? The relaxed vocals are performed by Vanessa and guest Zeca Baleiro, the best choice. The song sounds like a light-hearted conversation between two long-time friends.  Also on "Árido"  the sentiment changes a few times. The opening accordion (Marco Scolari) takes us all the way to the Middle East while after a few bars of hesitation Jamaica is visited via a reggae rhythm. The accordion tries to seduce the music to turn to a more forró flavoured style, but Paulo Pauleli's acoustic bass lines and the hi-hat and rimshot work by drummer Mauro Sanches are inexorable. "Não Quero Nada" (one of the first songs Vanessa composed) is supported by wah-wah guitar licks and a pleasant upbeat tempo, while it leaves the singer with the lack of interest in everything after a romantic break up. In 1995 Vanessa Bumagny moved to Barcelona, Spain for a few years, where she solved a personal musical crisis. It was there that she gained wider musical experience. "És Verdad" pays tribute to that part of her life. Play-writer, poet Federico Garcia Lorca (Andalucia, Spain; born 1898 and killed during a civil war execution in 1936) is known for bringing surrealism and cubism into literature. Accompanied by bass and acoustic guitar, Vanessa manages to highlight the great writer in a respectful way. As she does with Chico Buarque's impressive "Flor da Idade." The instrumentation (viola, acoustic guitar and percussion) was the best option to dedicate to this icon of Brazilian music writing. The album closes with "Happy Ending," a well chosen option, also because the song is sung partly in Spanish and in Portuguese, Vanessa's two main musical sources of inspiration.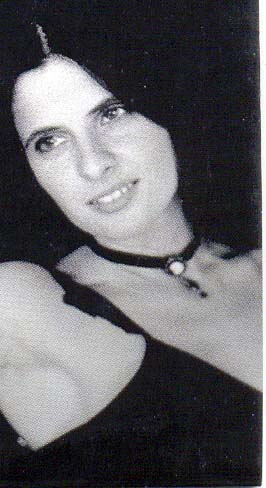 All in all, this is an album full of beautiful moments by an all-round musician who not only loves to play music, but also finds pleasure in playing with music. A gem!
To find out more about Vanessa Bumagny, please visit her web site.
ALBUM INFORMATION
Vanessa Bumagny
De Papel
MCD World Music MCD 174 (2003)
Time: 52'20"
Tracks:
Tá Começando (Vanessa Bumagny)
Árido (Vanessa Bumagny)
Radiografia (Vanessa Bumagny)
Corridinho (Vanessa Bumagny – Adélia Prado)
Sede (Vanessa Bumagny)
Não Quero Nada (Vanessa Bumagny)
De Papel (Zeca Baleiro – Vanessa Bumagny)
Plenilúnio (Vanessa Bumagny – Fernando Pessoa)
Tranqüilamente (Vanessa Bumagny)
Se Der Pra Ser (Marcio Faraco – Vanessa Bumagny)
Borboleta de Papel (Chico César – Vanessa Bumagny)
És Verdad (Vanessa Bumagny – Federico Garcia Lorca)
Flor da Idade (Chico Buarque de Holanda)
Happy ending (Vanessa Bumagny – Jaime Gil de Biedmo)