Hits on Guitar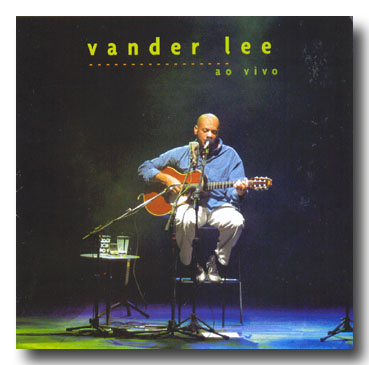 From Belo Horizonte, Minas Gerais, Vander Lee (1966) is gaining success. His star rose more quickly after ending 3rd during the prestigious Visa Award in 2003 (which was the composers' edition). He grew up listening to the music of Clube da Esquina, Bezerra da Silva, Alcione and Tim Maia. Until his military service he was part of a cover band (Natural) that performed the music of 14 Bis, Cazuza, Lulu Santos, Beto Guedes and Milton Nascimento among others. Since 1986 he started to work on his solo career, composing and performing. His compositions were recorded by artists like Alcione ("Mais Um Barco"), Gal Costa ("Onde Deus Possa Me Ouvir") and Rita Ribeiro (the hit song "Românticos" and "Contra o Tempo"). He's seen as one of the more promising composers in Brazilian popular music.
At the end of June 2003, Vander Lee performed his voz e violão (vocals and guitar) show at the Teatro Francisco Nunes in his hometown Belo Horizonte. This cd is a registration of those concerts. The repertoire contains his greatest successes among with lesser known beautiful compositions. Invited guitarist is Rogério Delayon, also from Minas Gerais, who worked and toured with Zeca Baleiro. The participation of the free lance musician is a delight, giving the songs a warmer dimension. "Esperando Aviões" is the song Vander Lee impressed the jury of the Visa Award with. Together with "Aquela Estrela," it is among the most beautiful moments of this album. 
The two guitarists represent the sound of Minas Gerais absolutely perfect on the spectacular composition "Seção 32." The lyrics are of a poetic beauty and match strikingly with the music. Even the guitar solo sounds like poetry. Impressive!  The song is followed by the samba "Chazinho com Biscoito," on which Vander Lee shows his fine sense of humour.  Which he does again, in a less subtle way, on the joyful "Sambado." Elza Soares was among the first to believe in Vander Lee's talent and is thanked for that faith by a guest appearance on the last song of the cd. "Subindo a Ladeira" is the reggae Vander Lee wrote with Rossana Decelso, and marks the only partnership on this cd, where all other songs are composed by Vander Lee.
A very good (third) album by someone who made the good decision to be a musician and therefore gave up his job as the goalkeeper of Atlético Mineiro…
ALBUM INFORMATION
Vander Lee
Ao Vivo
Indie Records 789842012181 (2003)
Time: 50'02"
Tracks:
All tracks by Vander Lee, except where noted.
Contra o Tempo
Esperando Aviões
Pra Ela Passar
Românticos
Aquela Estrela
Seção 32
Chazinho Com Biscoito
Onde Deus Possa Me Ouvir
Alma Nua
Sábio
Sonhos e Pernas
Sambado
Subindo a Ladeira (Vander Lee – Rossana Decelso) – w/ Elza Soares