Musical Classmates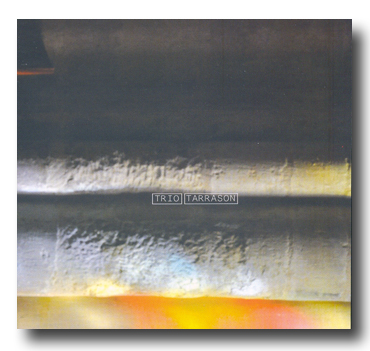 It was at the State University of Campinas in São Paulo (UNICAMP) that music students Henrique Tarrason, Daniel Coelho and Raphael Gonçalves decided to form a trio to perform the music they studied. UNICAMP is the only university in Brazil that teaches Popular (Brazilian) Music, and the trio made good use of that!
Henrique Tarrason (acoustic guitar) studied with (among other teachers) Ulisses Rocha. The first recognition came when Henrique was one of the finalists at the first Festival de Música Instrumental in the Campinas region. He had that success with his own composition "Sobre o Fim da Chuva," a song that also can be found on this album. Bassist Daniel Coelho started off on the acoustic guitar but switched to the electric bass when he was only 15 years old. One of his mentors was the great Sizão Machado. Daniel studied various aspects of the art of music-making. Now he's a teacher himself (guitar and bass). Raphael Gonçalves (drums) also started playing music at an early age and had percussionist Rogério Boccato among his teachers. He completed (together with Prof. Dr. Fernando Hashimoto) a research about the work of the inimitable style of jazz drummer Bill Stewart ("Bill Stewart's peculiar language on the drum set").
These music studies proved to be a solid basis for a first album that features a nice mix of jazz and jazzy popular music. There are some interesting guests who add to the variety of the music. But it's the trio that is the real star on the CD. The craftsmanship is in perfect balance with good taste. There's a mutual respect between the band members, a quality that certainly benefits to the performance. The three trio tracks on the CD (1, 4 and 8), point out that each instrumentalist has a decisive role in the sound of the band. The other five tracks feature well chosen guests. We hear the renowned flutist Lea Freire on an impressive work, "Odoya." Saxophonist Vitor Alcântara is featured on the alto on "Espelhos" and on the tenor on "Da Terra ao Chão." Chico Santana also adds percussion on this track. He can be heard again when he joins in with the amazingly voiced Ceumar, who sings the samba "Sai pra Lá." The fifth special guest is again a vocalist, Tatiana Parra. She just released her first album (Inteira) after appearing as a guest on some 30 CDs. Here she shows her skills on "Conselho."
It may be clear; this is an album that pleases from the beginning till the end. From an appealing jazz basis, the music indeed balances between good jazz and Brazilian rooted popular music. The three musicians are without any doubt on the road to success with this approach!
You can visit the Trio Tarrason at MySpace.
ALBUM INFORMATION
Trio Tarrason
Trio Tarrason
Independent MD304/10 (2010)
Time: 42'11"
Tracks:
All compositions by Henrique Tarrason.
Pedra Redonda
Odoya
Conselho
Sobre o Fim da Chuva
Espelhos
Sai pra Lá – w/ Ceumar
Da Terra ao Chão
Chora a Bota