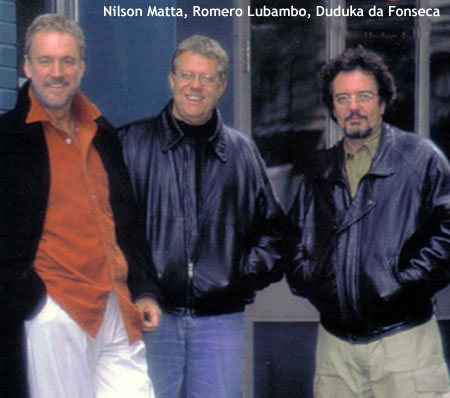 Even though the members of Trio da Paz began performing together in 1985 — "just for fun," said Matta — the trio was formed in 1989. With Duduka da Fonseca on drums and percussion, Romero Lubambo on guitars and Nilson Matta on bass, the trio has released four solo albums to date. They also have an album with Kenny Barron and have appeared in a number of other releases either individually or as featured guests. Trio da Paz has created a niche just its own with recordings that feature original compositions by its members as well as some of Brazilian classics. Trio da Paz sound is unique and recognizable instantly by anyone who has ever heard any of their albums.
THE TRIO
Fonseca has been playing the drums since he was 12 years old. He formed the group New York Samba Band before joining Trio da Paz. He has played with artists such as Mauro Senise, Eliane Elias, Randy Brecker, Tom Jobim, Herbie Mann and countless others. He has also presented workshops in Europe and Japan and is the author of Brazilian Rhythms for Drumset (Warner Bros., 1993).
Lubambo started his musical career when he was 13. He was a member of the groups Cama de Gato and New York Samba Band. He has also performed with Astrud Gilberto, Herbie Mann, Diane Reeves, Kathleen Battle, Paquito D'Rivera, Harry Belafonte and has also released albums with Rafael Rabello, Gil Goldstein, Rildo Hora, Mauro Senise, Leny Andrade and César Camargo Mariano.
Matta completes the ensemble with his vast experience as a renowned bassist, having played bass since age 10. He has performed with Lisa Ono, João Gilberto, Chico Buarque, João Bosco, Nana Caymmi, Leny Andrade, Gato Barbieri, Herbie Mann, Paquito D'Rivera, Mark Murphy, Paul Winter and many others. Along with Mauro Senise, Pascoal Meireles and Romero Lubambo, Matta was also a member of Cama de Gato. In 1990 he co-founded the African Brazilian Connection quintet with pianist Don Pullen. He has also released albums with Hendrik Meurkens and Joe Carter.
Official web site: Trio da Paz