Jazz Pianist Joins the Trio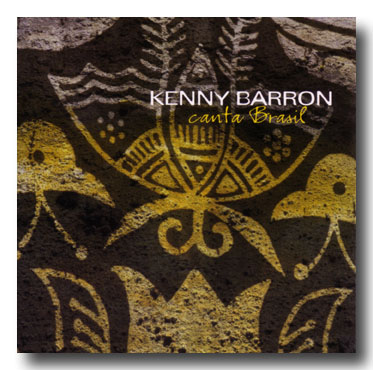 Though this CD cover only lists Kenny Barron as the performer, the back side of the jewel box says Canta Brasil features Trio da Paz. Consequently, I have decided to include this album as part of the Trio's discography.
Produced by Karen Kennedy, Canta Brasil also features Anne Drummond on flute, Valtinho on percussion and Maucha Adnet on vocals. Born in Philadelphia in 1943, Barron is a master on the piano.His career spans decades of jazz piano playing among some of the greatest jazz musicians, such as Philly Joe Jones, James Moody, Stanley Turrentine, Milt Jackson, George Benson, Ron Carter, Michael Franks, Buddy Rich and several others. It was in Dizzy Gillespie's band, though, that Barron acquired his love for Latin rhythms. As an accomplished jazz artist, he has recorded over 40 albums to date. It is no wonder that the Best Pianist (Jazz Journalists Association, four consecutive years) and a finalist in the 2001 Jazz Par International Jazz Award has chosen to record with Trio da Paz in this release.
Canta Brasil features five Barron compositions with the Trio's spin along with three Trio da Paz numbers, one from each member. It is clear to hear the Trio's presence and dominance even in Barron's original numbers. "Zumbi," for example, features Fonseca's drums as the backbone for Barron's keyboard work. Keyboard and drums pair up in a lively duet. This is the funkiest and most effusive track of the album. All musicians get down to business from the very start. Two other tracks, "Thoughts and Dreams" and "This One," carry more of a samba jazz feel. The latter also features Maucha Adnet's vocals. At the other end of Barron's musical sample in Canta Brasil, there are two gorgeous ballads, namely "Clouds" and "Until Then." The former is richly sumptuous with Barron alternating the solos with Lubambo's lovely acoustic guitar. Literally, you will feel in the clouds hearing the peaceful musical scenario these guys create. As for "Until Then," the Bossa Nova vibe in Drummond's honeyed flute is all Brazilian to the core.
The three Trio da Paz songs featured here were previously recorded by the group in their previous releases, but here they add Barron's keyboard and Drummond's flute to the familiar melodies. "Dona Maria" was in Black Orpheus whereas "Paraty" and "Bachião" appeared in Partido Out. "Bachião," in particular, was the best of the three re-recordings. The tempo is just a tad faster, and there's clearly more vibrancy in this new arrangement with flute and piano.
ALBUM INFORMATION
Kenny Barron & Trio da Paz
Canta Brasil 
Sunnyside SSC 3005 (2002)
Time: 58'18"
Tracks:
All music composed by Kenny Barron except where noted.
Zumbi
Clouds
Paraty (Nilson Matta)
Until Then
Bachião (Romero Lubambo)
Thoughts and Dreams
Dona Maria (Duduka da Fonseca)
This One