Sultry Vocals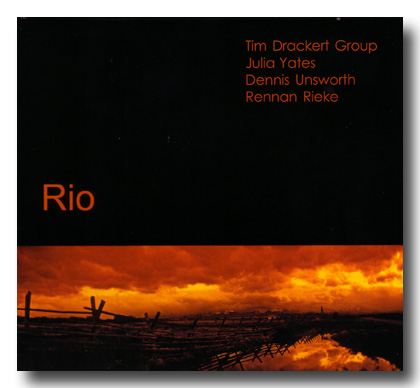 Brazilian music indeed seems to cover the whole world. Just when you think you have thought of all places, you discover a new group performing Brazilian classics. Whether in Japan (Minaswing), Israel (Tucan Trio) or Texas (Catavento), you will always be able to hear Tom Jobim, Chico Buarque and more. Enter the Tim Drackert Group.
I have been listening to Brazilian music all my life. I have encountered it in many places, but I confess my surprise when I heard of the Tim Drackert Group. Based in Montana, this quartet is formed by Tim Drackert on guitars and percussion, Dennis Unsworth on drums, Rennan Rieke on acoustic bass and Julia Yates on vocals. The acoustic instrumentation created for the classic repertoire performed here is captivating. Combined with that, the sultry vocals created by Yates make Rio a mesmerizing album.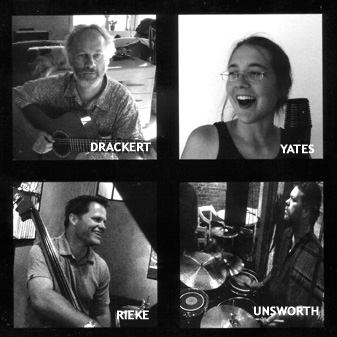 Tim Drackert not only produced the album, but he also arranged all tracks. It is evident upon hearing Rio that he was very careful and meticulous arranging this music. The minimalist instrumental approach not only sounds perfect, but it is also a perfect match to Yates sensuous voice. Her Portuguese language command is not perfect, but that in no way distracts the listener from the beautiful experience to be shared. The music is very familiar — there is no denying it — but even if you have heard it before hundreds of times before, you will likely feel the same attraction I had for the album. I can only attribute that fascination to the renditions we hear.
The album opens with a quiet acoustic guitar solo in "Insensatez." That quietness is enhanced with the use of a rain stick and shakers sparingly throughout the album. Contrasting with the beautiful artwork and hot colors featured on the cover and liner notes, the music we hear is peaceful and soothing. Though most of the album presents a Brazilian repertoire, two non-Brazilian songs find their way to this selection: "Two for the Road" and "Cheek to Cheek." Others have attempted a similar feat before, and the Tim Drackert Group does a good job in making those songs appear to belong in this Bossa Nova repertoire.
Rio will likely not break ground using a familiar repertoire, but one must be honest in recognizing that the Tim Drackert Group uses its artistic tools to deliver a satisfying album with enticing performances.
For more information on the album, artist and to listen to sound samples, please visit Tim Drackert Group .
ALBUM INFORMATION
Tim Drackert Group
Rio
Independent (2005)
Time: 56'02"
Tracks:
All tracks by Tom Jobim and Vinícius de Moraes, except where noted.
Insensatez
A Felicidade
Manhã de Carnaval (Luís Bonfá – Antônio Maria)
Berimbau (Baden Powell – Vinícius de Moraes)
O Grande Amor
Corcovado (Tom Jobim)
Chega de Saudade
O Que Será (Chico Buarque)
Two for the Road (Henry Mancini)
Desafinado (Tom Jobim – Newton Mendonça)
Amor em Paz
Wave (Tom Jobim)
Cheek to Cheek (Irving Berlin)