Simply Beautiful
There are vocalists who invite a phonebook full of musicians to accompany them on the recording of an album. And then there are singers who need only a few well chosen instrumentalists to come up with a more than fantastic result. The advantage of the latter is that the music keeps on flowing, you're not listening to different tracks, you're listening to a whole, the instrumentation doesn't interfere with the sentiment of an album.
Suely Mesquita is an artist who understands that very well. The sentiment of the album can be found in its dedication to the late Ryta de Cássia Peixoto (1954-2006), singer and musical friend of Suely Mesquita. For Microswing Suely invited two outstanding musicians to help her to make this record a shining beauty. The singer, composer, lyricist and vocal teacher from Rio de Janeiro used the opportunity to record a new album to show us the beauty of dedication. This opportunity was given to her after a successful tour with the so called Pixinguinha Project, a sponsored project that gave artists the chance to perform their music in various places in Brazil. The success resulted in a limited financial stimulation by Petrobrás Cultural to record a new album, the follow-up of the well acclaimed Sexo Puro album from 2002 (re-released in 2006 on Duncan Discos).
On Microswing the beautiful warmth of Suely's voice is accompanied by João Gaspar on various guitars and Edu Szajnbrum on percussion and drums. Guitarist João Gaspar seems to be at a peak of his artistic career. Much demanded by musicians of all feathers, his contributions show a strong personality with good taste and an impressive craftmanship. The same can be said about percussionist Edu Szajnbrum. He has worked with the greatest names in MPB. On Microswing both musicians show their involvement with Suely Mesquita's project by a careful chosen instrumentation for each track.
As for the repertoire, Suely made a selection of twelve songs out of her countless compositions. Some of the songs have been recorded before by other artists. It strikes that those songs were among their album's best. Microswing opens with "Zona e Progresso" which was also the title track of the CD Pedro Luís e a Parede released in 2001. Suely's rendition gives away the subtle musical approach we can expect on the rest of the CD. Soft drums (brushes), acoustic guitars with a little electronic riff as extra spice. Suely's voices finds the perfect support. Overall you could say that the disarming warm voice connects with the acoustic instruments, while the often cynical lyrics find companion with the electronic subtilities in the instrumentation. "Imenso" opens as a slow British blues rock song and gets a little funkier as soon as guest vocalist Zélia Duncan joins in. It's good to hear Zélia in this repertoire again, like she's visiting home. Zeca Baleiro is the second special guest. His voice sounds deeper than we're used to from him on the slow samba "Longe" in which the guitar touches Portuguese fado.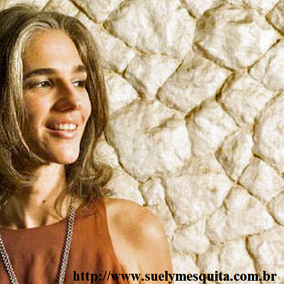 In "On the Rock" João Gaspar takes his Portuguese guitar in a Spanish flamenco direction. These two songs show once again how well Brazilian music mixes with world influences. Suely plays with the listener's emotions on the extreme cynic "Catástrofe," previously recorded by its co-writer Mathilda Kóvak on Mahatmathilda; a evolução de minha espécie. It's a blues that starts of as a lovely lullaby, then passing through a little hurricane before ending in the kindest way. Don't be misled, however, the lyrics are not as friendly as the music sounds. With the same cynism "Vira Lixo" talks about, let's call it the transitory of things in life. Ceumar already has a beautiful rendition of the afro-samba on her "Sempre Viva!," but Suely's version is at least as beautiful. The acoustic guitars, the superb percussion and the wonderful voice: it all comes together. Just like on that other samba that shines on the cd "Qualquer Lugar". My favorite track is "Canção Brega," a samba-canção with touches of afro-samba on which Suely delivers outstanding vocals, João Gaspar again shows his more traditional side, tasteful accompanied by Edu Szajnbrum's percussion. "Mertiolate" is the lovely bossa nova that was among the most beautiful moments on Marcela Biasi's CD Arrastando Maravilhas. Here the song has a go for that same honour with a smaller instrumental arrangement. The album ends with a song for the friend this album is dedicated to: Ryta de Cássia who passed away on April 25, 2006, after an unfair struggle against cancer. In this blues Suely tells how she misses her friend in her daily life. At the same time she revisits most the tracks on this remarkable album; they tell about daily issues in life and sentiment, stylish dressed in unquestionable Brazilian music. Here's another proof that some of the finest music is released independently.
Suely has a new website on which the music can be heard, however, it sounds much more beautiful on CD!
ALBUM INFORMATION
Suely Mesquita
Microswing
Independent SM002 (2008)
Time: 46'41"
Tracks:
Zona e Progresso (Arícia Mess – Pedro Luís – Suely Mesquita (also lyrics))
Imenso (Suely Mesquita – Zélia Duncan (lyrics))
Realejo (Glauco Lourenço – Suely Mesquita (lyrics))
John Wayne (Aroaldo Veneu – Suely Mesquita (lyrics))
Longe (Suely Mesquita – Zeca Baleiro (lyrics))
On the Rocks (Suely Mesquita)
Catástrofe (Suely Mesquita – Mathilda Kóvak (lyrics))
Quelquer Lugar (Suely Mesquita)
Vira Lixo (Chico César – Suely Mesquita (lyrics))
Mertiolate (Kali C – Suely Mesquita (lyrics))
Canção Brega (Suely Mesquita)
Blues pra Ryta (Suely Mesquita)