A World of Sounds
It's hard to describe this album. The collaboration between the percussionists duo Soukast (Simone Sou and Guilherme Kastrup) and pianist Benjamim Taubkin is full of surprises. The musical conversation between the artists covers an interesting variety of international styles. Against the polyrhythmic percussion there is the not lesser inventive mind of pianist Benjamim Taubkin. The trio uses a sounds pallet that at moments recalls inspiration by the music of Egberto Gismonti and the late Ramiro Musotto (Sudaka).
Simone Sou (1970, São Paulo), former known as Simone Soul, gained experience while working with Chico César. His music gave her a chance to go deeper into the roots of Brazilian/African music. More recently she teamed up with Oleg Fateev, a bayan player (Russian button accordion) from Moldavia, exploring the music of the Balkan. Percussionist Guilherme Kastrup (1969, Rio de Janeiro) grew up listening to rock bands like Black Sabbath and Deep Purple, as well as to Milton Nascimento and Naná Vasconcelos. He worked with Zeca Baleiro and also with Chico César. Together Simone Sou and Guilherme Kastrup formed Soukast in 2005 to create experimental and spontaneous music. For Sounds of Life they invited pianist Benjamim Taubkin (1956, São Paulo). The trio did a series of concerts in which Taubkin added his creative feelings about the duo's compositions. This album is a result of that. The often ethnic sounds are dressed in an avant garde jazz style. Not the easiest music to listen to, but definitely interesting.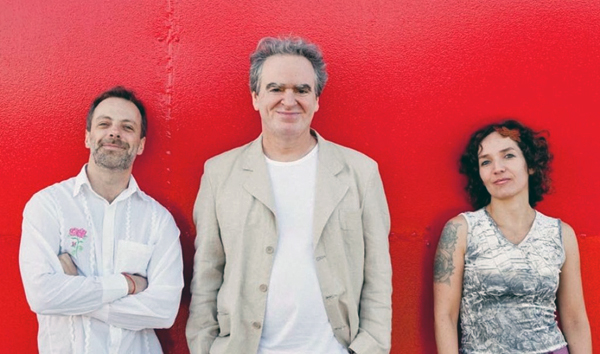 Simone and Guilherme use a wide mix of percussion instruments as well as sampled sounds from the MPC (Music Production Center). Benjamim Taubkin is mostly on the acoustic piano played in a melodic but also percussive way. It makes the music more accessible; he kind of functions like a binding agent between the artists' minds and the listener. It's clear that the music has to grow before all the pieces fall together.
A perfect album to explore the minds of the three highly creative musicians. The album was released in Brazil as Sons de Sobrevivência on the Núcleo Contemporâneo label. Guilherme Kastrup dedicates a part of his website to the Soukast Duo.
ALBUM INFORMATION
Simone Sou, Guilherme Kastrup & Benjamim Taubkin
Sounds of Life
Adventure Music AM109 3 2 (2015)
Time: 46'14″
Tracks:
Pifaiada (Kastrup – Sou)
Gota D'Água (Simone Sou)
Choro Bororo (Taubkin – Kastrup – Sou)
Improviso (E o que veio depois) (Taubkin – Kastrup – Sou)
O Tocador(Simone Sou – Oleg Fateev)
Mozambik Bembe (Kastrup – Sou)
Fábrica de Sapos (Kastrup – Sou)