One of Her Best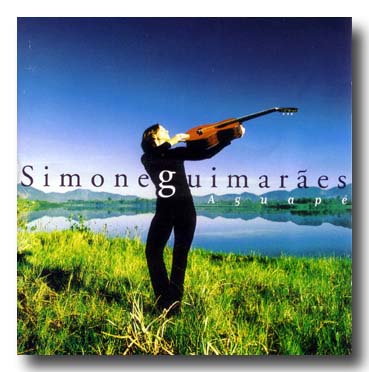 This was the album that introduced me to the musical world of Simone Guimarães. The fact her voice sometimes reminded me of Elis Regina's was the initial attraction. When I finally got to see the album cover and its connection to nature, my curiosity increased. Upon listening to more tracks in Aguapé, I was able to discover much more about Simone's music, her sincere and simple interpretations coming from her soul. With her first two releases, she got many people's attention. In Aguapé, she had several special guests join her: Zé Renato in the title track, as well as Danilo Caymmi, Elba Ramalho, Ivan Lins and Maurício Maestro. Other musicians included Leandro Braga (piano), Adriano Giffoni (bass), Luiz Brasil (acoustic guitar) and Beto Cazes (percussion). Out of the 12 tracks in the album, Simone Guimarães and Cristina Saraiva co-wrote five. Simone also co-wrote one track with Juarez Machado. The repertoire choice and arrangements are impeccable.
"Aguapé" is a special song for several reasons. João Carlos Coutinho's accordion solo captures the melancholy tone of Edmundo Souto's music and Paulinho Tapajós's lyrics. The words clearly remind you and take you to some of Tom Jobim's compositions that talk about birds, animals, native fruits and other natural beauties. The song talks about the "hidden love" kept in a nest "on the other side of the woods." The song is tranquil and soothing and will certainly move those who hear it. Simone Guimarães and Zé Renato blend their voices beautifully.
With "Baião Barroco," Simone Guimarães returns to Brazilian folklore and sings about the seahorse, who is the captain in the Bumba-Meu-Boi tradition. The idea for this song, according to Simone, came up this way:
When I heard Juarez's baião, images of Brazilian folkloric processions came to my head. Those processions always bring the old as the unexpected. I also thought of the Baroque architectural elements. hybrid figures with lions with eagle heads, horses with angel feathers, birds changing into snakes, etc.
That is how this song was conceived, speaking of fantastic elements, such as as man appearing out of a star or even an angel coming out of a singer's mouth. This song is truly a gem.
In "No Tempo dos Quintais" Simone takes us back in time to the era of courteous gentlemen who would give up their seat on a bus for a lady to sit down, where the simplicity of houses and their orchards would be illuminated by gas lamps under which those in love would share their love. Simone says this song was special for her and marked her life because the song is like "a faithful portrait of Brazilian history." It was a time of innocence, a time without fear that was called never more, so says Paulinho Tapajós's lyrics. Leandro Braga's piano solo was all we hear besides Simone's voice. Nothing else is needed. Contrasting with this simple life, we then have "Pato Preto," which is a portrait of the sufferings experienced by the Brazilian northeasterners who leave their land behind along with drought, sadness and solitude. They go on to face new adventures in São Paulo. The same track was also featured in Songbook Tom Jobim, 1996 (disc 4).
On the next track, "Cantos pra Despertar," Cristina Saraiva tells us that when she wrote this song, she already had Simone's and Elba Ramalho's voices sharing the vocals. Yet in another duet, this time with Ivan Lins, Simone sings "Estrela Guia," a tribute to Milton Nascimento. As Simone puts it, the song pays homage to the one who has been her guiding star. At the end of the arrangement, there is a beautiful citation of "Morro Velho," by Milton Nascimento. Another tribute in this album comes with "Hermanos." Here the honorees are Ivan Lins, Romero Lubambo and Cesar Camargo Mariano. In Cristina Saraiva's lyrics, they are represented by a red flower, a fountain hear and a constellation. Those three giants of Brazilian music cover "the ground with songs of love and enchantment."
In the next two tracks, "Relento" and "Minha Terra", the theme of nature serves as the background for lost loves. In "Relento," nature grows with the singer. Together they learn about life, "the far away, the moment and the friend on their side." In the end the disillusion of lost love is like a fire that has been put out, a life that's gone by. In the other song, the land is everything. A life was built on it, a family was raised, and in the end everything came tumbling down. All of it happened when a stranger appeared and said the land no longer belonged to those who harvested it. The land was sold. The contrast between the beginning and the end form the circle of life.
Foi nesta terra que eu vivi a vida inteira
Que cravei minha bandeira, que plantei meu coração
No pé da serra levantei minha tapera
Trabalhei toda essa terra e cuidei da criação.
…
Por essa estrada feita de pedra cortante
De saudade, de instante
Vou levando o que sobrou:
Minha viola, meu facão, minha enxada
A mulher, a criançada e a fé no Criador.
Here on this land I lived all my life
I set my flag down, I planted my heart
By the mountain I put up my home
I worked all the land and took care of the cattle.
…
On this road with cutting stones
With longing and suddenly
I take with me what's left over
My viola, my knife, my hoe
The wife, the children and faith in the Creator.
"Tiro Cruzado" needs no introduction. Maurício Maestro wrote a very dynamic arrangement and gets help from Beto Cazes's percussion and the great Franklin da Flauta's flute solos. As Simone says, she never thinks about "making an album without listening to Nélson Ângelo first." She has included his songs in her previous works.
Before ending the album, we have one of Joyce's baião with lyrics by the fabulous poet Paulo César Pinheiro, "Outras Mulheres." The song is a tribute to feminine strength and freedom. All of it is reinforced with "Olhos de Fogo," a very country toada. In a duet with Maurício Maestro, Simone sings about the passion one feels but cannot explain. It is the kind of passion that is born from one strong look that burns hot in cold nights and keeps aflame all life long.
After Aguapé, Simone Guimarães participated in Songbook Chico Buarque, 1999 (disc 8), with "Desencontro" (by Toquinho and Chico Buarque) in a duet with Hélio Delmiro on guitar. At the end of that year, she also appeared in Ivan Lins's Christmas album, Um Novo Tempo. In a duet with him, she sang "Ô de Casa," which she co-wrote with Sérgio Natureza. Another beautiful participation was in Ione Papas Noel por Ione in 2000. Simone and Ione sang "Coração (Samba Anatômico)." Simone's vocals are spine chilling!
ALBUM INFORMATION
Simone Guimarães
Aguapé 
Tiê/CID 03004/5 (1998)
Time: 41'38"
Tracks:
Aguapé (Edmundo Souto – Paulinho Tapajós) w/ Zé Renato
Baião Barroco (Cavalo-Marinho) (Juarez Moreira – Simone Guimarães)
No Tempo dos Quintais (Sivuca – Paulinho Tapajós)
Pato Preto (Tom Jobim) w/ Danilo Caymmi
Cantos pra Despertar (Simone Guimarães – Cristina Saraiva) w/ Elba Ramalho
Estrela Guia (Ivan Lins – Vitor Martins) w/ Ivan Lins
Hermanos (Simone Guimarães – Cristina Saraiva)
Relento (Simone Guimarães – Cristina Saraiva)
Minha Terra (Simone Guimarães – Cristina Saraiva)
Tiro Cruzado (Nélson Ângelo – Márcio Borges)
Outras Mulheres (Joyce – Paulo César Pinheiro)
Olhos de Fogo (Simone Guimarães – Cristina Saraiva) w/ Maurício Maestro