A Martinho da Vila Songbook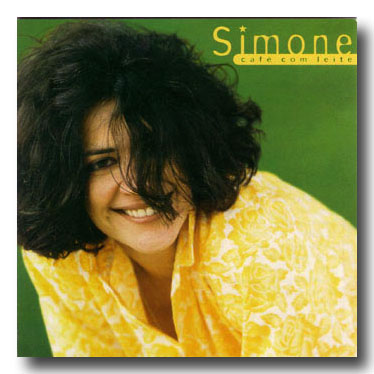 Finally the CD Simone had long wanted to make with Martinho da Vila songs. In her own words, "thank you for this great trip that you and your co-songwriters have given me. It was very good." Good does not really define this release. Café Com Leite is a top-notch album! Dori Caymmi's, César Camargo Mariano's, Júlio Teixeira's and Heitor T.P.'s arrangements (not to mention Rildo Hora's extra song) make Café Com Leite delicious. And Simone's new look was also nice. Though she had changed labels, she would still release one last album on Columbia.
You might not like coffee, cream, or the traditional combination of coffee and cream. However, there is absolutely no way you will not like Simone's latest CD Café com Leite, a tribute to Martinho da Vila, a Rio de Janeiro singer and songwriter who has given Brazil great sambas such as "Meu Laiá-raiá," "Se Eu Soubesse que Tu Vinhas" and "Canta, Canta, Minha Gente" among others — all included here.
An original idea of Simone, Café com Leite unites the great sambas of Martinho da Vila with impeccable arrangements by Dori Caymmi, Cesar Camargo Mariano, Julio Teixeira, Heitor T.P. and Rildo Hora and a team of musicians that includes percussion by Paulinho da Costa and Luís Conte, keyboards by Cesar Camargo Mariano and guitar by Dori Caymmi. With this mixture of talents, it is no wonder this "cafezinho" tastes so good.
The opening track, "Café com Leite," is a short a cappella version that serves as a definition for the entire album, a meeting of two giants: Simone and Martinho da Vila. Then comes the outstanding samba-funk introduction to "Beija, Me Beija, Me Beija." That arrangement was one of the best in the entire CD. Throughout the entire recording, Simone delivers Martinho's songs perfectly, sometimes very playfully as in "Madalena do Jucu" and then majestically and peacefully as in "Disritmia," with a Chopiniesque arrangement by Cesar Camargo Mariano. The final track, "Ex-Amor," brings Martinho da Vila himself along with Simone to close the circle sampling Martinho's songwriting career.
Simone said that making this album was a "great trip" and "really good." She might have actually underestimated the results in Café com Leite. This is not simply "good." It is a landmark album for Simone and one of her best career recordings.
This review appeared in Luna Kafé, June 1997.
ALBUM INFORMATION
Simone
Café com Leite
Mercury 534 179 – 2 (1996)
Time: 48'03"
Tracks:
Café com Leite (Martinho da Vila – Zé Catimba)
Beija, Me Beija, Me Beija (Zé Catimba – Martinho da Vila)
Meu Laiá-raiá (Martinho da Vila)
Madalena do Jucu (Martinho da Vila – Associação dos Congadeiros do Espírito Santo)
Disritmia (Martinho da Vila)
Se Eu Soubesse que Tu Vinhas (Martinho da Vila – Elton Medeiros)
Samba da Cabrocha Bamba (Martinho da Vila)
Canta, Canta, Minha Gente (Martinho da Vila)
Quem É do Mar não Enjoa (Martinho da Vila)
Iaiá do Cais Dourado (Martinho da Vila – Rodolfo)
Maré Mansa (Mar Calmado) (Martinho da Vila – Paulinho da Viola)
Ex-Amor (Martinho da Vila) – w/ Martinho da Vila