Bossa Nova High
No matter what naysayers might want to imply, the truth is that Bossa Nova will never die. The light keeps burning and maintaining Bossa Nova alive and well. The good thing is that in spite of its popularity decrease in Brazil, there are artists there who insist on recording Bossa Nova albums. Lucky for us, I'll say.
Sergio Augusto breathes Bossa Nova. This São Paulo native, now based in Denver, Colorado, has worked with some of the best in the genre, including Claudette Soares, Zimbo Trio, Paulinho Nogueira and Alaíde Costa. It is with this solid background that Sergio Augusto conceived this brand new work, Tudo Que Arde, Cura. With artistic direction by Zé Luiz Soares, produced by Thomas Roth and arranged by Natan Marques, the album features Sergio Augusto's vocals and acoustic guitar with an excellent group of musicians behind him: Michel Freidenson (piano, strings), Jeff Linsky (acoustic guitar), Natan Marques (electric and acoustic guitars), Sylvio Mazzuca Junior and Carlão (bass), Maguinho and Jorge Saavedra (drums), Victor Alcântara (flute, soprano sax), Daniel Alcântara (flugelhorn, trumpet).
If the intro in "Amazonas" doesn't get you swinging in style, you better take your pulse to make sure you're still alive. Sergio's smooth voice is balmy and irresistible. Guitar and keyboard solos open the door for a terrific rhythm section. In the same breath, Sergio returns with the speedy lyrics in "Balansamba." Bossa Nova never felt so good and so right. These songs are performed with unequalled vigor. Adding to familiar names such as João Donato and Roberto Menescal, Sergio Augusto features several tracks he wrote himself. Not only is he a great guitarist and vocalist, his songwriting abilities are extraordinary. He can write about love starting ("Quando o Amor Chegar") and love ending ("Como É Que Vai Ser?," "Deu no Que Deu") with the same ease as he sings about the beauty of his loved one ("Linda"). One constant in his music is the captivating melodies and straightforward lyrics.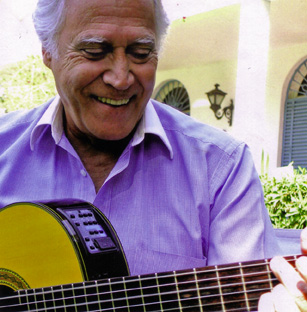 In the best tradition of exultation sambas, Sergio gives us his own "Não Há Nada Como Aqui," in which he sings about the beauties of Brazil with clear recognition to Ary Barroso's "Aquarela do Brasil (Brazil)" and Tom Jobim's "Águas de Março." This bossa song touches deeply, especially for those living outside of Brazil.
Exhibiting his writing talents above all expectations, Sergio Augusto excels with "Língua do Pê." This is one of those songs that you can almost hear João Gilberto's voice all over it. The fast tempo is matched by lyrics mostly with words beginning with the letter P giving the entire composition an explosive aura of joy. Sergio said that in writing the song he "tried to depict life in the small interior cities of Brazil," where he grew up. As kids, Brazilians do a similar word game as to what is known in the US as Pig Latin. "Língua do Pê" is fascinating. The title track, "Tudo Que Arde, Cura," brings guest vocalist Myrtes Aguiar. The sad lyrics tell the story of two lovers who spend nights drinking and smoking, trying to evade problems in their lives. Now, with gray hair, they both realize the life they had together. Two medleys are direct references to other well-known Bossa Nova songs. In the first, "Deixa Pra Lá/Barquinho Diferente," we have a response to Roberto Menescal and Ronaldo Bôscoli's "O Barquinho." In the other, "Ela É Carioca/Paulistana," Sergio Augusto sings the beauty of São Paulo women just like Jobim did for Rio de Janeiro women.
Tudo Que Arde, Cura is living proof of a genre that still has that magic touch. Sergio Augusto gives us a pot of gold with this release and reaches new highs with his Bossa Nova songs. To read more about the artist and hear sample songs, please visit Sergio Augusto.
ALBUM INFORMATION
Sergio Augusto
Tudo Que Arde, Cura 
Lua Music LUA 089 (2005)
Time: 48'13"
Tracks:
Amazonas (João Donato – Lysias Enio)
Balansamba (Roberto Menescal – Ronaldo Bôscoli)
Quando o Amor Chegar (Dino Galvão Bueno – Sergio Augusto)
Tudo Que Arde, Cura (Natan Marques – Ana Terra) w/ Myrtes Aguiar
Como É Que Vai Ser? (Sergio Augusto – Sergio Lima)
Língua do Pê (Sergio Augusto)
Linda (Sergio Augusto – Sergio Lima)
Deixa Pra Lá / Barquinho Diferente (Sergio Augusto – Lula Freire / Sergio Augusto)
Deu no Que Deu (Sergio Augusto – Thomas Roth)
Sai Dessa (Natan Marques – Ana Terra)
Saudade Fez um Samba (Carlos Lyra – Ronaldo Bôscoli)
Ela É Carioca / Paulistana (Tom Jobim / Sergio Augusto – Sergio Lima)
Nostalgia da Bossa (Durval Ferreira – Regina Wernek)
Não Há Nada Como Aqui (Sergio Augusto – Sergio Lima)
São Salvador (Durval Ferreira – Sergio Augusto)