Standard and New Bossa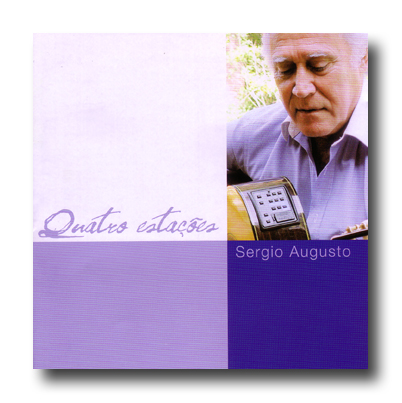 Sergio Augusto deprived us listeners from his acoustic guitar and soothing vocals far too long. In 2005, he made a triumphal come back with Tudo Que Arde, Cura. Four years later, he gives us an intimate release with voice and guitar and a collection of new and standard Bossa Nova songs. This very personal recording brings Sergio right into your living room.
With artistic direction by J. Junior, the repertoire Sergio chose draws from the standard Bossa Nova songbook and adds a few, new surprises. One reason he has selected some of these songs come from the fact of his home base now in Denver, Colorado. Thus, hearing George Harrison's "Something" in a nice Bossa arrangement is just a treat to our ears as it is to Sergio's audience in the U.S. The same goes with the Mexican composer Rubén Fuentes' "La Bikina," with its lovely lyrics about a proud woman, "lonely… who does not know love."
Some of the classic Bossa tunes Sergio picked to perform include Jobim's "Dindi," "Bonita" and "Wave/Triste." Bossa Nova icon Roberto Menescal is also present with the bouncy "Vê." In English, Spanish and Portuguese, Sergio pulls all stops with his captivating enunciation and fine guitar playing. One very nice and moving tribute must also be mentioned among the selections in this well chosen repertoire: Durval Ferreira's "E Nada Mais." Durval passed away in June of 2007. He was an amazing composer and guitarist who was also a member of the legendary group Sexteto Bossa Rio. I do not need to say much about that group other than to list its members: Sergio Mendes, Paulo Moura, Pedro Paulo, Octávio Bailly, Dom Um Romão and Durval Ferreira. It is also very fitting to close this album with Ataulfo Alves/Mário Lago's "Atire a Primeira Pedra." Quatro Estações, after all, in being released in what would have been Ataulfo Alves' 100th birthday. Ataulfo is one of Brazil's giant samba composers, and together with Mário Lago also wrote the anthem "Ai, Que Saudades de Amélia." The worldwide celebrated theme from the movie Black Orpheus receives here Sergio's touch with a stirring rendition of "Manhã de Carnaval."
Besides being a wonderful singer and guitarist, Sergio continues creating new Bossa Nova music, too. Included in this release we have new gems such as the title track, "Quatro Estações," "Há de Haver" and "A Nossa Primavera." For the sake of full disclosure, I must mention here that I was honored to have been asked by Sergio himself to write the English words to João Garcia's lyrics in "A Nossa Primavera." Being fully aware of the troubles that other Brazilian composers went through when their compositions were rendered in English, I felt the enormous responsibility to convey to English speakers the beauty of the verses penned by João Garcia without losing touch of the word rhythm and meaning of the song itself. In case you did not know, Portuguese and English have quite different sentence structures to say the least. I am proud to have been a part of such a great project and to collaborate with Sergio in this song. Thanks, parceiro!
To read more about the artist and hear sample songs, please visit Sergio Augusto.
ALBUM INFORMATION
Sergio Augusto
Quatro Estações 
Lua Music LUA 259 (2009)
Time: 49'37"
Tracks:
La Bikina (Ruben Fuentes)
Quatro Estações (Sergio Augusto – Márcio M. Moreira)
E Nada Mais (Durval Ferreira – Lula Freire)
Dindi (Tom Jobim – Aloysio de Oliveira)
Vê (Roberto Menescal – Lula Freire)
De Onde Vens/Bonita (Dori Caymmi – Nelson Motta / Tom Jobim – Ray Gilbert)
Amanhã (Walter Santos – Tereza Souza)
A Nossa Primavera (Sergio Augusto – João Garcia – Egídio Leitão)
Wave/Triste (Tom Jobim)
Something (George Harrison)
Há de Haver (Sergio Augusto – Sérgio Lima)
Manhã de Carnaval (Luís Bonfá – Antonio Maria)
Atire a Primeira Pedra (Ataulfo Alves – Mário Lago)