Affectionately Smooth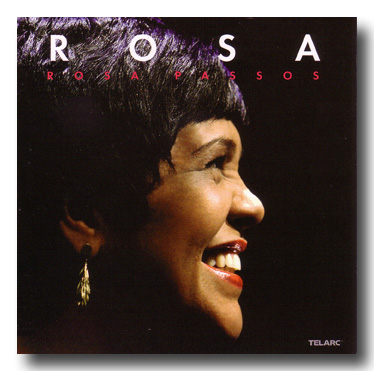 Whereas many performers shy away from opening an album without any instrumentation, Rosa Passos pulls all the stops singing Garoto's "Duas Contas" a cappella as the very first track in Rosa. Garoto's lyrics take center stage. With a repertoire that includes classic songs by Tom Jobim, João Donato, Augusto Mesquita and Chico Buarque, Rosa also features six new original Rosa Passos songs with several of her long-time collaborators, including two tracks co-written with my favorite of her partners, Fernando de Oliveira.
"Sutilezas" is the first original we hear. With lyrics by Sérgio Natureza, the song is about calm waters, birds, nature and celestial echoes. The search for subtle tones is evidenced by images of intimate whispers and ritual silence. The song not only makes reference to Tom Jobim, but also to Rosa's idol, João Gilberto. She sings about searching for the simple and pure. In Rosa's inimitable style, she delivers precisely what is simple and pure in this album.
Among the several classics she performs, one unusual song stands out. The famous Jovem Guarda hit "Sentado à Beira do Caminho" gets an endearing Bossa Nova beat. Originally composed as a ballad by Roberto Carlos and Erasmo Carlos, this track has received performances by world-renowned stars, including the most recent rendition by Andrea Bocelli in Amore. Rosa's version here reflects the solitude in the lyrics and makes a life's journey a very slow process. Another classic with a distinct Rosa style is Augusto Mesquita and Jaime Florence's "Molambo." With a soft bolero arrangement, Rosa re-defines this torch song.
"Desilusión" and "Fusión" feature Rosa singing in Spanish. In "Desilusión," a Rosa Passos melody with lyrics by Spanish composer Santiago Auserón, the words sing of the old disillusionment of love. As for "Fusión," the song requires no special introduction other than the fact that it is penned by Uruguayan songwriter Jorge Drexler, the notable Academy Award winning composer of "Al Otro Lado del Rio," from The Motorcycle Diaries.
Of the two collaborations between Rosa and Fernando, "Demasiado Blue" and "Detalhe," my favorite is the latter. Fernando de Oliveira is a master in evoking scenes vividly with his choice of words and succession of images. "Detalhe" is full of that: months, sun, sea, smells, etc.
To hear samples of all tracks, you can visit Telarc.
ALBUM INFORMATION
Rosa Passos
Rosa
Telarc CD-83646 (2006)
Time: 61'51"
Tracks:
Duas Contas (Garoto)
Eu Não Existo Sem Você (Antônio Carlos Jobim – Vinícius de Moraes)
Sutilezas (Rosa Passos – Sérgio Natureza)
Até Quem Sabe (João Donato – Lysias Enio)
Olhos Nos Olhos (Chico Buarque)
Sentado à Beira do Caminho (Roberto Carlos – Erasmo Carlos)
Molambo (Augusto Mesquita – Jaime Florence)
Jardim (Keren Ann – Benjamin Biolay; Portuguese version by Michelino Silvano & Bia Krieger)
Demasiado Blue (Rosa Passos – Fernando de Oliveira)
Desilusión (Rosa Passos – Santiago Auserón)
Edredon de Seda (Rosa Passos – Arnoldo Medeiros)
Não Sei o Que Acontece (Alexandre Leão)
Detalhe (Rosa Passos – Fernando de Oliveira)
Fusión (Jorge Drexler)
Inverno (Rosa Passos – Walmire Palma)