Candlelight Romance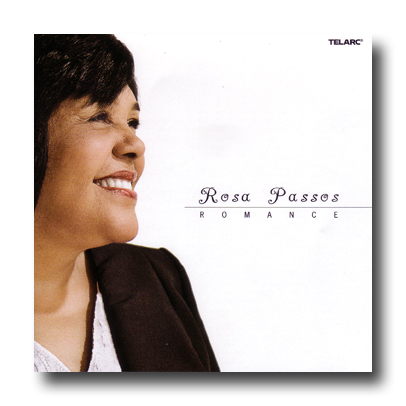 Romance has been a constant in the recent albums released by Rosa Passos. Her 2001 Me and My Heart, 2003 Entre Amigos and 2006 Rosa all bear some resemblance to this latest CD. In addition to being very romantic in its repertoire and delivery, Romance also shines with its jazz approach to Brazilian compositions.
Romance picks up several musical threads previously explored by Rosa. You will find here additional songs by Dorival Caymmi (Rosa Passos Canta Caymmi), Antônio Carlos Jobim (Rosa Passos Canta Antônio Carlos Jobim – 40 Anos de Bossa Nova) and Djavan (Azul). The other songs performed in Romance include selections from Ivan Lins, Marcos Valle, Suely Costa, João Donato, Chico Buarque and others. Out of those, three selections from the Elis Regina repertoire receive the Rosa Passos treatment in memorable arrangements: "Atrás da Porta," "Tatuagem" and "Altos e Baixos." This is a double gift not only because of Elis, but also because Rosa has — unfortunately — not recorded many Chico Buarque and Suely Costa music. That absence is beautifully rectified here.
Rosa produced the album and handed the arrangements to the capable hands of Paulo Paulelli, Lula Galvão and Fábio Torres. Rosa has worked with all three in the past several times. Lula Galvão was a central figure in Rosa's 1997 Letra & Música: Ary Barroso, for example. In addition to contributing to Rosa's albums, Paulo Paulelli and Fábio Torres often work together, as they did in their 2005 Corrente. Most of the music in Romance falls in the traditional jazz school of piano (Fábio Torres), bass (Paulo Paulelli) and drums (Celso de Almeida). To add multiple layers to the instrumentation, other notable musicians are featured in the album: Lula Galvão (acoustic guitar), Daniel D'Alcântara (flugelhorn), Vinícius Dorin (saxes) and Nahor Gomes (flugelhorn and trumpet).
Though Rosa's competence is undeniable, it is impressive to experience her artistry once again with composers such as Chico Buarque. In "Atrás da Porta," Lula Galvão has a stunning guitar solo, and Vinícius Dorin's flute and sax solos in "Tatuagem" make the track unforgettable. All of that works like perfect bookends to Rosa's flawless performances.
To hear samples of all tracks, you can visit Telarc.
ALBUM INFORMATION
Rosa Passos
Romance
Telarc CD-83677 (2008)
Time: 63'13"
Tracks:
Doce Presença (Ivan Lins – Vitor Martins)
Nem Eu (Dorival Caymmi)
Eu Sei Que Vou Te Amar (Antonio Carlos Jobim – Vinícius de Moraes)
Álibi (Djavan)
Preciso Aprender a Ser Só (Marcos Valle – Paulo Sérgio Valle)
Atrás da Porta (Francis Hime – Chico Buarque)
Tatuagem (Chico Buarque – Ruy Guerra)
Por Causa de Você (Antonio Carlos Jobim – Dolores Duran)
Altos e Baixos (Suely Costa – Aldir Blanc)
Cadê Você (João Donato – Chico Buarque)
Neste Mesmo Lugar (Armando Cavalcanti – Klécius Caldas)
Nossos Momentos (Luís Reis – Haroldo Barbosa)