Something to Talk About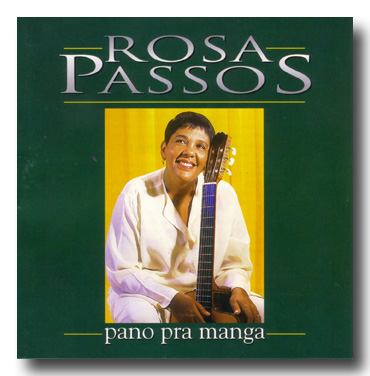 Pano Pra Manga is another of Rosa Passos' albums with a high content of original compositions with her collaborator Fernando de Oliveira. Rosa Passos' name is in 10 of the 13 tracks. Besides Fernando de Oliveira, she pairs up with the great poet Paulo César Pinheiro as well as other stellar songwriters, such as Sérgio Natureza, Ivan Lins and Vitor Martins. In addition to original compositions, the album also features classics by Chico Buarque — and he sings in duet with Rosa in "Com Açúcar, Com Afeto" — Tom Jobim and Ary Barroso and Luiz Peixoto.
"Verão" is one of those beautiful landscapes that anyone familiar with Passos and Oliveira's compositions should recognize. The song is, in a nutshell, a scene on a beach with surfboards, seagulls and green waters. Contrasting with this serene and light-hearted image, the song ends with more serious verses stating that it rains a lot in the singer's heart. Lula Galvão's guitar solo and Marco Brito's piano accompaniment are beautiful. As for "Samba com Pressa," as the name implies, it is a fast samba with elaborate lyrics making use of alliteration with the sound of the letter S. That literary style plays very well with the fast tempo of the song. Simply put, it's gorgeous. Also just as beautiful is the duet with Chico Buarque in "Com Açúcar, Com Afeto." Though Rosa Passos has not recorded a lot of material from the Buarque extensive repertoire, whenever she does it, she performs Buarque's music exceptionally well. In this case, the combination of her voice with Buarque's soft tones is dreamy. The title track is yet another remarkable tune. Not only is the samba beat contagious, the lyrics by Paulo César Pinheiro are outstanding. He uses the word "pano" (cloth, literally) in several different connotations. Quite the touch of a master poet! Another interesting lyrics featured is the one for "Gesto." The song uses general ideas associated with a woman's gestation period with the genesis of a new song. Also heartwarming is the dedication in "Abajur Lilás" to Brazil's great singer Dalva de Oliveira. Rosa Passos is joined here by Ivan Lins.
Pano Pra Manga is full of pleasant surprises from beginning to end. From the repertoire to the special guests, the album is never short in beauty.
ALBUM INFORMATION
Rosa Passos
Pano Pra Manga 
Velas 11-V145 (1996)
Time: 51'22"
Tracks:
All tracks by Fernando de Oliveira and Rosa Passos except where noted.
Verão
Samba com Pressa
Com Açúcar, com Afeto (Chico Buarque) – w/ Chico Buarque
Amorosa
Pano pra Manga (Paulo César Pinheiro – Rosa Passos)
Gesto (Sérgio Natureza – Rosa Passos)
Abajur Lilás (Fernando de Oliveira – Ivan Lins – Rosa Passos) – w/ Ivan Lins
Chovendo na Roseira (Tom Jobim)
É Luxo Só (Ary Barroso – Luiz Peixoto)
Espelhos
Barcos
Samba Sem Você
Minuano (Vitor Martins – Rosa Passos)