Jazz in a Brazilian way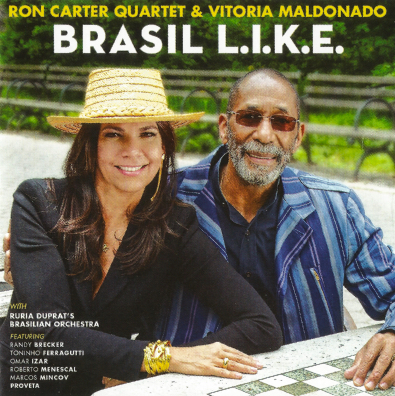 If you feel the desire to listen to bassist Ron Carter's recording efforts: be aware. The master bassist is credited on more than 2,200 albums! That sure ranks him among the most recorded bassists. Born in Ferndale, Michigan, on May 4th, 1937, Ronald Levin Carter always had a "click" with Brazilian music. He was on Jobim's albums Wave (1967) and Stone Flower (1970). On a personal note, Ron Carter made an everlasting impression on me on a LP from Airto Moreira called The Essential… (1976), later available on CD as Seeds on the Ground. His work on that album was truly amazing along with the Brazilian giants who completed the line-up (Hermeto Pascoal, Sivuca, Dom Um Romão, Severino, Flora Purim and of course Airto)! The album definitely opened my eyes for Brazilian music.
On Brasil L.I.K.E., Ron Carter plays with the music from Brazil in a magnificent way. American Standards sound very Brazilian (mostly with bossa arrangements), while the Brazilian repertoire is performed in a jazzy way. It's indeed Brazilian-like. Although the L.I.K.E. in the album's title (also?) stands for Love, Inspiration, Knowledge and Energy. Featured vocalist Vitoria Maldonado is from São Paulo. She studied harmony, composition and conducting at the Berklee College of Music, in Boston, where she graduated in 1986. Back in Brazil, she formed a duo with Marisa Monte. As a pianist she was part of a trio with bassist Geraldo Vieira and drummer Duda Neves. On Brasil L.I.K.E., she's featured as vocalist and has the pleasure of finding some of the finest musicians around her. The Ron Carter Quartet has Renee Rosnes (1962, Regina (Saskatchewan, Canada)) on piano, Payton Crossley (Omaha, Nebraska) on drums and Rolando Morales-Matos (San Juan, Puerto Rico) on percussion. Guests include no others less than Toninho Ferragutti (accordion), Roberto Menescal (guitar), Proveta (alto sax) and the great Randy Brecker on trumpet. The Ruriá Duprat's Brasilian Orchestra is also significantly present. Ruriá Duprat (1959, Rio de Janeiro) may be known for his work with Lenine (Acústico MTV) and Diana Krall (Live in Rio).
The repertoire is mostly built up with songs from the Great American Songbook, but with a clear Brazilian touch. Ron Carter, modest as always, isn't making it a bass album. On the contrary: on the ending "Saudade," that he composed with Maldonado, we only hear Vitoria Maldonado on piano and vocals. But let it be clear: if you focus on the bass you'll hear another album. An album with a bassist who shows the purest craftsmanship and an extremely good taste. Ron Carter has his own recognizable style which makes him a featured musician on all occasions, whether he wants it or not.
This album, which was recorded in São Paulo, proves once again that jazz and Brazilian music go very well together. The one influences the other in both ways. And Ron Carter knows as no one else how to perform it in the best possible way.
ALBUM INFORMATION
Ron Carter & Vitoria Maldonado
Brasil L.I.K.E.
Summit Records DCD 685 (2016)
Time: 40'17"
Tracks:
They Can't Take That Away (George Gershwin – Ira Gershwin)
There Will Never Be Another You (Harry Warren – Mack Gordon)
Night & Day (Cole Porter)
I Only Have Eyes for You (Al Dubin – Harry Warren)
How High the Moon (Morgan Lewis – Nancy Hamilton)
Adoro o Teu Sorriso (Vitoria Maldonado)
All of Me (Gerald Marks – Seymour Simons)
Que Reste-t-il de Nos Amours (Charles Louis Trenet – Ed Salabert)
Georgia on My Mind (Hoagy Carmichael – Stuart Gorrell)
Someone to Light up My Life (A. C. Jobim – Vinicius de Moraes – Gene Lees)
Lugar Comum (João Donato – Gilberto Gil)
Because You Make Me Dream (Vitoria Maldonado)
Saudade (Ron Carter – Vitoria Maldonado)