The Joy of Waiting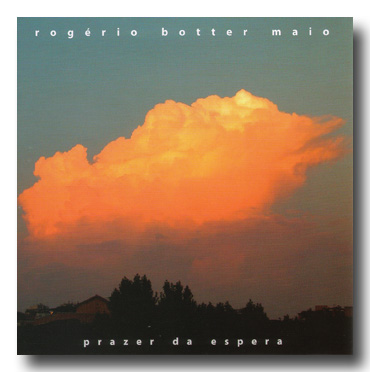 Proving that good things do come to those who wait, Rogério Botter Maio presents us with another fine recording, Prazer da Espera. With special guest appearances by Ná Ozzetti (voice), Nelson Ayres (piano), Nailor de Azevedo "Proveta" (clarinet), Teco Cardoso (sax) and Caito Marcondes (percussion), this release follows very closely in the footsteps of Rogério's previous 2000 album, Aprendiz. In the forefront, Rogério Botter Maio plays acoustic bass as well as 10-string guitar and percussion. He also wrote all but one of the 10 tracks of this fine release and even does some vocal work, too!
The title track has a delicious afoxé flavor enhanced with the ensemble's clapping in the introduction. The lyrics, beautifully written by Marta Maia and joyously sung by Junior Meirelles, provide a mixture of food, music and dance to paint the pleasure of waiting for the loved one.Almost as a variation on the opening theme, "Luzes" features the same beat, but Vitor Lopes' harmonica and Rogério's own 10-string guitar (viola caipira) add a different and captivating sound. Special guest Ná Ozzetti brings in her soft vocals in "Uma Mulher." A string quartet is featured in this arrangement along with Wilson Teixeira's nice soprano sax solo. Ná's performance is reminiscent of her recent work with André Mehmari in Piano e Voz. What a pleasure to hear her voice in this track. One almost hears some chamber music echoes in "Uma Mulher."
The arrangements in Prazer da Espera are very special. Rogério uses all resources at his disposal and makes sure the various musicians associated with this project get more than their fair share of solo spots. Take "Cerne," for example. A quintet formed by Nailor Proveta (clarinet), Carlos Roberto de Oliveira (piano), Vitor Lopes (harmonica), Graziela Bortz (French horn) and Rogério (acoustic bass) create an exquisite sound with the various artists taking turns with solos, duets and full ensemble performance. Even transitioning from track to track, Rogério does not break the homogeneity of his creations. He expertly moves from an introspective tune to a gorgeous bossa as in "Outono." Fernando Correa's acoustic guitar, Nailor Proveta's clarinet and Nelson Ayres' piano form the basis of this solid arrangement, which also features a subtle string quartet. Rogério's own acoustic bass is, of course, a strong presence in "Outono." This is clearly one of the best tracks here. The only track not written by Rogério is featured here just with his acoustic bass and the composer's piano. The counterpoint effect of Rogério's bass and Nelson's piano in the introduction lead into a beautiful and yet melancholic musical dream. Just before closing the album, Rogério steps out with a complete vocal solo in "Sem Marcas." He is a musician not afraid to extend his boundaries, and the results are indeed pleasing.
Please visit Rogério Botter Maio to read more about Prazer da Espera and hear sound samples.
ALBUM INFORMATION
Rogério Botter Maio
Prazer da Espera 
Independent RGO004 (2006)
Time: 52'43"
Tracks:
All tracks by Rogério Botter Maio, except where noted.
Prazer da Espera (lyrics by Marta Maia)
Luzes
Uma Mulher (lyrics by Vanessa Bumagny)
Cerne
1984
Outono
Por um Triz
Mantiqueira (Nelson Ayres)
Sem Marcas (lyrics by Vanessa Bumagny)
Devagar com o Andor!