A Funny Mix
Introducing Randy Brecker is very easy, since the trumpeter's curriculum vitae can be read as a "who is who" in modern popular music. He has played with everyone, while at the same time he influenced the fusion world with The Brecker Brothers (along with his brother, the late great saxophonist Michael Brecker). Randy always had an interest in Brazilian music. His marriage with pianist Eliane Elias (from São Paulo) gave extra fuel to that and also brought him in contact with many of São Paulo's session musicians. Music lasts longer than love, and so it happens that long after his separation from Eliane Elias, Randy recorded an album with some of Brazil's finest musicians in the Banda Sonora Studios in São Paulo. Due to the usual problems with releasing an album these days, Randy In Brasil came out almost two years after is was recorded (and almost forgotten). MAMA Records was smart enough to take the "risk" with this all star setting.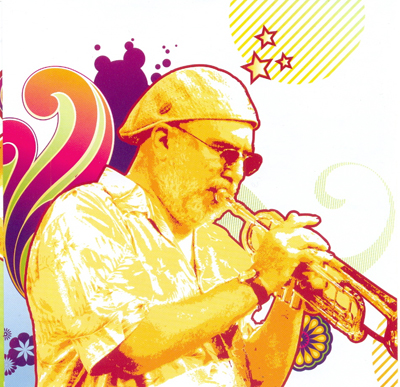 For the music recorded on Randy In Brasil, the repertoire of Djavan proved to be an easy target. His compositions have the funky undertones that are more than welcome in Randy Brecker's musical ideas. The same can be said about the other composers who are featured on this release, João Bosco and Gilberto Gil. Ruriá Duprat (keyboards), Ricardo Silveira (guitars), Teco Cardoso (saxophones, flute), Sizão Machado (bass) and various percussionists form the basis of the accompaniment. Randy added two of his own compositions to express his Brazilian heart. On these tracks (the ballad "Guarujá" and a jazzy samba-ish "Sambop") Randy relied on the craftsmanship of (acoustic) pianist André Mehmari. And then there's a wonderful participation of pianist Gilson Peranzzetta on his own composition "Fazendo Hora," maybe the highlight of this album. While listening to Randy in Brasil it's at moments funny to notice how Randy Brecker does his best to sound as Brazilian as he can, while the accompanying instrumentalists show what they learned during there student time in the USA. This thought is underlined by the Ivan Lins composition "Ai Ai Ai" that closes the album. This arrangement must have made Randy Brecker feel very comfortable. It all results in a funny mix of the two music cultures. A special thumbs up for saxophonist Teco Cardoso, who proves to be a remarkable team mate for the trumpeter during the exchange of solos. Producer/Arranger Ruriá Duprat did a wonderful job to give Randy Brecker the opportunity to do his own thing in the music he loves so much. At moments I hear the echo of the late Márcio Montarroyos. It would have been nice if Randy had added a dedication to this icon of Brazilian jazz.
Definitely a surprising album that, how odd it may sound, gives Randy Brecker's solo repertoire a serious quality boost. As a leader he never seemed to be able to tell his story, but his two Brazilian flavoured albums (the other one is Into the Sun from 1996) leave more than satisfying impressions.
ALBUM INFORMATION
Randy Brecker
Randy in Brasil
MAMA Records MMA1035 (2008)
Time: 56'30"
Tracks:
Pedro Brasil (Djavan)
Ilê Ayê (Gilberto Gil)
Guarujá (Randy Brecker)
Me Leve (Djavan)
Malásia (Djavan)
Sambop (Randy Brecker)
Oriente (Gilberto Gil)
Maçã (Djavan)
Olhos Puxados (João Bosco)
Rebento (Gilberto Gil)
Fazendo Hora (Gilson Peranzzetta)
Ai Ai Ai (Ivan Lins)