The Legacy of a Unique Musician
It must have touched the hearts of many musicians and music lovers when the sad news was spread about the untimely death of percussionist Ramiro José Musotto (Sept. 11, 2009, Salvador da Bahia, Brazil). The list of albums on which he added his percussion is as long as it is diverse. Lenine, Caetano Veloso, João Bosco, Marina Lima, Skank, Moska, Kid Abelha, Lulu Santos, Zeca Baleiro — they are just very few of the artists who proudly mentioned Ramiro's participation on the credits of their recordings. To call the Argentinean born musician (Bahía Blanca, Patagonia; 1964) a master of the berimbau is an understatement. Ramiro's innovative mind cultivated this single string instrument to musical levels that were far beyond imagination.
In the early 1980's Ramiro Musotto moved to Brazil to pursue his dream to study percussion in Salvador da Bahia. It was guitarist Paulo Bellinati who advised him to study in São Paulo first, which Ramiro did for one year. Then it was on to Salvador da Bahia (1984). There he enthusiastically absorbed the presence of the deep African-Brazilian culture that helped him to shape his talent to his own desire. His style evolved with the inclusion of many Indian/Latin American and African impressions which he approached in an almost ethnic way. As someone who always wanted to stay on top of new sounds and rhythms, he started to experiment with electronics and samplers in order to find out how they mixed with traditional percussion.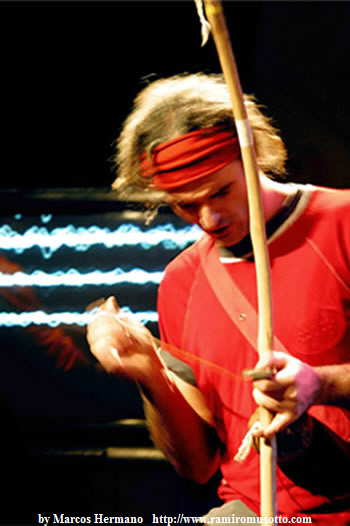 Describing his avant-gardism style is almost impossible. He provided singer Margareth Menezes with a completely new sound. With her band he toured around the world gaining success during the first years of the samba-reggae boom. Daniela Mercury was the next star who benefited from his talent. With his progressive rhythms and harmonies he made the difference on Daniela's most popular album O Canto da Cidade. Meanwhile, he had gained a special fascination for the berimbau and the rhythms of the candomblé, capoeira, samba… When accompanying other featured star artists, Ramiro Musotto proved to be an inspiring addition on the percussion instruments. However, it's while doing his own thing that the dazzling and unique talent of the artist comes to its full right. We'll have to do with two outstanding solo works. The first, Sudaka (2004), comes with an attractive DVD of a concert at Rio's SESC. It's the music Ramiro stands for: a blend of urban, tribal and ethnic music, enriched with electronic flavors.
On Civilização & Barbarye, Ramiro continues on the same road, maybe sounding a bit more accessible for a larger audience. The opening "Ronda," which he composed for his (ex-)wife and good friend Rose Alcântara, shows how he was able to evade an amazing melodic range out of the berimbau. It's a lovely tune, kind of a duet between two berimbaus. It flows over in "Ochossi," an Afro-Cuban traditional song about the patron deity of the hunt in Latin American spiritual cultures. Arto Lindsay is special guest here. The arrangement shows that Ramiro, apparently with all ease, managed to make tradition sound as contemporary as music can be. Of course he doesn't do it on his own. Ramiro is helped in his Sudaka (the rather negative word that Italians and Spaniards use to refer to South Americans) projects by four like minded musicians; Sacha Amback is the wizard on keyboards, Léo Leobons helps out on percussion, as does Ramirito Gonzalo, while Mintcho Garrammone is on cavaquinho, baiana guitar and accordion. Then each track has appropriate additional instrumentalists demanding to the sound Ramiro Musotto had in mind. Singer Chico César beautifully spices up the medley "Nordeste/Béradêro" with Jorge Continentino underlining Brazil's northeastern atmosphere even more on the typical pifanos (flutes). Mintcho Garrammone is featured on mandolin on a surprising rendition of a classic, "Assanhado" by Jacob do Bandolim (1918-1969). Delicious and impressive samba percussion accompanies the song. "Mbira" connects the Afro-Brazilian sound with authentic African music. The slow tempo song features a friendly intercultural interplay between the mbira, or thumb piano (Santiago Vázquez) and Ramiro's berimbau. The last track on the album, Yambú, is an old style rumba composition by Florencio Calle "Catalino" Peraza, co-founder of Los Muñequitos de Matanzas, an Afro-Cuban folkloric band from Cuba.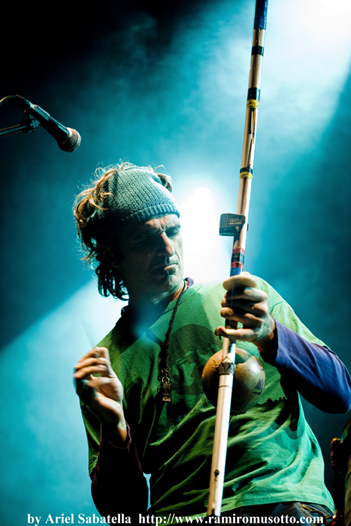 It may be clear: this album swings you from Africa to various parts of Latin America and back; a wonderful experience. Ramiro Musotto leads us through an interesting world of rhythms and traditions. It's sad how this masterful musician was taken away by very aggressive pancreatic cancer; an uneven struggle for this really unique artist who had so much more interesting art to share.
You can read more about the artist at Ramiro Musotto.
ALBUM INFORMATION
Ramiro Musotto
Civilização & Barbarye 
Circular Moves CIM 7027 (2007)
Time: 35'50"
Tracks:
Ronda (Ramiro Musotto)
Ochossi (trad arr Ramiro Musotto)
Gwyra Mi (Aldea Guarani Tenondé Pora – Acique Timoteo)
M'bala (Ramiro Musotto – Lucas Santtana)
Nordeste/Béradêro (Ramiro Musotto – Jorge Continentino – Chico César)
Ogum (trad arr Ramiro Musotto)
Assanhado (Jacob do Bandolim)
Majno Ma Bi (trad from Balochistan)
Mbira (Santiago Vázquez – Ramiro Musotto)
Yambú (Florencio Calle)