A Precocious Guitarist
Acoustic guitars are probably associated with Brazil nearly as much as coffee and soccer. Obviously that is not hard to understand. When you think of Bossa Nova, for example, João Gilberto and his acoustic guitar style come to mind immediately. A lot of Brazilian music known worldwide generally includes distinctive acoustic guitar solos. In this new batch of releases coming from Adventure Music, guitars are prominently featured. We have a world-renowned guitarist such as Ricardo Silveira playing duo with a Honduran-born, Brazilian-raised artist, Roberto Taufic, and a brand-new young artist from Brasília, Pedro Martins. These two albums cover a wide range of material.
Pedro Martins' Dreaming High, comes with strong support from artists such as Hamilton de Holanda (one of the album's executive producers) and Daniel Santiago (the album producer) as well the Brazilian press. The accolades are bountiful. Hamilton de Holanda, for example, talks about Pedro's "musicality and creativity" and that "he is the kind of guy who was born ready"!
A precocious child raised in Brasília, Pedro Martins (born in June 1993) was playing the guitar by ear at age 6, and at 8 years of age his piano teacher Dib Francis considered him his best pupil. He played rock and choro, and by age 18 he was already a multi-instrumentalist playing guitars (acoustic and electric), piano, bass and drums. His musical influences range from Clube da Esquina (Milton Nascimento, Toninho Horta, etc.), Hermeto Pascoal, Chick Corea and the Beatles. In his short and already impressive musical career, Pedro Martins has played with Hamilton de Holanda, Gabriel Grossi, Léo Gandelman and others.
Dreaming High (the original Brazilian release was called Sonhando Alto and was released in 2011) was produced by Daniel Santiago and features nine original compositions by the young guitarist Pedro Martins. The artists backing up Pedro's amazing guitar presence are Felipe Viegas (piano), Josué Lopez (tenor sax), André Vasconcellos (acoustic bass), Alex Buck and Kiko Freitas (drums) and Daniel Santiago (guitar).
The energizing opener, "Anos Luz" (Light Years) immediately throws the listener in the middle of this dynamic group of artists under the spell of Pedro's guitar solos. The sound resemblance to Pat Metheny in this track is uncanny. Josué Lopez adds more dynamic colors with his driving tenor sax. Felipe Viegas on piano also brings more power to this excellent ensemble. One remarkable feature from this talented artist is his ability to create lively, complex pieces as well as more intimate music. Two examples of the latter are "Nas Nuvens" (In the Clouds) and "Ciclo da Vida" (Cycle of Life), where Pedro shows off more of his smooth performer. He even takes that a notch up with the lovely ballad "Para o Amor Que Ficou" (For Love That Lasts). What a gorgeous number that is! In the title track, I cannot help but hear the clear influences that Pedro does not hide from the wonderful Clube da Esquina gang. Toninho Horta echoes throughout "Sonhando Alto" (Dreaming High).
Hamilton de Holanda best summed up the artistry in Pedro Martins' promising career:
With his young age, sometimes it's hard to believe the level of composition he is capable of writing. But, it's best to believe it. And I think so, too. Accept this condition, and delight audiences and ears out there.

Hamilton de Holanda
Here is an Pedro Martins on acoustic guitar doing some improvisation.
[youtube http://www.youtube.com/watch?v=7U5UHGcfzyM]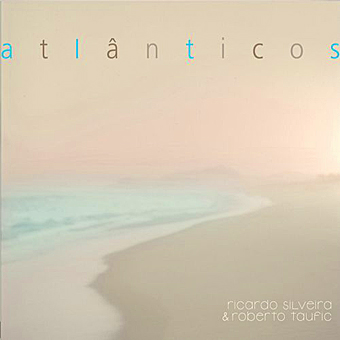 If music is poetry, then this new album by acoustic guitarists Ricardo Silveira and Roberto Taufic is a love poem. From the hazy beach cover photo with Zé Nogueira's photography to the soothing acoustic guitars and rhythms,  Atlânticos is fluid and peaceful from beginning to end.
Brazilian multiple Grammy-nominated guitarist Ricardo Silveira (Rio de Janeiro, 1956) teamed up with Honduran-born guitarist Roberto Taufic (Honduras, 1966) and recorded this album in two days. The guitarists produced Atlânticos and chose material from their own repertoire with a quick nod to one piece from the North American songbook, Mancini & Mercer's classic "Moon River," and a couple of other compositions from the Caymmi family.
Although born in Honduras, Roberto's family moved to Brazil when he was five years old. At age 15, he started taking part in musical festivals, and two years later he was a professional musician. The first album he recorded was at age 19. From opening shows to Geraldo Azevedo, Boca Livre, Joyce and others, Roberto transitioned to performing with stars such as Guinga and Gabriele Mirabassi and a number of Italian artists. He has appeared at a number of music venues and festivals on both sides of the Atlantic. (For some biographical notes on Ricardo Silveira, please visit other reviews here, such as Storyteller.)
One noteworthy number in the repertoire of the album is the inclusion of Mancini & Mercer's classic "Moon River."  What a terrific arrangement these two guitarists created for "Moon River"! The introduction is like a lullaby in its tenderness. The listener is presented with a fresh approach to this timeless piece. The other two pieces not composed by the performers are also memorable. Dori Caymmi's "Amazon" is performed in a fast tempo unlike most versions we are used to hearing. That arrangement allows the performers here to truly show off their finesse on the guitar. The closing number, Dorival Caymmi's "Você Não Sabe Amar," gets a straightforward approach, highlighting the beauty of this number.
It is nice to see two talented acoustic guitarists in a nice production such as Atlânticos. WIthout the need to embellish their performances with any other instruments or studio gimmicks, Ricardo Silveira and Roberto Taufic focus on delivering a solid and very pleasing album.
These three artists can be viewed on their web sites: Pedro Martins, Ricardo Silveira and Roberto Taufic. Kudos to Adventure Music for its continued support of Brazilian instrumental music!
ALBUM INFORMATION
Pedro Martins
Dreaming High
Adventure Music AM 1079 2 (2013)
Time: 57'58"
Tracks:
All music by Pedro Martins.
Anos Luz (Light Years)
Caminhos (Pathways)
Nas Nuvens (In the Clouds)
Ciclo da Vida (Life Cycle)
Para o Amor Que Ficou (For Love That Lasts)
Sonhando Alto (Dreaming High)
Terra Prometida (Promised Land)
Viagem ao Rio (Trip to Rio)
Viva o Hermeto (Cheers to Hermeto)
Ricardo Silveira & Roberto Taufic
Atlânticos
Adventure Music AM 1082 2 (2013)
Time: 49'39"
Tracks:
Depois da Chuva (Ricardo Silveira)
Moon River (Henry Mancini – Johnny Mercer)
Tinha uma Dona Ali (Ricardo Silveira – Roberto  Taufic)
Segredos (Roberto Taufic)
Hey Eyes (Ricardo Silveira)
Cats (Ricardo Silveira)
Reflexões ( Ricardo Silveira)
Amazon (Dori Caymmi – Paulo César Pinheiro)
Você Não Sabe Amar (Carlos Guinle – Dorival Caymmi – Hugo Lima)