What If Pixinguinha Met Duke Ellington?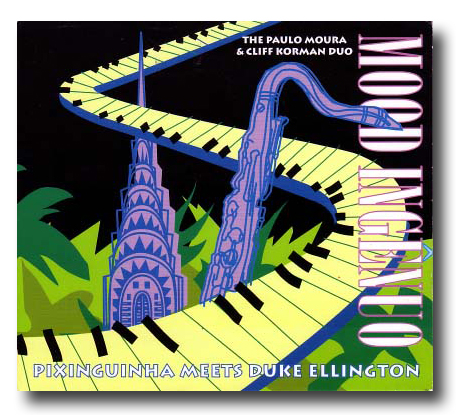 In the same way that the names of João Gilberto and Tom Jobim made an indelible mark on Bossa Nova, or Caetano Veloso and Gilberto Gil were two of the forces behind Tropicália, before them, Alfredo da Rocha Viana, Jr., better known as Pixinguinha, made his mark on Brazilian music as the master of choro. Musicologist and journalist Ary Vasconcelos, when asked about the vastness of Brazilian music, said that fifteen volumes would not be enough to cover everything. However, if only one word could be written, that word would be Pixinguinha.
Although Pixinguinha himself once stated in his testimony to the Museu da Imagem e do Som that he was born in Rio de Janeiro on April 23, 1898, the correct year is, in fact, 1897. That finding was the result of research by the great choro mandolinist Jacob do Bandolim. He found Pixinguinha's birth certificate at the Church of Santana, where Pixinguinha was baptized. As for the origin of the nickname Pixinguinha, there are two stories that explain that name. One of Pixinguinha's grandmothers was African and referred to him as Pizinguim, which in her African dialect meant "good child." Pixinguinha also said that as a child he contracted small pox, or bexiga in Portuguese. He was then referred to as bexiguinha and eventually became Pexinguinha and then Pixinguinha.
In another hemisphere and two years later, in April 1899, another great musician was born. Also an African-American, Edward Kennedy Ellington, better known as Duke Ellington, helped shape the music of a nation. Duke Ellington and Pixinguinha most likely never met in real life. However, their musical legacies endure the test of time, and through the minds of two outstanding musicians, Pixinguinha and Duke Ellington finally meet.
If they could have made music together, a likely result of such a meeting would have been Mood Ingênuo: Pixinguinha Meets Duke Ellington, an timeless collection of music by those composers performed by two of the most prominent jazz artists in Brazil and the United States: Paulo Moura (saxophone/clarinet) and Cliff Korman (piano). Moura, a living Brazilian legend, is a performer, arranger and composer who has performed with Ary Barroso, Sérgio Mendes, Raphael Rabello, and many others. In large part responsible for the recent reemergence of choro in Brazil, Moura received the 1992 Sharp Award for Best Pop Instrumentalist. Again, in 1997, his recording Pixinguinha (released on Velas in Brazil and Blue Jackel worldwide) won another Sharp Award for Best Instrumental CD and Best Instrumental Group (Moura recorded the album with the group Os Batutas, a modern-day version of the original Pixinguinha group). Pianist Cliff Korman, who trained with Roland Hanna and Kenny Barron, is not new to Brazilian music. Among the various jazz artists he has performed with worldwide, he has also played with Brazilian artists Toninho Horta and Leny Andrade. He also leads various seminars on jazz and Brazilian music at the Universidade Federal de Minas Gerais, Escola de Música de Brasília as well as in the City College of New York and the Drummers Collective in New York City. Perhaps the best introduction to Cliff Korman is in the words of Paulo Moura himself. Moura states:
…Like every Brazilian always writes a choro, Cliff Korman has already become a Brazilian musician. He already has his own choro entitled "Saudade do Paulo."
EL: How did the idea for Mood Ingênuo get started?
CK: Our project began when Paulo invited me to spend a few days in Paraty: one of those work/vacation offers. There is a small theater there, and we were scheduled for a performance. I was happy certainly for the chance to see another beautiful area of Brasil, and of course for the chance to finally play together. As we gathered material, the project began to take shape, and quickly progressed from our individual ideas of the possibilities, through the work of rehearsal, and to the realization of what we really could sound like. Paulo had mentioned his dream of Pixinguinha meeting Duke, and I had a good amount of Ellington material with me. Paulo's sound fits so well with that repertoire, I think I had already the intuition that we might work with it. We built around the idea, and extended it to other material as well. The name for the disc came from comix artist Art Spiegelman, who designed the cover. He was taken by the mixture, and I think reflected it wonderfully in a visual form.
EL: What about the logistics of the encounter and decision to release the album? Was it difficult to pick a location?
CK: The logistics of keeping the project active are complicated, since we live on two separate continents. We communicate by fax or phone. Sometimes I just send a piece of music down with a note, like "I thought of you on this melody… O que você acha?" (What do you think?) When a gig comes up, we make sure to arrive two or three days early to work out the rough edges, and to see how our recent experiences have changed things. We always find new nuances and try to incorporate them into the performances. Cantar da Costa had the idea to record us for Italian radio. When we heard the playback, the bells rang and we decided to master the tapes and look for a record deal.
EL: How were the arrangements created? You mentioned previously that you sometimes send out only sketches. Is there much room for improvisation?
CK: The arrangements happen in one of two ways: Paulo or I bring an almost finished product, or we work one out together. There is almost always room for improvisation. I think it's a natural consequence of our respective backgrounds and approaches, and of our sound together.
EL: Who would you say were your early influences in Brazilian music? I mean, people who helped shape your interest in our music.
CK: Influences? At the start, [Tom] Jobim and João [Gilberto]. Then quickly (through Wayne Shorter's recording Native Dancer) to Milton [Nascimento], then Toninho Horta and the incredible contributions of the Mineiros; also Luis Eça, João Donato, Cesar Camargo Mariano, Hermeto Pascoal, Egberto Gismonti. More recently I've begun to look at the work of Ernesto Nazareth. From Paulo I learned about, among many, K-Ximbinho and Radamés Gnattali, and on this trip, thanks to the many generous musicians I am meeting, I've heard a good amount of their recordings. The problem with these answers is that I always leave people out.
EL: That is true. It does, however, gives us a good understanding of your formation in Brazilian music. Now, how did this Fulbright fellowship bring you to Rio? It sounds like a dream grant.
CK: The Fulbright Lecture/Research grant is the culmination of a good many years of following this personal and career path. It's one of those famous paths that actually chooses you. I've been involved with Brazilian music since the mid-1980's; I've studied it, traveled to Brasil frequently to assimilate the feel and understand the approach of Brazilian composers and instrumentalists, and performed it professionally. At the same time I've maintained my interest in the practice of jazz: its tradition, language, and opportunity for individual expression. I received my M.A. from the City College of New York, a degree which combines strong theory, analysis, and research components with an emphasis on performance. The training is proving invaluable. The grant is two-pronged, I am teaching jazz piano, improvisation, and working with small ensembles at the Escola de Música de Brasília and the Universidade do Rio de Janeiro, and studying the similarities and differences in the development of choro and jazz. It's a very good time to look into choro. There are new chorões who have great respect for the tradition, have worked at assimilating it, and look to offer new points of view in their work. It's very exciting for me. I find in Rio what I've been noticing in New York: a generation of young musicians who are really a pleasure to play with and listen to.
EL: That is a fascinating opportunity. What about future projects? After Cantar da Costa, Mood Ingênuo, and Rio, what is shaping up on your horizon?
CK: Paulo and I appeared recently at Cantar da Costa and Lincoln Center Out of Doors in quintet formation with a Gafieira/Jazz project. We are listening to the tapes now, and hopefully can release a new disc soon. Beyond our work, I have a number of my own tunes and arrangements with me here in Rio, and I'm thinking of doing a few tracks before I leave. (Just thinking about leaving here is making me melancholic… must I??)
EL: Well, that's saudade as firsthand experience. I guess it will only give us listeners more quality work such as Mood Ingênuo.
The CD
Mood Ingênuo was recorded at the Cantar da Costa in Italy in 1996. In just about one hour, Moura and Korman will astound your senses with their artistic and touching performances of classics such as "Ingênuo," "Satin Doll," "Carinhoso," and more. The music is not restricted to Pixinguinha's and Duke Ellington's alone.
Zequinha de Abreu's vivacious and yet melancholic "Tico-Tico no Fubá" begins the exuberant journey of Moura and Korman through the Brazilian choro repertoire. Written in 1931, this piece follows the classic choro tradition of three parts. This arrangement by Moura and Korman makes room for both musicians to showcase their artistry. Moura's sax solos are playful, and when Korman takes over the melody line in a fantastic improvisation, the music gains a new dimension. Also from the same period, Ratinho's "Por Que Choras, Saxofone?" follows the same style as the first track. It is with Tom Jobim's "Luíza" that the mood changes. Softly, in the introduction, Korman plays gentle notes punctuating the melody that Moura's heartfelt saxophone lines will perform. Expect the unexpected in "Luíza." As the melody grows, so does the rollercoaster of emotions it evokes in this outstanding arrangement. It is, if I can put it mildly, heaven on earth. What a great setup this is for what comes next: The "Ellington-Pixinguinha Medley." This is clearly the majestic center piece in the CD, the idea behind Mood Ingênuo. As Moura describes his dream of Pixinguinha meeting Duke Ellington, we prepare ourselves for a hit parade of two masters. The melodies easily flow from one to the next – "Satin Doll," "Lamentos," "Ingênuo," "In a Mellow Tone," "Sophisticated Lady," "Rosa," and finally "Carinhoso." We are then able to live Moura and Korman's dream. Korman's own "Saudade do Paulo" choro is yet another piece in this dream-come-true recording.
These two accomplished musicians know the material they perform, and they play it majestically. I'm certain you will finish listening to this CD and wonder why it is so short. One hour only?! One can only dream that future encounters between Moura and Korman will soon happen again; and again and again…
To learn more about the artists and listen to some tracks of this CD, you can visit Cliff Korman's home page or go to Jazzheads. The CD is available at several CD stores, on line via the web, or by calling Jazzheads at 1-800-871-5261.
ALBUM INFORMATION
The Paulo Moura & Cliff Korman Duo
Mood Ingênuo: Pixinguinha Meets Duke Ellington
Jazzheads JH 1137(1999)
Time: 59'55"
Tracks:
Tico Tico no Fubá (Zequinha de Abreu)
Por Que Choras, Saxofone (Ratinho)
Luíza (Antônio Carlos Jobim)
Paulo Speaks
Elllington-Pixinguinha Medley: Satin Doll (Duke Ellington – Billy Strayhorn); Lamentos (Pixinguinha); Ingênuo (Pixinguinha – Benedito Lacerda); In a Mellow Tone (Duke Ellington); Sophisticated Lady (Duke Ellington); Rosa (Pixinguinha); Carinhoso (Pixinguinha – João de Barro)
Paulo Speaks
Saudade do Paulo (Cliff Korman – Oto Coberg)
Moonglow & Girl Talk (Will Hudson – Heil Hefti)
Tarde de Chuva (Paulo Moura)
Cliff Speaks
Leninha & Espinha de Bacalhau (Codó – Sadembra – Severino Araújo)
1 x 0 (Pixinguinha – Benedito Lacerda)
This article appeared in Bossa Magazine Volume 5, Number 10, December 1999.