Brazilian Legend!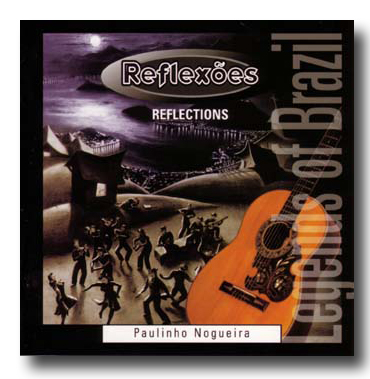 With more than twenty-five albums released to date, Brazilian guitarist wonder Paulinho Nogueira made his debut on a U.S. label in 1999. Malandro Records' new Legends of Brazil series presents Paulinho Nogueira's Reflexões.
Born in Campinas (state of São Paulo) in 1927, Paulinho Nogueira fell in love with the violão (nylon-string guitar) at age 10. His older brother João taught him the first chords, and that first guitar, a 1937 Del Vecchio, is still used by Paulinho, including this album. Paulinho's greatest idol could not have been anyone else but Aníbal Augusto Sardinha, or as he was better known, Garoto. Though they never met, Paulinho says Garoto was his real teacher, his strongest influence.
Paulinho's first album was released in 1958, a fantastic year for Brazil. That year, Brazilians won their first soccer World Cup, Maria Ester Bueno was a winner at Wimbledon, and Bossa Nova was noticed as a major musical movement. As the 60's and 70's rolled in, Paulinho was more talked about in musical circles. His guitar accompaniment on Elis Regina's classic rendition of "Carinhoso" is historic, as is his live duet performance with Baden Powell at one of Record TV shows (they played Ernesto Nazareth's famous "Odeon," a Brazilian choro that has become a landmark). Paulinho's name was associated with some of the greatest Brazilian performers. His legacy has been passed on to other Brazilian guitarists. He was Toquinho's master. Paulinho's popularity never seems to have vanished from the musical charts. In 1970, his song "Menina" hit the number one spot in Brazilian popular music.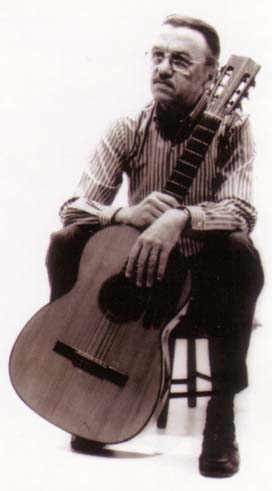 Reflexões is unique even before you open the jewel case. The cover art work features one of Paulinho's paintings of Rio de Janeiro with a superimposed photo of his 1937 Del Vecchio guitar. Personal photos of Paulinho's archives feature him, for example, with Elizeth Cardoso, Elis Regina and Baden Powell. Producer Rick Udler's meticulous notes provide a comprehensive background of this legendary performer as well as a track-by-track analysis.
The title track is a longer remake of Paulinho's own "Reflexões em 2 por 4." It majestically sets the tone for the other pieces. Jorge Ben's world hit "Mas Que Nada" brings the sounds of samba and maracatú directly from Paulinho's guitar. Another example of extracting percussive sounds from his guitar is given in Sérgio Ricardo's "Zelão." Paulinho creates cuíca sounds using only his guitar. Even when playing old Bossa Nova standards, such as Tom Jobim/Newton Mendonça's "Samba de Uma Nota Só," Paulinho innovates. This arrangement begins like an old maxixe, similar to the ones composed by Ernesto Nazareth. It is, however, with Baden Powell/Vinícius de Moraes' "Samba em Prelúdio" that Paulinho will overwhelm your senses. If you have ever heard this tune sung before, it was done with two voices in the second part. In Paulinho's recording, his one guitar plays both "voices" with no overdubbing. It's a masterpiece number by a master guitarist!
The music speaks for itself. More than an essential album, Reflexões is an instant classic. Paulinho Nogueira is superb. If you are not familiar with his work, this will be an impressive first acquisition. You can hear sample tracks here.
ALBUM INFORMATION
Paulinho Nogueira
Reflexões
Malandro Records MAL 73001 (1999)
Time: 56'22"
Tracks:
Reflexões em 2 por 4 (Paulinho Nogueira)
Mas Que Nada (Jorge Ben)
Bachianinha #1 (Paulinho Nogueira)
Zelão (Sérgio Ricardo)
Samba de Uma Nota Só (Antônio Carlos Jobim – Newton Mendonça)
Tons e Semitons (Paulinho Nogueira)
Ária na 4a Corda (J.S. Bach)
Chegança (Edu Lobo – Oduvaldo Viana Filho – Norman Gimbel)
Samba em Prelúdio (Baden Powell – Vinícius de Moraes)
Manhã de Carnaval (Luiz Bonfá – Antônio Maria – George David Weiss – Hugo E. Peretti – Luigi Creatore)
Frevinho Doce (Paulinho Nogueira)
Por Causa de Você (Antônio Carlos Jobim – Dolores Duran)
Odeon (Ernesto Nazareth)
Desafinado (Antônio Carlos Jobim – Newton Mendonça)
Choro Para Bordões (Paulinho Nogueira)
Chovendo Na Roseira (Antônio Carlos Jobim – Gene Lees)
A modified version of this review first appeared in Luna Kafé, November 1999.