Kids on Vacation
For almost three decades, Kid Abelha is one of Brazil's most popular middle of the road pop bands. Almost simultaneously, two of the three band members released their second solo album. Vocalist Paula Toller launched Sónós, while saxophonist/ guitarist George Israel appears with Distorções do Meu Jardim.
On her brand new website Paula Toller (Rio de Janeiro, 1962) provokes curiosity with impressive thoughts about the project and each of the songs in particular. Unfortunately the cd sounds less impressive, although it's difficult to point out what's missing. Paula sounds recognizable, of course, but at moments very sterile, as if she's trying to prove vocal qualities that are not really hers. One of Paula's trademarks is a certain disarming spontaneity in her voice. Maybe that's what's missing on Sónós. Some of the music is sung very artificially, striving for a sophistication that's just not there. Also the repertoire on its own doesn't reflect the suggestions made on the website. Too little risk is taken. One might expect a more ambitious repertoire from an experienced singer who took eight years to record her own thing on a solo album. The cd Paula Toller was a pleasant surprise. On this delayed follow up, I'm left with a feeling of missed opportunities.
One of the good things about Sónós is the instrumentation. Paula always had a preference for electronic percussion, but here she proves to do well without them. Percussionist Jamilson da Silva easily works his way through the repertoire, showing he can turn his hand to anything. The best moments on the cd are the quietest ones. On "Um Primeiro Beijo" Paula shows her better side, carefully creating a sentiment with her fragile voice. The same happens on the beautiful ballad "Rústica." Paula has a way to explore the limits of her voice in a very disarming way. "Glass (I'm So Brazilian)" is another lovely ballad, written by Kevin Johansen, the surprise guest on the album. Accompanied only by the piano of Caio Fonseca, the warm voice of the Alaska born but Argentinean based musician is sounding great with Paula's dedicated approach. This by respect fueled dedication in Paula's voice is often heard in the duets she sings (for instance with Edgard Scandurra and Lenine in MTV Acústico or with Dona Ivone Lara on "Nasci Pra Sonhar e Cantar" in Casa de Samba 4). On the Jesse Harris & the Ferdinandos tunes "If You Won't" and "Long Way from Home" (both from their 2003 Secret Sun album), Paula sounds relaxed and comfortable. But the harvest of this album is just not enough for a singer who circles around the top of Brazil's pop music scene. Did she work too hard for this album? Did she polish it too much?
In contrast with this, Paula's colleague from Kid Abelha, George Israel (Rio de Janeiro, 1960) released an album that clearly shows fun and an uncomplicated self secure approach. Distorções do Meu Jardim turns out to be a nice relaxed pop/rock album on which George Israel takes the opportunity to show the singer in him. Mainly recorded in the garden of his house in Teresópolis, George invited some of his old musical friends to join in. Bassist/Singer Leoni, drummer João Barone (Paralamas do Sucesso) and the great keyboardist Sacha Amback immediately set the mood in the catchy opening track "A Noite Perfeita." Throughout the cd we're witness of the many faces of George Israel as singer, guitarist, saxophonist, bassist, pianist and composer. One of the cd's highlights is the easy listening pop song "Trailer" that benefits from a well chosen instrumentation, featuring horns and backing vocals. Another nice moment is the wonderful ballad George co-wrote with Suely Mesquita, "Como Você Já É." George remembers his cooperation with the legendary rock star Cazuza with "Mina," a song they wrote together with guitarist Nilo Romero. Humberto Barros lays down a solid basis on his keyboards for the burning band. On "Eu Posso Falar Mais Alto" George invited his friends from the band Os Britos, in which musicians from Kid Abelha and Barão Vermelho amuse themselves with the repertoire of The Beatles. On the pop ballad "O Céu Que Nos Protege" we even hear George's teenage son Leo on the drums. The cd ends in a very pleasant way with the friendly reggae "No Amor Que Vem" with nice flute work by Rodrigo Sha.
It's clear that George Israel had a great time during his Kid Abelha vacation. He used the time to meet with old friends, making music. He shares it with us on this unpretentious album with entertaining music. More information can be found on his website.
ALBUM INFORMATION
Paula Toller
Sónós 
WEA Warner Music 5051011966620 (2007)
Time: 46'16"
Tracks:
? (O Q É Q Eu Sou) (Erasmo Carlos)
All Over (Donavon Frankenreiter – Paul Ralphes – Caio Fonseca – Paula Toller)
À Noite Sonhei Contigo (Kevin Johansen (Portuguese version: Paula Toller))
Pane de Maravilha (Dado Villa-Lobos – Paula Toller – Fausto Fawcet)
If You Won't (Jesse Harris)
Meu Amor Se Mudou pra Lua (Nenung)
Tudo Se Perdeu (Rufus Wainwright (Portuguese version: Paula Toller)
Long Way from Home (Jesse Harris)
Barcelona 16 (Paula Toller – Paul Ralphes – Caio Fonseca)
Eu Quero Ir Pra Rua (Coringa – Paula Toller)
Um Primeiro Beijo (Paula Toller -Paul Ralphes – Caio Fonseca)
Você me Ganhou de Presente (Paul Ralphes – Coringa – Paula Toller)
Rústica (Dado Villa-Lobos – Paula Toller)
Glass (I'm So Brazilian) (Kevin Johansen)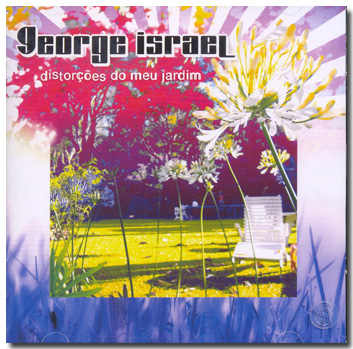 George Israel 
Distorções do Meu Jardim
Som Livre 0760 2 (2007)
Time: 40'48"
Tracks:
A Noite Perfeita (George Israel – Leoni)
Alguém Como Você (George Israel – Alvin L)
Trailer (George Israel)
Como Você Já É (George Israel – Suely Mesquita)
Muda (George Israel)
As Rosas Não Falam (Cartola)
Mina (George Israel – Nilo Romero – Cazuza)
Chão de Jardim (George Israel – Marcelo Camelo)
Eu Posso Falar Mais Alto (George Israel – Alvin L)
Curados ao Sol de Copacabana (George Israel)
O Céu que nos Protege (George Israel – Guto Goffi – Dadi)
No Amor que Vem (George Israel – Hélio Rocha)