A Natural Merge
The flute has a special place in Brazilian music. A Bossa Nova arrangement that includes a flute solo is far beyond cool and perfectly embodies what is so Brazilian in that track. Whether it is Altamiro Carrilho,Carlos Malta, Danilo Caymmi or Hermeto Paschoal, the sound is distinctly clear and smooth.
Enter Paul Lieberman. His is a name you have not often heard associated with Brazilian music, but that oversight is about to change. Ibejiis Paul Lieberman's fusion of Brazilian and American jazz in a classy collection of music from both sides of the Equator. An accomplished saxophone and flute player, Paul has performed and recorded with jazz giants including Pat Metheny, David Sanborn, Don Grusin, Paquito D'Rivera, and Brazilian stars Claudio Roditi, Toninho Horta, Romero Lubambo, Duduka da Fonseca, Nilson Matta, Simone, Chico Buarque, Djavan, Milton Nascimento, Leny Andrade, Alcione, João Bosco, Miúcha and Roberto Carlos. His formal musical education took him to Yale University, where he got his BA degree in music in 1978. He also studied privately with Kenny Werner, Dave Liebman and Lee Konitz. A big and significant turn of events placed Paul in Rio de Janeiro from 1985 to 1989. Those four years in Rio not only changed Paul's personal life (he met his wife there) but they also helped him set his roots in Brazilian music. Back in the U.S., Paul earned his master's degree in jazz composition and arranging from the University of Massachusetts at Amherst.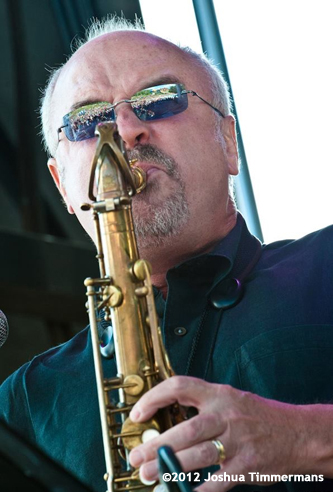 Ibeji is a very appealing and well delivered album that features original songs by Paul Lieberman as well as music from Brazilian and U.S. composers. One might wonder why this convergence of musical universes in the album. "Ibeji" is the Yoruban word for twins (pronounced ee-BEY-jee), and in this album listeners will enjoy this duality of two musical universes supported by excellent performers and arrangements. Ibeji was arranged and produced by Paul Lieberman and Joel A. Martin. Joel is also featured on piano, while Paul plays tenor, alto and soprano saxes, flutes, piccolo, percussion and also does some vocals. The other musicians in Ibeji are Rufus Reid and Nilson Matta (basses), Tim Horner, Jaimoe and Duduka da Fonseca(drums), Eugene Friesen (cello) and Zaida Lieberman (vocals).
Paul Lieberman includes three original compositions in this fine collection and splits the remaining eight evenly between the Brazilian and U.S. songbooks. Paul cleverly puts a spin of Brazilian in "Lulu's Back in Town" (choro) and "In My Life" (baião). Reversing the influences, his straight jazzy approach in "Inútil Paisagem" and "Estamos Aí" are winners. On the ballad side, Paul's sax and flute solos in "Doce Presença" and "Beatriz," respectively, will most definitely ignite passions and melt hearts. Paul, Joel, Rufus and Tim do an outstanding job in delivering Ivan Lins' classic with high praises. This quartet is impeccably tight, and I must single out Joel's piano solo as a big presence in the arrangement. "Doce Presença" is seven minutes of pure ecstasy. For "Beatriz," just piano and flute convey all the tenderness in Edu Lobo and Chico Buarque's beautiful song. That track closes the album with a golden key. However, another gem included in Ibeji comes from Paul's own composition, "I Tried to Tell You." What a gorgeous piece it is. We have the same quartet as in "Doce Presença." I do not know if it was intentional or not, but Paul's sax solo is reminiscent of Tom Scott's haunting performances in the classic Taxi Driver soundtrack.
Ibeji is a natural merge of two musical cultures thanks to Paul Lieberman's vision and his a-class team of musicians. You can read more about the artist and album in his website.
ALBUM INFORMATION
Paul Lieberman
Ibeji 
Fall Awake Music (2011)
Time: 56'57"
Tracks:
Azul no Verde e Amarelo (Paul Lieberman)
Inútil Paisagem (Tom Jobim – Aloysio de Oliveira)
Lulu's Back in Town (Al Dubin – Harry Warren)
I Tried to Tell You (Paul Lieberman)
In My Life (John Lennon – Paul McCartney)
I'll Remember April (Gene De Paul – Don Raye – Patricia Johnston)
My Bells (Bill Evans)
Doce Presença (Ivan Lins)
Estamos Aí (Mauricio Einhorn – Durval Ferreira – Regina Werneck)
Voa Livre (Paul Lieberman)
Beatriz (Edu Lobo – Chico Buarque)