A Stage Full of Rock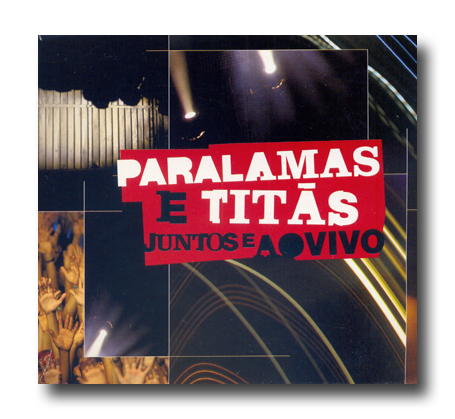 Paralamas de Sucesso is without any doubt among the most famous and important bands in Brazilian rock history. The trio with Herbert Vianna (guitar, vocals), Bi Ribeiro (bass) and João Barone (drums, background vocals) has an almost non-stop 25-year history of hit songs and popularity, also outside Brazil. Titãs also dates back from more than 25 years ago and carries on a even steady army of fans. At the end of 2007 the two bands realized the desire to go on tour together. Not as a double feature, but as one band, a super band. It's no surprise that they took the opportunity to show a serious mutual appreciation, a standard procedure for these kinds of occasions. Paralamas performed a few Titãs classics and Titãs chose a few songs from the rich Paralamas history.
There's one big difference between Paralamas and Titãs. Paralamas is a very basic rock trio, while the members of Titãs all can serve as a vocalist. That means that Titãs can show different faces, while Paralamas is one solid rock. That substantial difference leads to a strange phenomenon on this live recording. When Paralamas's vocalist Herbert Vianna performs songs from the Titãs repertoire, it just sounds like the tune belongs to Paralamas. Vise versa, the Paralamas repertoire misses something when performed by the singing members of Titãs.
"Trac Trac," sung by Sérgio Britto, "Óculos," by Paulo Miklos and "Meu Erro," by Branco Mello, lack the persuasiveness that marks the original renditions. It's clear: no one can play Paralamas better than Paralamas itself. Titãs sounds terrific when singing their own classics, with a special mention for "A Melhor Banda…".
This album is an interesting occasion to see what a mix between these two dinosaurs of rock lead too. It's doubtful that either one will gain new listeners with this project, but the fans get a unique chance to hear their heroes from a different angle. They might even find more reason to follow the path of either Titãs or Paralamas. Of course such a project can't do without a few special guests. That honor is accepted by Samuel Rosa (lead singer from another legendary band, Skank), former Titãs member Arnaldo Antunes (with the band from its beginning in 1981 till 1992) and guitarist Andreas Kisser (from the trash metal band Sepultura). Andreas Kisser had already been guest with Paralamas on earlier occasions and shows again how well he fits into their concept. The album comes on CD and on DVD (with a few extra clips, but the same track list).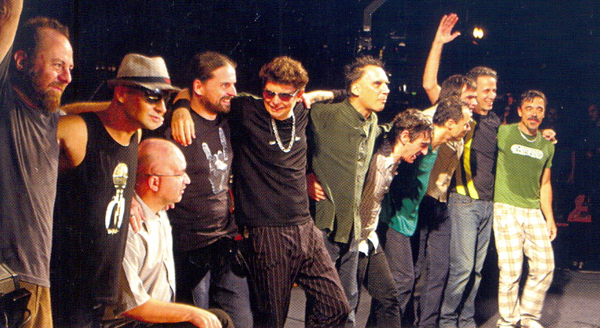 ALBUM INFORMATION
Os Paralamas do Sucesso e Titãs
Juntos e Ao Vivo 
EMI 208942 2 (2008)
Time: 73'09"
Tracks:
Diversão (Sérgio Britto – Nando Reis)
O Calibre (Herbert Vianna)
Marvin (Ronald Dunbar – General N. Johnson)
Selvagem / Polícia (Herbert Vianna – Bi Ribeiro – João Barone/ Toni Bellotto)
Uma Brasileira (Carlinhos Brown – Herbert Vianna)
A Novidade (Herbert Vianna – Bi Ribeiro – João Barone – Gilberto Gil)
Homem Primata (Sérgio Britto – Marcelo Fromer – Nando Reis – Ciro Pessoa)
Lourinha Bombril (Parate Y Mira) (Diego José Blanco – Fernando Javier Luis Hortal)
Cabeça Dinossauro (Paulo Miklos – Branco Mello – Arnaldo Antunes)
A Melhor Banda de Todos os Tempos da Última Semana (Sérgio Britto – Branco Mello)
O Beco (Herbert Vianna – Bi Ribeiro)
Trac-Trac (Track Track) (Fito Paez)
Go Back (Torquato Neto – Sérgio Britto)
Comida (Marcelo Fromer – Sérgio Britto – Arnaldo Antunes)
Lugar Nenhum (Arnaldo Antunes – Charles Gavin – Marcelo Fromer – Sérgio Britto – Toni Bellotto)
Óculos (Herbert Vianna)
Sonífera Ilha / Ska (Mello – Fromer – Bellotto – Carlos Barmak – Ciro Pessoa/ Herbert Vianna)
Meu Erro (Herbert Vianna)
Flores (Charles Gavin – Bellotto – Paulo Miklos – Britto)